The pros and cons of Barry Bonds
Barry Bonds remains unsigned, despite his remarkable résumé.
It's not just his 762 career homers. Bonds may be 43, but he still posted a gaudy 1.045 OPS last season.
Yes, he has pending legal issues. But since when has that been such a concern regarding a player who can perform at a high level?
Page 2 breaks down the pluses and minuses of signing Bonds for each of the 30 major league teams.
AL East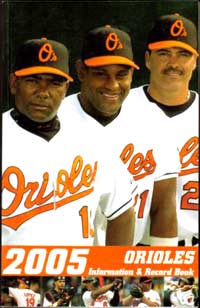 This cover probably seemed like
a good idea at the time.
BALTIMORE ORIOLES
Pro:
Bonds would be a sure bet to be team's sole All-Star Game representative.
Con:
He would remind fans of the 2005 media guide cover.
BOSTON RED SOX
Pro: Bonds would improve range and defense in left field.
Con: Blog duels with Schilling could get nasty.
NEW YORK YANKEES
Pro: That short porch in right would be perfect for him.
Con: Goodness gracious, Suzyn Waldman might have a heart attack introducing him.
TAMPA BAY RAYS
Pro: Could do great juice promotions at Tropicana Field.
Con: Not sure of testing policy in lawn bowling.
TORONTO BLUE JAYS
Pro: Bonds speaks fluent Canadian.
Con: He prefers to get paid these days in Euros.
AL Central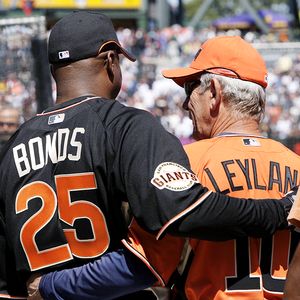 AP Photo/Kevork Djansezian
A Leyland-Bonds reunion in Detroit would be sweet. So would a Bonds-Sheffield workout reunion.
CHICAGO WHITE SOX
Pro:
Could steal thunder from Cubs.
Con:
Bonds, A.J. Pierzynski and Ozzie Guillen in the same clubhouse … oh, wait, that's a
good thing
.
CLEVELAND INDIANS
Pro: Paul Byrd will happily share his dentist's phone number.
Con: Midges swarm to steroid-enhanced sweat.
DETROIT TIGERS
Pro: Would be reunited with Jim Leyland.
Con: Not enough research has been done on how steroids and second-hand smoke affect the body.
KANSAS CITY ROYALS
Pro: Royals fitting name for home run king.
Con: Cheers for homers muffled by bags over fans heads.
MINNESOTA TWINS
Pro: Friendly state is perfect place to revitalize mojo.
Con: Will be traded to Boston by August.
AL West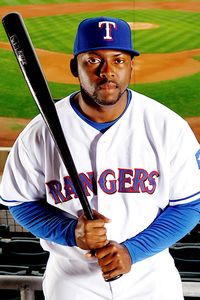 Jamie Squire/Getty Images
Milton Bradley and Bonds could trade notes on how big of a jerk Jeff Kent is.
LOS ANGELES ANGELS OF ANAHEIM
Pro:
Would provide nice one-two lefty-righty punch with Vlad Guerrero.
Con:
Upsets teammates by refusing to spell Chone Figgins' name correctly.
OAKLAND ATHLETICS
Pro: Easy commute from courthouse to ballpark
Con: Poor plate appearances might not sit well with some members of the jury.
SEATTLE MARINERS
Pro: Well, they have no lefty power hitters, nobody who draws walks and no DH.
Con: Bonds reportedly not a fan of Starbucks' new "skinny mocha" drink
TEXAS RANGERS
Pro: Bonds will be perceived as a good influence on teammates (at least when compared to Milton Bradley)
Con: Rangers are a perfect team for MVP-caliber players who have never won a ring (think A-Rod, Juan Gone).
NL East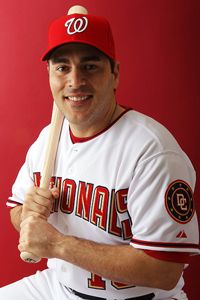 Elsa/Getty Images
The "C'mon, bro" defense has been taken. "Whatever, dude" is still available, though.
ATLANTA BRAVES
Pro:
Centers for Disease Control is based in Atlanta, in case Bonds' head continues to expand to enormous size.
Con:
CDC spending money on more urgent matters like bird flu.
FLORIDA MARLINS
Pro: In wide-open NL, Bonds could be all it takes to lead Marlins to NL title and help get a new ballpark built.
Con:Even then, nobody will show up.
NEW YORK METS
Pro: Moises and Barry -- the perfect geezer platoon in LF!
Con: Might be mistaken for Mr. Met.
PHILADELPHIA PHILLIES
Pro: Would give the home fans a player they could all feel comfortable booing.
Con: No con.
WASHINGTON NATIONALS
Pro: Won't have to travel for congressional hearings.
Con: "C'mon, bro" defense already used by Paul Lo Duca.
NL Central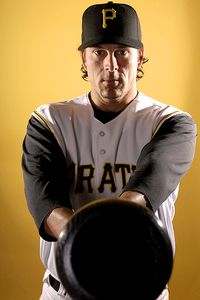 Marc Serota/Getty Images
Doug Mientkiewicz is great on photo day … and lest we forget,
he caught the final out of the
2004 World Series.
CHICAGO CUBS
Pro:
Signing Bonds would be an effective way to get that payroll even higher.
Con:
Leather recliner would take up too much space in tiny Wrigley clubhouse.
CINCINNATI REDS
Pro: Gives the Reds another lefty slugger to go with Griffey and Dunn.
Con: "Big Head Machine" headlines.
HOUSTON ASTROS
Pro: Can hang out with Roger Clemens and Lance Armstrong in spare time.
Con: The slight chance that Bonds would slam into the center-field flag pole at Minute Maid Park … then again, his big head could probably withstand the hit.
MILWAUKEE BREWERS
Pro: Bonds may be the bat to get Brewers into the playoffs for the first time since 1982.
Con: Not enough research has been on how steroids and bratwurst affect the body.
PITTSBURGH PIRATES
Pro: Return to the team that brought him to the majors.
Con: Pirates already broke the bank with Doug Mientkiewicz signing.
ST. LOUIS CARDINALS
Pro: Have you seen the Cardinals' lineup lately? Seriously, go look … see what we mean?
Con: Not to mention Matt Clement and Mark Mulder in the rotation.
NL West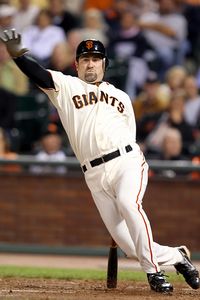 Lisa Blumenfeld/Getty Images
Who needs Bonds when you have the grace, skill and power of 36-year-old Rich Aurilia?
ARIZONA DIAMONDBACKS
Pro:
Lots of retirement communities for Bonds to move into.
Con:
Phoenix already has one ex-superstar who is broken down, can't play defense and can't run.
COLORADO ROCKIES
Pro: Great school system for Bonds' kids.
Con: If it doesn't work out, unlikely to find another sucker willing to take on Bonds' contract.
LOS ANGELES DODGERS
Pro: Kick in the gut for Giants and their fans. Also would make for a heartfelt reunion with Jeff Kent.
Con: Proximity to Hollywood might inspire another season of "Bonds on Bonds."
SAN DIEGO PADRES
Pro: Bonds will appear downright healthy compared to Mark Prior.
Con: Will have World Series hopes shattered when supposed "greatest closer ever" can't protect a three-run lead in a $%#@ing big game!
SAN FRANCISCO GIANTS
Pro: Can race Bengie Molina and Zippy Chippy during seventh-inning stretch publicity stunt.
Con: Who needs Bonds when you have Rich Aurilia hitting cleanup?!?!
Sound off to Page 2 here.