By Ian O'Connor
Special to ESPN.com
The following is excerpted from "The Jump: Sebastian Telfair and the High-Stakes Business of High School Ball" by Ian O'Connor. Copyright (c) 2005 by Ian O'Connor. Excerpted by permission of Rodale. All rights reserved. No part of this excerpt may be reproduced or reprinted without permission in writing from the publisher.
By seven inches, 5-foot-11 Sebastian Telfair became the shortest high school player ever taken in the draft lottery last summer when the Portland Trail Blazers selected him with the 13th pick, the same pick the Charlotte Hornets used to take 6-6 Kobe Bryant before sending him to Los Angeles in 1996.
Inspired by the need to escape the Coney Island projects, and driven by a blood feud with his cousin, Stephon Marbury, Telfair, once named the No. 1 player in America in his fourth-grade class, negotiated an eight-figure sneaker contract before he even declared for the draft. David Stern wants to institute a 20-year-old age requirement to stop Telfair, and other high school phenoms like him, from continuing to run a fast break to his league.
This is the story of how the point guard beat the commissioner to the punch.
BUY THE BOOK
Click here to buy Ian O'Connor's "The Jump: Sebastian Telfair and the High-Stakes Business of High School Ball"
* * * * *

The world was moving too fast for the quickest point guard in New York. While Sebastian Telfair was chasing history, trying to lead Brooklyn's Abraham Lincoln High to a three-peat, agents and sneaker men had suddenly applied a full-court press.
This wasn't just any press. This was Nolan Richardson's 40 minutes of hell, a torrent of pitches from some of the biggest pitch men in sports. One by one they came after Telfair, trying to unseat his agent-to-be, Andy Miller and, by extension, Adidas, the company that had signed up Miller's biggest client, Kevin Garnett.
Reebok's Sonny Vaccaro worked through the superagents Bill Duffy and Arn Tellem, part of a weeklong blitz of Manhattan hotel and restaurant meetings designed to win Telfair's affection or that of the right confidant or family member.
By most accounts, Duffy was a disaster. "Terrible, bad, awful," said Miller, who wasn't present for Duffy's presentation. Duffy was going to let his assistant, Calvin Andrews, run the Bassy show, and there wasn't any imaginable way Team Telfair was going for that.
So Vaccaro rushed in a replacement. "Arn Tellem flew across the country," Miller said. "He's not a dynamic presence. It's likely he didn't give a great presentation."
Actually, Tellem scored major points with the Telfairs when he talked of splashing Sebastian's face across subways and trains. "My mom liked that," said Danny Turner, Sebastian's brother. But Lincoln High coach Tiny Morton was among the skeptical.
"Tellem was good if you're blinded by the lights," he said. "He said he'd put Bassy's face on trains, TV, billboards. ... How are you going to tell a kid you're going to put his face on trains when you don't even know where he's going to be drafted?"
The race came down to two horses. "Andy and Tellem are in the lead," Sebastian said.
It was March 4, a couple of days before the city quarterfinal game against Boys & Girls High, and Telfair was in a good mood inside the Lincoln High gym. His cousin and Coney Island rival, Stephon Marbury, had refused to appear on the cover of Sports Illustrated with Sebastian, telling the magazine he was only interested in appearing solo and leaving Sebastian to grab the cover all for himself.
"I can't tell you how many NBA people, that's the first thing they ask about me," Sebastian said. "'Is he anything like Stephon?' When they find out I'm not, they're relieved." We talked about the Trail Blazers and their interest in Sebastian. "I'm not coming out," the point guard said through a laugh. "No, I ain't coming out. Me and my man Rick Pitino are going to get our national championship, then I'm going to come out. Sound good?" Telfair laughed again. If he wasn't already a professional, he was only hours away from unwittingly becoming one.
"I'm going to a meeting right now," Telfair told me, "to get my first offer for a sneaker contract."
I asked if Adidas, Nike and Reebok were still in the ballgame. "Yes," he said, "and a lot more than before. It's crazy."
"Who are you meeting tonight?" I asked. "(Adidas') Daren Kalish?"
"I'm going to meet with the people who sign the checks," he said. "We're going to meet at their Manhattan hotel right now."
Telfair surveyed his post-practice gear and wondered if it represented appropriate attire for a big business meeting. "I look like a bum," he said, "but I'm poor."
Not for long.
Kalish was joined by fellow Adidas executives Kevin Wulff, Jim Gatto and David Bond. Miller was present, along with Telfair, his parents, Turner, Morton, and Morton's brother, Slice. They ended up inside an Italian restaurant in midtown.
The SI cover only intensified the fight. Tellem was the agent of choice for Telfair's parents, Erica and Otis, and for Sebastian's older brother, former Providence star Jamel Thomas. Over dinner, Miller had his chance to strike a lethal blow to the opposition. He had brought Adidas executives to the table to let all members of the fractious Team Telfair know that the sneaker company was prepared to make Sebastian a rich young man.
"There was a lot of hostility in the room," Miller said. So the agent took a back seat and let the Adidas men do his bidding.
No contract was presented between appetizers and dessert. "But numbers did come," Miller said. According to two people at the table, Adidas passed around outlines of an offer as if they were dinner menus. One person said the proposal guaranteed Sebastian $15 million over 6 years, with incentives that could've made the deal worth $32 million. "They gave each one of us a copy," the person said. "(Erica and Otis) were practically ready to sign."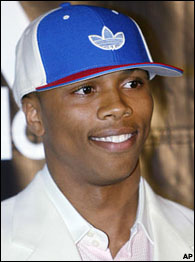 Telfair in May 2004, when he announced he was entering the NBA draft.
A second person confirmed that the executives handed out an outline, and that the guaranteed portion of the proposal had Sebastian taking in $15 million over 6 years. But that person claimed the deal maxed out at $42 million "if Sebastian hits the jackpot with all of his incentives. He'd get $2 million up front. ... Adidas wants him badly. They told us Sebastian is the most marketable guy in the draft." Miller's point, exactly. He said he didn't see the "presentation packet" that was handed out to the guests of honor -- "I was negotiating a contract with (Adidas), so I didn't need to see everything," he said -- but conceded it was possible the outline of an offer was included in the packet. "Maybe it was a worksheet," the agent said.
Maybe it was the piece of paper that would bridge the gap between the pro-Miller and anti-Miller camps.
One person at the table said Adidas executives showed off the design they had in mind for Telfair's sneaker. That person would later produce a tall, thin book with a black cover that detailed the shoe company's presentation. The marketing slogan, "Impossible is Nothing," was written in white letters across black pages, before photographs of Muhammad Ali and Jesse Owens. A section titled "We are the Past" included shots of Oscar Robertson, Pistol Pete Maravich and Kareem Abdul-Jabbar, this before a "We are the Present" section showed portraits of Tim Duncan, Tracy McGrady and Garnett.
The word "YOU" was printed over the next two pages, followed by two more pages carrying the message, "Are the Future." The presentation included a picture of Telfair in his black and gold Adidas camp uniform, and a picture of a black sneaker with three gold stripes meant to be Telfair's sneaker. Finally, across from the image of a smiling Telfair was the picture of a low-cut white leisure sneaker and the words, "Invention is a two-way street. We provide the tools. You light them up. Without you, it's just a shoe in a box. With you, it's a shoe with a soul -- making history." Truth be told, Vaccaro figured the Adidas deal was all but done. If nothing else, Reebok's grassroots chief might've faked an offer to force Adidas to increase its bid. He figured that once his former employer had told Telfair he was its No. 1 priority, the marketing prize of the Class of 2004, it would have no choice but to keep throwing money at him.
By his own admission, Vaccaro had "an ulterior motive." He wanted to see Adidas pay the price for what he characterized as premature negotiations with a high school star.
"It's illegal," Vaccaro said. "I'm not letting this go. ... The bad guy here is Adidas."
* * * * *

They entered the Spectrum Club in Manhattan Beach, side by side, passing row after row of tanned bodies working on their treadmills. Sebastian Telfair of Lincoln High and Jameer Nelson of St. Joseph's University parted this sweat-stained sea on their way to the fitness club's basketball court. In his right hand, Telfair was carrying his S31T Adidas specials, his weapons for the day.
They pushed through the glass doors and entered the no-frills gym. They stretched and jogged and then joined Pape Sow of Cal State Fullerton and T.J. Cummings of UCLA, the two big men hired by the Los Angeles Clippers to fill out the two-on-two game; NBA rules prohibit teams from putting more than four players on the court for a predraft workout.
Compared to Telfair, Nelson was a dinosaur, an actual 4-year college player who led tiny St. Joe's to the brink of the Final Four and won the John Wooden Award as America's best player. Built like an icebox, the 5-foot-11 Nelson had more than 20 pounds on Telfair.
As the two started their duel, shooting around-the-horn jumpers at a rapid-fire pace, the Clippers' brain trust looked on: Elgin Baylor, the GM; Mike Dunleavy, the head coach; Barry Hecker, the director of player personnel; and Gary Sacks, a young Hecker aide and a rising star in the organization. Pre-draft workouts are off-limits to the media and often guarded as if peace in the Middle East were at stake. Team officials live in fear of information leaking into enemy hands, information that could ruin their draft-night hopes. But the Clippers had agreed to let me watch this workout on the condition that I kept my observations in confidence until the postdraft publishing of this book.
The Clippers didn't know yet where they would pick. If they ended up in the top 5, Telfair was likely out. If they ended up between 8 and 10, he had a shot. Either way, they had little interest in drafting Nelson. Telfair didn't appear nervous, though he'd been on the phone with Andy Miller at 6:00 a.m., asking him how to dress, how to act, how to exude the right body language. Whatever Miller told him had worked. Telfair's weakness -- his jumper -- was Nelson's strength, but the high school phenom matched the college all-American shot for shot.
"Look at Jameer's eyes," Hecker said. "He's looking up and following the arc of the ball when he shoots. That's bad."
Hecker noticed a flaw in Telfair's release, too. He watched the Lincoln point guard shoot from straight over his head and said he needed to move his hands to the side.
"Sebastian's a special kid," Hecker said, "but I want all these kids to go to college. Other than LeBron, who's a freak, they should all go to school. The system's all f----- up."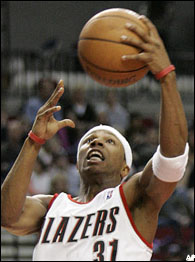 Telfair is averaging 4.6 points and 12 minutes per game through March 7.
Hecker had taken a liking to Telfair, in part because the personnel man used to buy 10-cent hot dogs at Nathan's when visiting his grandfather in Brooklyn. He and Sacks had taken Telfair to dinner the night before. "He's very mature," Sacks said, "but he's definitely still a kid."
Telfair had to play like a man on this morning. The Clippers were pushing the two point guards at a frantic pace. One drill charged Telfair and Nelson to dribble from half-court to a chair positioned above the 3-point line, execute a crossover, spin back the other way, and shoot a contested pull-up jumper. Nelson remained silent. Halfway through exercise, Telfair sounded like Monica Seles at the end of a long rally.
Telfair wasn't tired as much as he was determined. When Dunleavy started the two-on-two half-court games, Telfair teamed up with Cummings, the son of former NBA star Terry Cummings, and Nelson drew Sow. Telfair nailed a jumper over Nelson for a 1-0 lead; the first team to five would win the game.
A series of misses led to a long Telfair jumper and a 2-0 lead. Nelson found he couldn't beat his younger opponent off the dribble, and Telfair found his older opponent was so in-your-face rugged, he needed to shoot over him. A Telfair pull-up jumper made it 3-1. With Dunleavy serving as the on-court supervisor, Nelson called a foul on Telfair and kept possession. After the players changed ends to play on a surface that wasn't glazed with their sweat, Telfair made one of his most profound plays of the session.
Nelson was running down a loose ball near half-court when Telfair came flying out of nowhere, diving head-first for the ball, cutting Nelson at his feet and dropping him on his ass. Dunleavy smiled and Baylor nodded. If ever there was a foul worth taking, this was it.
Telfair's team won that first game, 5-4, on a Cummings jumper. Dunleavy lost track of the score in the second game, and awarded the victory to Nelson and Cummings (the big men had switched sides), who were actually trailing 4-3. Telfair and Cummings won the third game, and the fourth game -- a full-court run charging the point guards to beat the trap -- went to Nelson and Cummings. Telfair made the play of that game, too, hitting the floor hard to steal the ball from Nelson when the St. Joe's star dribbled between his legs.
"He definitely didn't hurt himself," Hecker said of Telfair. "If you put these two kids in a gym and didn't know their names, you'd say it was a draw."
"Sebastian did very well," Sacks said. "He's a very, very good player, and so is Jameer. You've got to remember upside, and Jameer's older than Sebastian. But the hardest thing for a guy his size to do in our league is finish around the basket. If Sebastian were 6-foot-2 or 6-foot-3, it would make such a difference."
Dunleavy refused to tip his hand. He acknowledged that the Clippers needed a point guard, but said he was more concerned about spending a lottery pick on a player who was sure to become a star.
Baylor, the man in charge of making the Clippers' pick, was more candid. "Sebastian is very competitive, a leader, a guy with a great upside," he said. "He's got very good quickness and handles the ball well. They keep talking about his size, and I think if you have the talent, that sort of compensates for a lot of things."
Telfair came off the floor confused. Jamel Thomas, his brother, had tricked him into thinking the average NBA workout was a 2 1/2-hour marathon, this in the hope that Telfair would be extra fresh for a 50-minute session. Telfair and Nelson exited the gym together, walked past the procession of treadmill warriors, and entered a locker room full of bald and pot-bellied businessmen. At his stall, Telfair showed Nelson a fresh scar running down his left index finger. "I had a knife," he told Nelson, "and I was opening a DVD. My girl said something and I got distracted, and the blood flew over the counter."
I asked Telfair if he'd brought his girlfriend on this West Coast swing.
"Girlfriend?" he said. "Why?"
"I don't know," I answered. "Company?"
"This is business, man," Nelson interrupted. "We're trying to eat."
* * * * *

It was draft night, June 24th, and Sebastian Telfair had sacrificed a piece of his vision to end up inside Trump International Hotel & Tower Suite 510. He was supposed to be wearing Armani and shaking David Stern's hand in front of the hometown crowd. Instead he was wearing a David Beckham T-shirt and staring out a window at the evening traffic snaking around Central Park.
What an unfortunate choice of attire. That very day, the English megahunk had missed a penalty kick in a shootout that helped Portugal advance in the European Championships, a development that had some countrymen calling for his captaincy. Telfair only knew that Beckham was an Adidas teammate and a man who charmed his girlfriend, Samantha Rodriguez. "She loves him," Telfair said. Besides, Telfair figured he had it all covered with the silver Jesus Christ medallion dangling from his neck, a piece that cost him about $4,000 earlier that day. The draft had already started at the Theater inside Madison Square Garden, and Telfair and his guests were picking through takeout steak in plastic containers and drinking from bottles of water that carried the image of Donald Trump's face. He would take in the biggest night of his basketball life with Samantha, his best friend, Bubba Barker, Tiny Morton, Andy Miller and Miller's marketing rep, Chris Brantley, a former receiver for the Rams.
This was dead-serious business, with millions of dollars at stake. So Miller had Telfair instruct his family to meet him at Jay-Z's club, 40/40, on 25th and Broadway. He was not to tell them where he was actually heading, whom he would be with, or when he would finally show at 40/40. Miller couldn't take a chance on Telfair's father or Jamel Thomas erupting in the event the first round rumbled toward the second round with the Lincoln star still on the board.
Telfair's secret draft-night hideout became a story all its own. It started when Miller and Stu Jackson, the NBA's senior VP of basketball operations, talked about the draft's green room and whether Sebastian should be in it. The NBA generally invites the 15 players who have the best chance of becoming lottery picks. It's hardly an exact science. Rashard Lewis broke down in nationally-televised tears at the 1998 draft before he was made the 32nd pick.
Jackson knew the latest word on Telfair had him slip-sliding away from lotteryville. So Jackson didn't extend an invitation, but told Miller he would put one in the mail if the agent needed to save face.
Miller was caught between a desire to market a client with a great smile and a need to protect that client from a humiliating experience in his own backyard. He knew there was a chance Telfair could take a plunge. He feared those ESPN cameras catching a family member in full rage. "Potentially," Miller said, "it could be the biggest nightmare of my career. I don't need Sebastian as the last person in the green room, and then have him crying on the back page of The New York Post."
The agent told Jackson he'd take a pass. That's when David Stern got involved.
Knowing that the Knicks didn't have a first-round pick, that there was no LeBron-like star in the field, and that analysts were calling this among the weakest drafts ever, Stern called Miller and told him he wanted Sebastian in the house. Telfair represented the sexiest story line of the draft. Would he fall? How far would he fall? Would Adidas look foolish? Who would have the stones to bank a first-round pick on a 5-foot-11 high school player with holes in his game?
Stern needed Telfair to pump life into an otherwise limp event. It was a curious stance, given that the commissioner had suddenly started talking tough about pushing the union on an age requirement. Stern didn't want a draft night dominated by high school prom kings -- unless one served his marketing purposes.
But Stern couldn't plow through Miller's resistance. The agent and the league discussed a scenario where Miller and Telfair would watch the draft from a hotel room near the Garden instead, and rush on down if the pick was to their liking. In his No. 7 Beckham T-shirt, silver Christ medallion, long gray shorts, and white Adidas headband, wristband and sneakers, Telfair watched the ESPN coverage from a chair in his suite's living room. Miller was sitting across the room and closest to the TV, his cell phone earpiece never leaving his left ear.
As Sebastian sat and waited, money didn't mean a damn thing to him. He wanted respect and vindication. He wanted to prove that he was a ballplayer, the real article, not some grossly overhyped and overpaid kid. To accomplish that, he needed to get drafted before the 20s.
He needed to get in the teens. He needed to get in the lottery.
Adidas officials were sweating profusely as the reports on Telfair's position got gloomier by the hour. "They were afraid they were going to be the laughingstock of the draft," Miller said.
The same went for the agent. Professionally and personally, it was a stressful time for Miller. His wife, Ilene, was pregnant and due to give birth the week after the draft. And Miller couldn't afford to go down as the agent who made Telfair rich with sneaker money, but sabotaged his career by rushing him into the NBA. The competition would use that against him at every turn. The picks started to come off the draft board and the pace picked up in the Trump suite. "My body's so numb," Sebastian said, "I can't even tell if this steak is cold."
Miller was working a backup plan at No. 20, in the event Portland passed on Telfair at 13, and Boston and Miami did the same at 15 and 19. He knew Orlando wanted a point guard, so as soon as the Magic took Dwight Howard with the first pick, the agent began trying to convince Orlando GM John Weisbrod that he should make a deal with the Denver Nuggets, who were willing to surrender No. 20 for a future first-rounder.
The Suns took Luol Deng at No. 7 and the Raptors, in a shock, took BYU's Rafael Araujo at No. 8. Arizona's Andre Iguodala went to the Sixers at No. 9. Cleveland was up next. LeBron James had said that he wanted his good friend, Telfair, on his team. GM Jim Paxson didn't share LeBron's enthusiasm for Lincoln's star.
But the Cavaliers were in position to give Telfair an assist by taking a pass on Jameer Nelson and plucking Oregon's Luke Jackson off the board. At 13, the Blazers had no interest in Nelson. They did have interest in the local boy, Jackson. When Stern appeared on the TV screen and announced that the Cavaliers had chosen Jackson, Miller shouted, "Yes!"
Then his cell rang. John Nash, Portland GM, was on the line. "OK," Miller said. "We'll be here."
Miller turned to Telfair. "We're getting close," he said. "We're 75 percent there at 13."
Telfair buried his face in his hands. "He just made me more nervous," he whispered.
A 5-11 high school player was one phone call away from becoming a lottery pick. The Portland Trail Blazers were on the verge of taking a big gamble on a small kid, and not everyone in their draft room wanted to roll the dice.
Several Blazers officials wanted to take Al Jefferson, the burly high school forward from Mississippi. Billionaire owner Paul Allen had seen Telfair on tape and found him to be an extraordinary passer, but he was concerned that a 5-11 point guard would have trouble scoring around the basket. Nash shared that concern, but felt Telfair's quickness would allow him to create enough space to score in transition.
"Sebastian was the fastest player we worked out," Nash said. "Put him and Jameer Nelson in a foot race with the ball, and Sebastian's going to beat him down the floor. He's a little jet. I don't think Jameer really even compares to him. From end line to end line, with a dribble, we timed Sebastian at 3.3 seconds. That's the same time it took Mickey Mantle to get from home to first base."
Nash needed a home run. He failed to draft Kobe Bryant for Jersey in '96 (he took Kerry Kittles), and failed to draft Kevin Garnett for Washington the year before (he took Rasheed Wallace). Nash blamed Calipari and Abe Pollin for those choices. He faced no formidable opposition this time around.
* * * * *

"Sebastian," Andy Miller barked. "Do you want to go to the Garden if you're taken at 13?"
The Cavaliers had just picked Oregon's Luke Jackson at No. 10, and Nash had called to tell Miller the Blazers were preparing to take his point guard.
"Nah," Telfair said. "I want to go see my family."
The Warriors picked Latvia's Andris Biedrins at 11, and Telfair clapped his hands. "Stephon called me four times today," Miller said. "He's mad I haven't called him back. On his last message he said, CALL ME BACK!"
The Sonics took Robert Swift at 12, and suddenly the room stopped. Even though Nash had told Miller the Blazers' decision was more or less set in stone, Miller had been around long enough to know that counting unhatched chickens at the draft was a dangerous game.
Miller needed that call as much as Telfair did.
His phone rang.
"John," the agent said. "OK, thanks."
Miller turned to Telfair. It was 8:43 p.m. "You're a Trail Blazer," he said.
Telfair didn't even smile. He pointed toward the TV. "Hell no," he said. "I've got to hear it out of his mouth."
David Stern approached the mike at 8:45 p.m. Telfair slid to the edge of his seat.
"With the 13th pick of the 2004 NBA draft," Stern said, "the Portland Trail Blazers select Se-bas ..."
Telfair exploded out of his chair and began pumping his fists as Stern stood there at the podium, all alone for the world to see. Morton, Bubba, Samantha, Miller and Brantley converged around Telfair. On the TV, ESPN cameras showed New Yorkers standing and cheering in the Garden's Theater crowd. Jay Bilas and Stephen A. Smith started pounding the Blazers for making the choice. Miller told his client, "I'm glad we're not there. You don't need that." His cell rang. "Hey John, congratulations," the agent said to Nash. "I know you're going to be very proud of this decision."
Miller handed the cell to Telfair. Nash and Maurice Cheeks were on the line, soon to be followed by Allen. "Hello," said Telfair, his voice quaking with glee. "How are you doing? I'll do that forever. Thanks a lot. I appreciate everything. A lot of hard work, a lot of hard work. Thanks so much. I'm so excited."
Mike Hanson, Portland's PR guy, set up a conference call for later that night with the Blazers' media. After hanging up, Telfair got on his own cell. "Where's mommy?" he said. "I'm coming right now."
Still wearing his Adidas headband, he slid into a black Armani suit and readied Bubba and Samantha for the ride to Jay-Z's 40/40 club. He hopped into a Trump Tower elevator with Samantha, Bubba and Desmond the driver and sped off to see the family. He had just landed another $5.1 million over three years.
The 40/40 club had that dark and unmarked appearance of an after-hours place. Telfair moved briskly through the door, and headed upstairs past some silver curtains to the two rooms reserved for dozens upon dozens of family and friends.
He was engulfed in cheers as he embraced his mother. He began to sob. Someone poured a bottle of Cristal over his head, and Telfair staggered across the hallway and into an anteroom, wincing from the sting of champagne. He sobbed some more. As he settled into a seat, his father started toweling him off as if he were a trainer working over his fighter.
"Thirteen," Otis said, brushing his white towel back and forth. "They can't take that from you. You upset the world right now." Much later, back in their Trump Tower suite, Bubba and Sebastian talked about the late-night appearance of Jay-Z and Beyonce at 40/40. They talked about traveling the NBA circuit together, and living the American dream that remains a foreign concept to so many Coney Island boys.
"Is this really happening?" Sebastian asked Bubba.
"You made it happen," Bubba told his best friend.
They agreed to fall asleep. Ten hours later, Sebastian Telfair stepped inside Jay-Z's Mercedes limousine and headed off to graduate from Abraham Lincoln High.