Every year at this time I start to get this weird, uneasy feeling about my conflicting emotions on the eve of NFL training camps opening. Something like anxiety and depression. The reason for my Jimmy Carter-like malaise is quite simple, however: I am a native Detroiter and thus, by default, a Lions fan.
There are no Super Bowl dreams here. Not even playoff dreams. If the Lions go 8-8, there may be a parade in downtown Detroit. But when 8-8 seems far-fetched, then it should be obvious why I dread the dawn of the upcoming season.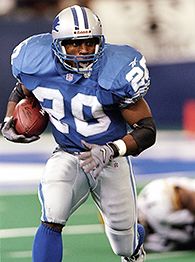 Tom Pidgeon/Getty Images
Where have you gone, Barry Sanders?
I tell myself over and over again that this season will be different, if for no other reason than the law of averages. One team can't be terrible forever, right? As Wesley Snipes said in "White Men Can't Jump," "Even the sun shines on a dog's ass sometimes." But when the first few seconds of the new season tick off the clock, reality sets in and I realize what a fool I am. At this point I have become a masochist. The pain is so familiar that I almost feel like I can't do without it. We are not talking about a group of "lovable losers" here, either. There is absolutely nothing lovable about the Lions. They're just losers.
For the past eight years I have even given my troubled state a name. I call it the "Barry Sanders Inner City Blues," because this team does indeed, "make me wanna holla." This title is, of course, in honor of that all-time great Marvin Gaye, who actually trained with the Lions in hopes of being a wide receiver on the team in 1970. Gaye remained friends with Lions' stars Mel Farr and Lem Barney, who eventually helped provide the conversational party flow that begins the classic single "What's Going On?"
It was eight years ago when Barry Sanders walked away from the Lions, despite closing in on the all-time rushing record. Perhaps the best player of his generation and one of the most exciting ever was so disillusioned with his own team that he just decided to walk away. Barry did not want to be traded as many suspected at the time; no, he wanted nothing to do with football. The Lions had killed his spirit and love of the game the same way they have killed the spirit of their fans. Why do we keep coming back for more? Shouldn't we all just be like Barry and walk away from all this misery? If only it were that easy.
The Lions' woes started before Sanders was even born. In 1964, William Clay Ford Sr., the great-grandson of Ford Motors founder Henry Ford, took over as owner. Ford is the common denominator in the Lions' 43 years of futility since. In the '50s the Lions actually won three NFL championships. But the current reign of ineptness is best highlighted by the team's endless string of undistinguished head coaches, none of whom (with the exception of former interim coach Dick Jauron) were ever given another NFL head coaching job after leaving Detroit. Talk about damaged goods.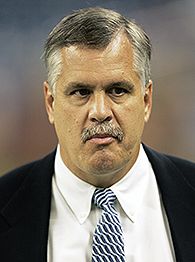 Tom Pidgeon/Getty images
The Lions are 24-72 since Matt Millen took over as GM in 2001.
Lately, Ford Sr.'s son, William Clay Ford Jr., has been running the show, or at least running it further into the ground. He has proven to be as adept at decision making as his father. The apple doesn't fall far from the tree. It is under the watch of Junior that Matt Millen took over as general manager.
Millen is perhaps the worst GM in sports. He walked out of the broadcast booth into the team's front office with no experience running anything other than his own mouth. Millen couldn't bust a grape with a sledgehammer. He obviously cannot pick a coach, having already hired and fired two of his old San Francisco cronies: Marty Mornhinweg and Steve Mariucci. Nor does Millen seem to know how to draft players, as evidenced by his selections of busts Joey Harrington, Charles Rogers and Mike Williams.
Millen doesn't seem to be real strong in the cultural awareness department either, having been fined by the league for not interviewing any minority candidates for the vacant head coaching job in 2003. Later that same year he called former Lion Johnnie Morton the same derogatory, homophobic name that got actor Isaiah Washington fired from "Grey's Anatomy." In spite of this lack of football acumen and social grace, he was rewarded with a contract extension in 2005. If ever there was a person who had fallen up, it was Matt Millen.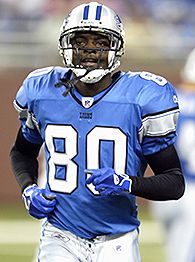 Tom Pigeon/Getty Images
Charles Rogers was the second pick of the 2003 draft ... and caught four career TD passes.
Yet, as bad as things are for the Lions now, there was a time in the late '80s and early '90s when hope got the best of me. I was stupid enough to actually think the team was on its way to contending for a title. The Lions used the third pick in the 1989 draft to select Sanders. The team already had Lomas Brown, one of the best left tackles in the league, and center Kevin Glover anchoring the offensive line.
Sanders had an incredible rookie year in '89, gaining 1,470 yards, though he choose not to go back into the season finale for a chance at winning the rushing title over the "Nigerian Nightmare," Christian Okoye of the Chiefs. Two years later in '91, Barry and the Lions defeated Dallas 38-6 in the playoffs (the franchise's lone postseason win since 1957), only to get blown out by the Redskins in the conference championship game. A series of wild-card playoff exits followed in 1993, '94, '95, '97 and '99. Six straight losing seasons, with a combined record of 24-72, have followed. So much for hope.
The city of Detroit is in such bad shape these days that I feel it is my obligation to represent. Though I reside in Cali and have for some time now, I'm still married to the city of my birth like Posh and Becks.
A few weeks ago, the last brand-name supermarket pulled out of Detroit, depriving the people of places to buy decent food within the city limits. This is a shame. Residents of the Motor City have long had to endure the indignity of walking through airport-like metal detectors just to see a movie. Situations like these underscore years of urban blight brought on by the decline of the auto industry that has turned a once-vital city into a shadow of its former self. So I feel as though it is my duty to show love to the Pistons, Tigers and Lions, on principle, no matter how bad things are going.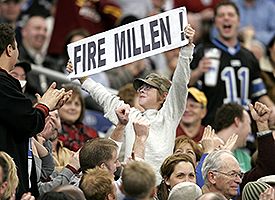 Tom Pidgeon/Getty Images
There is only one thing left to do ...
Rooting for the Pistons is easy, even though they have hurt my heart and flamed out in the conference finals the past two years. The Tigers, a team that lost 119 games only four years ago, is now poised to make another run at a World Series title. Both the Pistons and Tigers have had some lean years, too, but somehow I knew they would be back in time and both returned with a vengeance. But the lowly Lions are another story.
For years I watched Russ Thomas, general manager from 1967 to 1989, make one bad move after another, only to witness Matt Millen make Russ Thomas look like he actually knew what he was doing. This season should tell us whether or not Rod Marinelli can actually coach, and while a Mike Martz-led offense will always put points on the board, how long will he stick around and play second fiddle? Drafting Calvin Johnson was a no-brainer, but seeing Jon Kitna behind center doesn't inspire confidence. Hey, at least they have yet to lose a game.
Certainly, there is now a culture of losing that has metastasized within the body of the franchise over the long reign of la familia Ford. I'm sorry, but with the team in the Ford's hands and under Millen's guidance, I cannot imagine any drastic changes to their fortunes.
Come to think of it though, maybe I'm the one in need of help here. As hard as it is to admit, I'm still down with this miserable crew for better or for worse, in sickness and in health. I'm a soldier and so I'm prepared to suffer until things do get better. As the late Sam Cooke once said, "It's been a long time comin', but I know a change gonna come."
Dr. Todd Boyd, a columnist for Page 2, is an author, media commentator, and professor of critical studies at the USC School of Cinematic Arts. His next book, "The Notorious Ph.D.'s Guide to the Super Fly '70s," will be published this month.