Poet Oliver Wendell Holmes once said that while youth fades and love droops, "A mother's secret hope outlives them all."
Well, we beg to differ with ol' Ollie. Our love for Jennie Finch (Page 2 Hottest Female Athlete, 2003) is still quite lively, and her youthful good looks are hardly fading. That said, the 26-year-old new mom feels a deeper sense of significance these days. It seems her baby boy, 9-month-old Ace, brought a little more meaning to her life than the crown we gave her four years ago.
Page 2 recently caught up with the maternal hottie by phone while young Ace made his presence known in the background.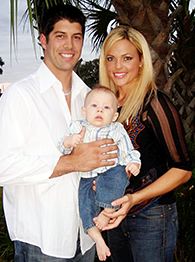 USA Softball File Photo
Page 2's Hottest Female Athlete of 2003, softball star Jennie Finch, is
now a wife and mother.
Mary: Well, it's been four years, Jennie. Where should we start?
It's funny, [a representative from USA Softball] called to tell me that ESPN wanted to do a hottest female athlete follow-up, and as he's telling me this I'm on my hands and knees cleaning up throw-up [laughs]. On my kitchen floor cleaning up baby throw-up! I was laughing and just thinking, My, how things have changed!
You and your husband [Diamondbacks pitcher Casey Daigle] had your first child in May. Which one of you hurlers gets credit for naming little Ace Shane?
Dad gets all the credit for this one. It was so funny, we had only been dating for like two weeks, and one night he said he had a question to run by me. He said, "So if this all works out and we end up getting married, would you have a problem if we named our first son Ace?"
I was like, "What?! What are you talking about?" I totally reamed him. But he said that ever since he was a little boy he always told himself that he would name his first son Ace. I loved the name, so I was like, "Great, whatever." Now, here we are with little Ace Shane. We actually each have a brother named Shane, so it worked out nicely.
Any early indications of righty or southpaw?
Well, he's showing signs of a little bit of both right now, so his dad has threatened to tie his right hand behind his back to see if we can't make a lefty out of him, but we'll see.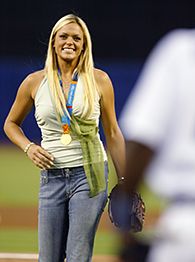 Jeff Gross/Getty Images
After winning a gold medal at the 2004 Olympics, Jennie threw out
the first pitch at a Dodgers game.
What's the hardest thing about being a mom?
Leaving him. I've been so blessed with being able to travel with him. He's got his little passport. He's quite the world traveler. He's been on over 100 flights already. He's so good on airplanes. He came with me to China and Japan. I've only had to leave him for two nights. And that's just the hardest part -- even leaving every day just to go work out. I'm crazy about him! I want to be there for everything, and I don't want to miss anything. It sounds crazy, I know, but you have no idea what it's like to step away.
You and Casey just celebrated your two-year anniversary. When's the last time you guys went on a date alone?
You got me. I'm that mom who wants to take the baby everywhere. But actually, for our anniversary, my grandmother was in town staying with us and she kind of forced us out of the house. OK, she forced me out of the house, and we went out alone and had a nice dinner. It was great. But it just goes to show how much your life changes. I absolutely love it. A baby brings so much joy, but it is funny to have to think about the last time we went out.
Can Ace sleep through the night -- complete game style?
Yes, now he's pretty much going through the night. Every once in a while, he gets hungry around 4, but for the most part he's good for the night.
What's harder: sealing a no-hitter or getting out of the room once you lay him in the crib?
Ooh, tough one. I'd have to say closing out a no-hitter, because once Ace is down, the hardest part is pretty much over.
You're a mom, an Olympian and a professional athlete, so nobody still refers to you as ESPN.com's Hottest Athlete, right?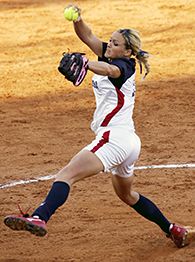 Guang Niu/Getty Images
Even as the face of USA Softball to many fans, Finch doesn't take her success for granted.
I don't know if that title ever goes away! It seems to be a tough one to shake! [laughs] Maybe someday when I'm all old and washed up, people will forget about it. But it's funny how it still sticks at the top of people's minds right now.
Does that bother you?
No, but it's just kind of a weird title, you know? I'm a softball player. I play in the dirt. It's funny, because I'll do a show or a radio interview and they'll introduce me as an Olympic gold medalist and right behind that it's always, "and ESPN's Hottest Female Athlete."
I have to laugh because it's like, "What?! How is that higher up than world championships or a college national title?" It's just funny how that ranks right up there. The title is constantly woven in and it's just funny to me that -- years later -- that's still what people talk about.
What's the hottest thing you've discovered in the last year, or so? Tell us you've still got flair. What's the hottest new addition to your life?
Oh man. You're kidding me. Probably the different lines of pacifiers! I'm serious. That's the best thing I've discovered!
I'm so out of everything, even technologically. I get all of my husband's electronic hand-me-downs. He always has the newest, coolest stuff and I just get them when he outgrows them. I wish I could tell you I had some cool mobile phone, or song, or something, but here I am with generic Tone One on a used cell phone. I'm so old school when it comes to all that stuff.
What's the latest forecast for Olympic softball? There are a lot of petitions out there trying to bring it back, but is it accurate to say we won't be seeing you ladies in 2012?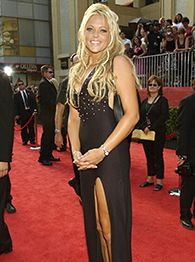 Kevin Mazur/WireImage.com
No doubt the black dress Jennie wore to the 2002 ESPYs helped vault her to the Hottest Athlete title in 2003.
From everything that I've been told, the last window of chance for [softball] in 2012 is over and gone, unfortunately. So now it's just a matter of keeping the sport alive and growing in the meantime through the NPF [National Pro Fastpitch League] and the World Cup, which we're so thankful to USA Softball for. It's been such a great event in Oklahoma City the last few years. There are so many softball fans who were so disappointed by the Olympic decision. At least we have the World Cup and are able to bring a little bit of Olympic-type competition to our home turf.
How do you feel about the state of the sport?
Well, I can't say enough about the exposure from the College World Series and obviously the ESPN television coverage. The interest in the college game right now is just huge. It's amazing how many people are recognizing the game at that level, and I'm hopeful that will help support the pro league and eventually can get us back in the Olympics.
In so many ways you are the face of softball to a lot of folks who otherwise don't know too much about softball. Do you feel that responsibility, or do you just feel like another hard-working mom?
I don't know. Every once in a while, I'll have moments where I feel part of something bigger, you know? But I am such a little part of it all. I feel like I'm so small compared to my sport and in the grand scheme of female athletes. I'm just living a dream, people say that all the time, but it's the truth. I really feel so blessed. Just being able to be a professional athlete is amazing. When I was a little girl this wasn't even an option. Everything that comes with this life is unreal -- the travel and the amazing people that I've met. Sometimes I just think about what is going on, and that it's even a possibility, let alone a reality. I'm so lucky. Plus, on top of all of this, now I'm a mother. I'm so happy.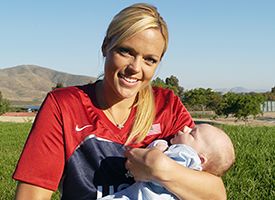 USA Softball File Photo
Let's see: Mom is a gold medal-winning pitcher and dad is a big league hurler. You think Ace will see the mound one day?
What's the funniest thing that's happened to you as a new mom?
Oh man, well I can think of one thing. It's probably not the best thing to say or write, but it's true. This is the kind of stuff that happens! The other day we were at home and I hear Ace start coughing, and then he starts spitting up and I run over and he's spitting up little chunks of cardboard. I'm thinking, Oh Lord, help me. My son eats cardboard.
What did he get into?
He chewed on a box. We had a cardboard box blocking the staircase because the gate doesn't reach all the way across. So I put a box there to keep him away from the stairs, not thinking he would eat it. He was just standing there chewing on it and I didn't get to him in time, obviously. I ran over to take it away and then sure enough, 10 minutes later he is spitting up cardboard! This is where I am now!
Mary Buckheit is a Page 2 columnist and can be reached at marybuckheit@hotmail.com.