Well, the full NFL schedule finally has been announced. Feel like doing any traveling in the fall? Page 2 has assembled the Ultimate NFL Road Trip for the 2007 season. (And don't miss the worst road trip.)
Thursday, Sept. 6: Indianapolis -- Saints at Colts
The Crossroads of America is the perfect place to kick off the season. What better way to get our NFL engines purring than with a little trip to Naptown.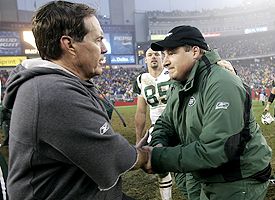 AP Photo/Winslow Townson
How will teacher and student "embrace" each other next season?
Sunday, Sept. 9: East Rutherford, N.J. -- Patriots at Jets
While we're tempted to hit up the illustrious Lions-Raiders' showdown, we'd rather brave Jersey for the Handshake Bowl -- where there's a possibility of Eric Mangini and Bill Belichick man-hugging it out, or even some sort of choreographed fist-bump.
Monday, Sept. 10: San Francisco -- Cardinals at 49ers
Baltimore at Cincinnati might seem to have the chops in the opening Monday night doubleheader, but since the Ravens were gifted with three "MNFs" (and since we don't have any burning business in Cincy), we'd opt for a trip to the Bay in September to make an official ruling on alleged offseason improvements out West.
Sunday, Sept. 16: Charlotte -- Texans at Panthers
We're willing to catch the Chargers-Patriots' game on the tube from our hotel room in Carolina, just so we can be there to watch David Carr watch Jake Delhomme at the helm while Matt Schaub directs Carr's old Texans. Salty anyone?
Sunday, Sept. 23: Chicago -- Cowboys at Bears
Chicago is our kind of town, especially when America's Team pulls in to Solider Field for the first time since 1998. Maybe Devin Hester will run back the opening kick, just to keep TO quiet for the duration of his stay in Ditka Country.
Monday, Sept. 24: New Orleans -- Titans at Saints
Vince and Reggie in the Superdome for their first regular-season professional go-round. Pacman who?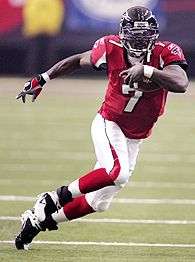 AP Photo/John Bazemore
Vick will surely want to outshine his former backup.
Sunday, Sept. 30: Atlanta -- Texans at Falcons
No one wants Michael Vick to run all over the Texans more than Michael Vick. If he can't outshine his old shadow Matt Schaub, things could get pretty heated for him in Hotlanta.
Sunday, Oct. 7: East Rutherford, N.J. -- Jets at Giants
We live for the rowdies who come out of the woodwork for this incestuous New York clash. No secrets between these two, and no surprise that it's one of our favorites to attend.
Monday, Oct. 8: Buffalo -- Cowboys at Bills
We'll sail up the New York State Thruway for the first Monday night game in Buffalo in 13 years.
Sunday, Oct. 14: Dallas -- Patriots at Cowboys
Wade Phillips vs. Bill Belichick. Houston vs. Wesleyan. Boots vs. Hoodie. It's on.
Sunday, Oct. 21: Buffalo -- Ravens at Bills
How about heading back to Buffalo to watch Willis McGahee -- the once-coveted Bills' star -- make his first return in a Ravens uniform since telling the Baltimore Sun that going to Buffalo "was like hitting a brick wall."
Sunday, Oct. 28: London, England -- Giants at Dolphins
We have to go. We couldn't do the math to convert the 5 p.m. GMT kickoff if we stayed behind. Besides, we hear the fan cruise is all-inclusive -- bottomless pints of Newcastle and any goodies Ricky Williams can get his hands on.
Sunday, Nov. 4: Indianapolis -- Patriots at Colts
The Pats head to Indy for this perennial blockbuster, and so would we. New England's bus will be equipped with a "Brady Baby On Board" bumper sticker by then, and we'll be watching to see how Pops plays football when his bunch are in the stands.
Sunday, Nov. 11: San Diego -- Colts at Chargers
Week 10 takes us to America 's Finest City for this sexy matchup we've been waiting for since last year's playoffs.
Sunday, Nov. 18: Seattle -- Bears at Seahawks
We'll pass on heading to Houston for another reminder of who the Texans could have taken (Reggie Bush) and instead visit Seattle. We'll watch the Seahawks try to avenge the OT divisional playoff loss that's been giving them night tremors ever since January.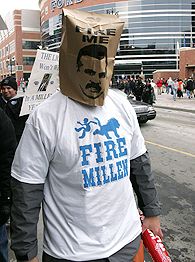 AP Photo/Paul Sancya
This is what we plan to wear in Detroit on Thanksgiving.
Thursday, Nov. 22: Detroit -- Packers at Lions
With three games to choose from on Thanksgiving, we're sticking with the old standby, if only because a matchup this worn-out best allows us to get our gravy on.
Sunday, Nov. 25: Foxborough, Mass. -- Eagles at Patriots
We love us some Brady vs. McNabb, and Daisuke's disciples should be cleared out by then.
Monday, Nov. 26: Pittsburgh -- Dolphins at Steelers
There's nowhere we'd rather be than Hines Field, Terrible Towel in hand, for Joey Porter's return to the Burgh.
Sunday, Dec. 9: Baltimore -- Colts at Ravens
We think we'll leave for this one in the middle of the night, just for old time's sake.
Sunday, Dec. 16: Anywhere but Cleveland for Bills at Browns
Because you just know this game isn't going to be any good.
Sunday, Dec. 23: New Orleans -- Eagles at Saints
Could be some especially hard hits in this one. Reggie Bush might want to keep a special lookout for Philly's Sheldon Brown, who delivered the hit of the year against Bush in the playoffs last season.
Sunday, Dec. 30: Oakland -- Chargers at Raiders
Sure, it might be Brett Favre's last game at Lambeau. Rii-iight. We've never heard that before. Instead we're going to Oakland. That's what you get for crying wolf. We can't think of a better way to end the regular season than by watching Norv Turner stick it to Al Davis.
Mary Buckheit is a Page 2 columnist. She can be reached at marybuckheit@hotmail.com.