SAN DIEGO -- So the Chargers are licking their wounds after a 38-14, Week 2 shellacking in New England. So what? They're still sitting at .500 with 14 games left in the regular season. Everything's not lost.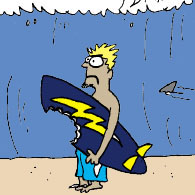 Kurt Snibbe/Page 2 artist
In fact, the ability to fend off an opening 0-2 affliction suggests that the Chargers are in good position with no where to go but up, considering Bill Belichick's boys and last year's Super Bowl runners-up are already in rear view. But despite all the room for redemption left on the 2007 schedule, there is already serious skepticism about the once-budding Bolts.
"God, they look terrible. We're in for a long season. They can't put anything together -- no continuity, no consistency, no confidence. They just don't have it."
This grim outlook was furnished by a business-casual Corey at a convenience market in North Park the morning after the Patriots had effectively sucked the life out of San Diego.
The gloom after this loss was almost palpable, like the thick, gray marine layer coating the city.
Only this wasn't burning off anytime soon.
Corey saw the Union-Tribune newspaper in my hand, and its "Flop in Foxborough" headline tipped off one more bout of frustration.
"It's unbelievable. Another year of this crap. We just can't get there."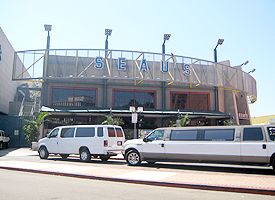 Mary Buckheit/ESPN.com
Chargers fans at Seau's in Mission Valley were pumped for the opening victory over the Bears … but the mood in town changed severely after a Week 2 loss at New England.
You can make the case that the Pats would have beaten the Chargers -- under new head coach Norv Turner, who replaced Marty Schottenheimer -- anyway, even without added motivation. But still, is losing to the Patriots in Week 2 really reason to bag your superstars (like LaDainian Tomlinson) and call for GM A.J. Smith to fire the head coach? Again?
Apparently so. Chargers threads on ESPN.com message boards during and after the beatdown included, but were not limited to the critical …
How Embarrassing
Philip Rivers STINKS
NORV is to blame
Why does anyone think the Chargers are good?
One and done
San Diego will always be pathetic
Overrated
Philip Grossman
Bring back Mike Riley
LT is under suicide watch
How soon can AJ fire Norv?
Last year was SD's chance and they blew it
Was LT crying
I miss Marty
Chargers should be shipped to Arena League
Tough room. And the headlines popping up on SignOnSanDiego.com weren't sugarcoating the city's shortcoming, either.
Chargers feel the pain all over
Pats' spread offense toasts Chargers
Patriots operation has field day with Chargers
Patriots Trample Chargers
Yes, they lost 38-14 and trailed 24-0 at halftime. They did get trampled. But it's worth mentioning that the Chargers opened the season with a victory over the defending NFC champions and that their Week 2 defeat came against the dynastic Patriots, whose coach was under siege and whose players had something to prove.
Nevertheless, many Chargers fans are up in arms.
"Rancho Bernardo Ron" posts on the North County Times bulletin board:
"What the hell just happened? All that hype down the drain."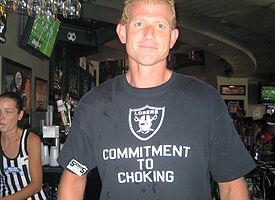 Mary Buckheit/ESPN.com
One thing is universal among Chargers rooters
-- unadulterated hatred for the Raiders.
Over on BoltTalk.com "Baxie" declares:
".500 if we're lucky. If we're REALLY lucky, a torch-wielding mob of L.T.'s fantasy owners will march on Turner's house and take care of the problem in time for a real coach to save the season."
"619ChargersFan" adds:
"RE: I miss Marty: At least a Marty-coached Chargers team looked competitive, and coherent."
"Soren W" had more disparaging words for the Chargers new coach:
"Classic "Norvitis," I know the symptoms -- emotionally flat, unfocused, absurdly questionable play-calling, inability to overcome adversity, big-stakes game filled with bone-headed decisions. We need a coach that is a no-nonsense guy who does not put up with slackers or losing. Someone that is not afraid to go for the throat and win games. Anyone have Parcells' phone number?"
There's plenty of venom for Turner, who has shepherded the Chargers to only one loss. But then again, despite a league-leading 14 wins, Turner's predecessor Schottenheimer was given the ax.
"Robertkjjj" on SignOnSanDiego.com makes sure no player goes without blame for the current 1-1 travesty:
"Philip Rivers looks lame two weeks in a row. L.T. looks almost ordinary. Is it too early to speculate that A.J Smith got too greedy, replacing a coach who was great in the regular season and choked in the playoffs, with a mediocre coach who may choke in BOTH the season and the playoffs? Did Smith not consider that you have to WIN in the regular season just to make it to the playoffs? There is simply no way the Chargers are of the same caliber as the Patriots and Colts, and it looks like it's going to be a long, painful, year."
Another agonizing loss to the Patriots? Absolutely. But a long, painful year? Geez. What about the opening victory against the Bears? I was at Seau's watching the game when the spirits were flowing free and the fists were pumping high. Just a week later, the city seemed to completely changed its tune.
The Chargers actual upcoming adversaries include the Packers, followed by the Chiefs, Broncos and Raiders before the bye week. The opposition might be lightening up, but the word on the streets of America's Finest City shows no signs of encouragement.
Who knew 1-1 could have you playing for second place?
On Rock 105.3 FM -- the Chargers' flagship -- Shawne Merriman surprised the airwaves when he reported for his usual Monday morning-after radio appearance. Although he frequents the spot, I assumed he'd opt out after what must have been a brooding red-eye flight home from New England. But there he was around 7 a.m. PT, about two hours after the Chargers arrived in town.
The segment was short, taking into account that Merriman, like many of his teammates, didn't sleep on the plane, but before he signed off, he made sure to share his take on the season's status with all those who were listening.
"It's definitely a wake-up call," Merriman said of the odious loss to the Patriots, "because your season is not decided in the second game, whether you win or lose."
Good luck with that, Shawne. You've got your work cut out for you.
Mary Buckheit is a Page 2 columnist. She can be reached at marybuckheit@hotmail.com.
NFL OVERREACTION NATION

We've seen two weeks of football, and for most NFL fans, that's more than enough to either jump on the bandwagon ... or jump ship.
Overview
•
Jackson: Welcome to Overreaction Nation
•
ESPN experts: Should you be overreacting?
•
Vote: What do we know after two weeks?
In Chicago ...
•
Wojciechowski: Even a win is too much to Bear
In New York ...
•
Darcy: Apple of their eye is the backup QB
In Dallas ...
•
Pearlman: Cowboys fans letting it all hang out
In Cleveland ...
•
Gallo: Net gain or loss for roller-coaster Browns?
In San Diego ...
•
Buckheit: Pats pull the plug on Bolts fans
In Los Angeles ...
•
Neel: Who says no one in L.A. loves the NFL?
Also See
ESPN Top Headlines