When the movie "The Game Plan" opens on Friday nationwide, moviegoers will see approximately 25 arena football players on the screen.
AFL players have been a part of Hollywood for years, popping up in "Invincible," "The Longest Yard," "The Waterboy" and "Any Given Sunday" as extras, teammates and body-doubles. "The Game Plan" was no exception.
Page 2's Mary Buckheit recently sat down with the movie's star, Dwayne "The Rock" Johnson, to learn how the film treated the celebrity QB. But she wanted to get the other side of the story.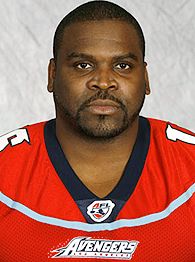 Jon Soohoo/WireImage.com
Silas Demary gets a little face time in "The Game Plan."
So Mary caught up with Los Angeles Avengers defensive lineman Silas Demary (an AFL Defensive Player of the Year and Lineman of the Year award recipient) who was busy doing the footfires and filming football sequences while The Rock, Morris Chestnut and the rest of the Hollywood types were kicking back in their trailers.
Here's what Demary had to say.
Mary B: Did you get to land any hits on The Rock?
Silas Demary: No. Actually, we didn't see too much of The Rock because he was really injured. I was supposed to go up there [to Massachusetts] the week before he got injured, but I got a call and they said things were delayed because The Rock snapped his Achilles. So when we finally did see him on the field we were told to stay away from him.
How was filming up in Foxborough and Worcester, Mass.?
Cold! It got really cold up there, man! We arena players aren't used to that. I play indoors in L.A. and I live in North Carolina, so I was cold on those shoots. You had to try to stay focused and not look like you're so cold, but man, that's the truth!
Usually when you shoot a movie you'll be in Hollywood or somewhere special, but you get sent to Worcester, Massachusetts. Not exactly a hotspot for nightlife, huh Silas?
Haha, no it wasn't, but I'm not really a big clubber guy. I don't go out so I didn't mind that, my biggest complaint was the cold!
How did you get the call to your big acting debut?
I guess the producers wanted to use real football players instead of grabbing some guys off the street. They wanted to bring some credibility to the football scenes so it didn't look so cheesy. Mark Ellis and Pat O'Hara work with guys in L.A. on sports movies, and knowing that our season would be over when filming started for this movie, it just made sense. Pat O'Hara asked me if I would be interested in doing it. I told him I was excited about it. The whole thing was a really cool experience.
A lot of athletes have told me that they want to get into acting, any advice to those guys now that you're a seasoned veteran?
I'd tell them don't be extras! Oh man, do not be extras, that's all I would say. It's definitely long days and long nights. It's a cool experience, and if you're lucky enough to get the chance, you should do it. But don't expect it to be easy. It's not the sort of thing I'd want to do regularly.
You sure? You're a free agent and you're familiar with L.A. -- you sure you didn't pass out a few headshots?
Oh no, it's not nothing I would do. Unless, maybe if I was The Rock or somebody, like the main character.
Did you have any lines?
Nope, none. … But I did have to make a funny face in one of the scenes. When they announce who gets to be the little girl's nanny, I'm standing by and I make a face after the lady who gets picked goes crazy.
Oooh, a non-verbal performance! Sounds like they really trust your genius. We'll keep an eye out for you in that dramatic nanny scene.
[Laughs] We'll see if it even made the final cut, I haven't seen the movie yet.
All right, well, what else did you have to do? You were a stunt double, right?
Yes, I was the stunt double for Eric Ogbogu [the official spokesman of Under Armour], but he did pretty much all of his own stuff so I was just standing around a lot.
Well, you must have done something right because I saw you in the publicity photo with all the big shots.
I know, I saw that! That was so cool, that's the closest I got to those guys! I did do some football stuff. I put a few hits on guys. It was fun. They want it to look as real as possible, but it's funny because everything -- every play and every shot -- is so choreographed. For every play you have to be at a certain spot at exactly the right time for them to get the shot they're looking for. So, you know, it looks like football, but it's not like it was all natural. You run in there and they'll say, "Almost, but you were a second early." So you do it again!
The Rock told me that he looked like a real football player and, after all, he did play college ball at Miami alongside Warren Sapp and Ray Lewis. Think he could have made it in the NFL?
Nah, probably not. Acting's got too much of him now, so I think he's done with football. Like I said though, I really didn't see him in action too much. Those stars are pretty much off all day long, doing their thing. It's funny how little you see of them. They're in their trailers chillin' while we were doing all the hard work with real sport!
Well, The Rock told me that he has skills and he promises he looks like a real football player in this one.
I don't know, but I'll tell you what, Morris Chestnut and the other guy, Brian White, I think those guys definitely could make it in the Arena League.
Really? Morris and Brian had some skills?
Oh yeah. Morris looked pretty good, and Brian, I think he could be a nice little fullback.
So The Rock was all talk, he told me he was the smoothest brother out there. But I guess, at the end of the day, he's just a wrestler. Hey, you think The Rock could take [Arena League] commissioner David Baker?
Haha! Oh yeah. Oh yeah, The Rock could take him. Probably with one hand.
Whoa! C'mon Silas, I think commissioner Baker has about 200 pounds on The Rock these days.
The Rock wins that one hands down. I like to think height and size doesn't matter.
All right, so, for my last question, I've got to ask you -- since you filmed at the Patriots' Gillette Stadium -- did you see any cameras or secret monitors lurking around the visitors locker room or anything?
You know, I thought I saw a camera hidden in the bathroom, now that I think about it. [Laughing] No, but it's funny, I thought about that too after all that news broke about [Bill] Belichick. I didn't see anything, but I can't believe that story.
So you're saying nobody is spying in the AFL? The SaberCats' Arena Bowl title is legit?
Oh definitely. The SaberCats are definitely a legitimate team and I have a lot of respect for that organization. I'd say that they probably weren't spying on anybody. In the AFL, everybody's play-calling is pretty much the same. You can hear what's going on. If somebody is using cameras in an arena, oh man, well they really want to win.
Mary Buckheit is a Page 2 columnist. She can be reached at marybuckheit@hotmail.com.