I once hosted a party with the Heisman Trophy as the guest of honor.
It took place about four years ago, when I was still an intern in Bristol. I'm not authorized to disclose the exact details of how the Heisman happened into my hands, but suffice it to say I have two friends who're as cool as the jobs they held at the time. They told me they were in charge of babysitting the Heisman, and I told them they were in charge of getting the Heisman safely to my apartment, by land or by sea.
I can't say my history with the Heisman stretches back much further than that one magical evening. I wasn't brought up on college football. So it wasn't until I held the Heisman in my arms that he had any sort of visceral appeal to me. But ever since then, I've always kept an eye out to make sure he's headed to a deserving home every year.
And this year I don't think that he is.
Has the Heisman Trophy race ever been so up in the air this late in the season before? And it's not because there are lots of worthy candidates. It's because the handful of guys in the running all hardly deserve it.
I was behind Dennis Dixon -- I thought his stats, and Oregon 's season, would hold up, making him a most deserving Duck. But we all know how that fairy tale ended.
So now what? There's always Chase Daniel of Missouri. Hey, he led the Tigers to wins over Texas Tech and Nebraska -- that counts for ... well, something, right? Maybe Daniel will do something spectacular against Kansas in the Border War at Arrowhead Stadium Saturday night. But my gut says Kansas QB Todd Reesing will have something to say about that.
Speaking of Reesing, I love the fact that his Jayhawks are still undefeated, and I think Reesing deserves a lot of credit. But wins over Central Michigan, Southeastern Louisiana, Toledo and Florida International don't incline me to invite Reesing to the Heisman presentation in New York, let alone give him the trophy.
There's West Virginia quarterback Pat White. Maybe if he brings Morgantown its first national championship he deserves the 25 pounds of bronze. But West Virginia lost to now-completely-discredited South Florida, and still has to beat Connecticut to win the Big East. And if the Mountaineers make the national title game, it will be primarily because of the upset losses to befallen Ohio State and Oklahoma.
How about Arkansas running back Darren McFadden? Nah. First of all, the untrained eye can hardly tell his stats apart from fellow Razorback Felix Jones. And there's one glaring stat that both backs have in common: losses to Alabama, Kentucky, Auburn and Tennesse.
Boston College quarterback Matt Ryan -- hey, who let him back in here? He peaked too early and, I'm sorry, you can't get back on the Heisman train by eeking out a win over Clemson.
LSU's Glenn Dorsey? He's on the best team in the nation, at least. But he's a defensive tackle. Sorry, Glenn, defensive tackles just don't win the Heisman Trophy.
Hawaii's Colt Brennan? A fun player to watch, but the guy literally plays on an island -- you can't give him the Heisman Trophy. Case closed.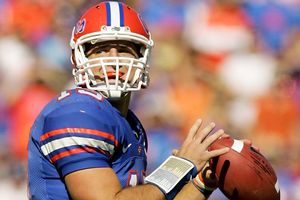 Sam Greenwood/Getty Images

Tim Tebow might pick up the Heisman by default.

So that leads us to the obvious. Florida QB Tim Tebow will win the Heisman Trophy.

Shoot, someone's got to.

Florida has lost to Auburn, LSU and Georgia, leaving Tebow and his Gators at a lackluster 9-3. But Tebow has 26 touchdowns through the air and 20 on the ground, making him the first player in Division I-A history to pass and rush for at least 20 touchdowns in a season. That's impressive any way you look at it -- unless, of course, you believe that all touchdowns aren't created equal.

Remember, Tebow passed for three TDs and ran for two against the Troy Trojans. And he threw for three TDs and ran for one against Western Kentucky. And he threw for three more and ran for another one against Florida Atlantic. Not exactly stellar competition.

Listen, I like Tim Tebow. I think he single-handedly manufactures any and all of Florida's offense, and is one of the most exciting players in the country. But I just don't think his season merits a Heisman Trophy, no matter how diluted the award has become.

But hey, somebody's got to take it home, right? Maybe no one's earned it, but somebody deserves to party with it.

So start sending out those invitations, Timmy. Just make sure everyone RSVPs. People come out of the woodwork when you've got the Heisman next to the punch bowl.

Mary Buckheit is a Page 2 columnist. She can be reached at marybuckheit@hotmail.com.