Kerri Walsh has long set her sights on 2008. Now that it's here, she's making sure the rest of us haven't lost focus. To keep you in game shape, the AVP Pro Beach Volleyball Tour launches its first ever Hot Winter Nights Tour on Thursday, featuring stops in 19 cities and proving once again that nothing defrosts your brain like bikinis and board shorts.
Opening ceremonies for the 2008 Summer Olympics are slated for Aug. 8 in Beijing. The flame will be extinguished on Sept. 1. Somewhere in between, Walsh will turn 30. The 6-foot-2 defending gold medalist is hoping to return from China with nothing but a few tan lines, another year's worth of wisdom and a second gold medal in her carry-on bag. Things like this don't happen every year, so Page 2 invites you to stay the course courtesy of this recent exchange with Walsh.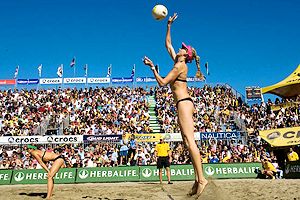 Holly Stien photo
Kerri Walsh can tell you that when you're a pro beach volleyballer, the sand gets … everywhere.
Walsh on 2008 Olympic anticipation …
"It's a really strange feeling, all that time between Olympic Games. It's been almost four years, and in some ways, it's like the time has flown by, but other days, Athens feels like a lifetime ago. I talked to Misty [May-Treanor, her playing partner] the other day, though, and you can just feel it coming. Even if we aren't talking about Olympics specifically, it's all around now. Subconsciously it's always there."
Walsh on the sand trap …
"It's in everything all the time. The last time I was on sand was in Thailand in November and still, I don't think a day has passed that I haven't had to shake something out. It's everywhere, in everything, always."
Walsh on living life in a bikini …
"The potential for a wardrobe malfunction is always in the back of your mind, and it's never fun to think about. It's never happened in a game situation for me, yet, but it's pretty much a scary inevitability. The daily struggle is just dealing with the way it rides. You're diving for balls. You're jumping up and down. You're on the ground. It's going to go to places where you don't necessarily want it to go, and you wish it wouldn't, but you get used to it. It's a fact of life."
Walsh on the Athens gold medal-clinching celebration with May-Treanor …
"There was not a lot of thinking going on. It's just reacting to that moment, that most wonderful moment when everything you've worked for is finally accomplished. I remember just looking at Misty after we won and just freaking out. We were freaking out, rolling in the sand and you might think, 'What came over you guys?' and we've taken a ton of flak about it, but I'd do it again in a heartbeat. It's not like we were thinking. It was just this uncontrollable reaction to what just happened. It's, 'Oh my God, did we really just do it? We did it!' And then you completely freak out. It was totally spastic, but honestly, I aspire to have that celebration again. It was so uninhibited and so wonderfully genuine. That moment of joy is like nothing else."
Walsh on her golden girl obsession …
"I don't wear silver anymore. After Athens I became a gold girl. I had never worn gold in my whole life. Casey [Jennings, an AVP Tour pro] proposed to me after the Olympics, and he got me a gold band. At first I was like, 'Ehh, I don't know about gold.' But I one day I realized that I had switched all my jewelry over to gold. It's almost obsessive-compulsive at this point. Everything I can get in gold, I want in gold. Crazy, but I don't want to let myself think about anything else. I want it to be the only option. It's weird, I know."
Walsh on being married to a guy from Las Vegas …
"Casey can stay awake till the sun comes up and not even think twice about it. The guy is incapable of going to sleep if there is a social event going on."
Walsh on their unmentionables …
"Au natural. That's really all that's left when he sees me at work every single day in a bikini. When you're both beach volleyball players, you're not left with too many options."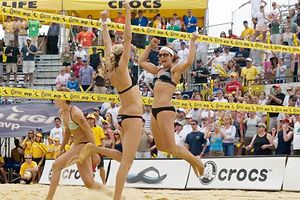 Holly Stien photo
Walsh and Misty May-Treanor will try to repeat as Olympic gold medalists in Beijing this summer.
Walsh on May-Treanor …
"We're so completely intertwined, to the world -- it's
Misty and Kerri
, all the time -- but I love it. I wouldn't want it any other way. It's really special to be a part of such a small team. We're individually responsible for ourselves, but yet, we're so reliant on each other. It's really interesting. We have grown so much, from girls to women, really. Playing together for seven years, we've won a gold medal together, we've traveled all over the world, now we're both married and we're heading for another Olympics. We've been through a lot of life
side by side
. I feel so blessed to have this opportunity with her. Misty, growing up, was my ultimate favorite athlete, favorite player, everything, she was it. She was who I wanted to mold myself after and to have the opportunity to play beside her like this is just amazing. What a ride."
Walsh on the two-page Gatorade "League of Clutch" spread in ESPN The Magazine …
"Did you see it?! How rad is that? Insane! Just to open up ESPN The Magazine and see Misty and I in there
with that class of athletes
-- Peyton Manning and Derek Jeter, Dwyane Wade, Landon Donovan and Maria Sharapova. It was so awesome. I'm so excited about it. It's great to be a part of the Gatorade family. I don't know the other athletes. I mean, I've met a few of them randomly here and there, like Landon and his wife do Pilates at the same place I go to, but other than that, I am just always rooting for them behind the scenes, so to see us all together like that was great. It makes me so happy. I love it!"
Walsh on a fresh start to a big year …
"The new year is fabulous, so far. We've been going to Tahoe for the past seven years, so we rented a house and rang in 2008 up there. A bunch of us just partied and had so much fun, and then on New Year's Day we jumped in the lake. There was snow on the ground, and it was 38 degrees in the water. It was insane, but we just wanted a fresh start, you know? Then I had my first day on the sand this morning [Jan. 9] -- it was ugly, but totally wonderful to be back out there. We went to Emerald Bay in Laguna Beach and it was cold [50-degree morning temps], but not as cold as Lake Tahoe! This is the first outing since my shoulder surgery nine weeks ago, and things felt really good. I'm ready for '08!"
Walsh on shoulder rehab …
"I can't play on the AVP Hot Winter Nights Tour because of my shoulder, so I get to be the spokeswoman out there promoting at events, which should be fun. Of course, a part of you always wants to be playing, but this is actually some very nice downtime after last year's super-busy season. Plus, I can't even think about putting on a bikini right now! Casey is playing in two events in February, I think in Oregon and Washington, so he's super-excited and training his butt off, too. We're starting some kind of body cleanse next week, trying to get healthy and ready for competition together. We'll see how that goes!"
Walsh on the AVP Hot Winter Nights Tour …
"I think the winter tour is a really cool concept. I played in the test event last February in Albany. It was crazy, you were there! People were stuck because of the blizzard but all was well on the sand [inside the Times Union Center]. So everybody is excited for the first year of the winter tour. There's just something interesting about playing beach volleyball in places like Milwaukee and Minneapolis."
Mary Buckheit is a Page 2 columnist. She can be reached at marybuckheit@hotmail.com.