As the NFL season heats up, so does the spectacular surrounding fantasia.
Delicious drafts, wacky waiver wires, rankings, chats, leagues, keepers, trades! Can't you just smell your fantasy league victory a brewin'?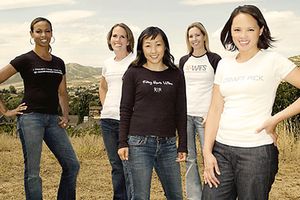 WomenAgainstFantasySports.com
Beware, fantasy sports enthusiasts. You have enemies out there.
Sadly, amid all the excitement, it seems some folks have sour grapes. Azar McMaster, 31, of Salt Lake City, and Allison Lodish, 35, of Kentfield, Calif., are the co-founders of a disturbing new fringe uprising:
WomenAgainstFantasySports.com
. Coming from opposite sides of the fantasy sports spectrum, these two put their brains and brawn together to fuel the fire of women widowed by their partners' fantasy sports enthusiasm. Their Web site mourns the copious amounts of time lost to the glorious glow of a computer screen and offers condolences and support for those who grieve.
The scheme was conceived by Lodish, who claims she was "widowed" by her own husband's addiction to fantasy sports. She also alleges that she is not alone and vows to rally thousands of women who suffer every football season.
McMaster is a self-proclaimed fantasy junkie who says he's not above poking fun at his habit to sell out via message boards and merchandise that belittle a $3-4 billion per year industry.
We sent the always objective Mary Buckheit to sit across from the twisted minds behind this movement. Here's her report from WAFS HQ.
---
Page 2: Let's be blunt. Is this really just a good ruse to sell T-shirts and underwear, or do you [gasp] honestly hate fantasy sports?
Azar McMaster: Well, we do believe in what we're doing. We co-founders met through this idea of a fantasy sports counterculture. Allison's father-in-law is a marketing professor at the University of Pennsylvania's Wharton School. It was actually while taking his class -- entreprenurial financing -- that this idea was born. We chipped away at the design and the strategy of the site, and over the next few months, decided that not only did we want to explore this idea for the class project, but we also wanted to make it a real thing. So yes, at the end of the day, we believe in what we're selling.
Allison Lodish: And yes, at the end of the day, I actually hate fantasy sports.
Well you, Allison, obviously have never won a fantasy league and stood on the summit of fantasy greatness.
Lodish: Are you kidding me? No. I have absolutely no interest. I love sports. I love watching sports. Real sports.. Actual players on actual teams. I love real football -- I'm a 49er faithful, born and raised out here. But I have no desire to "play" in a fantasy league. I just think it's lame.
I rest my case. But you, Azar, are a fantasy sports addict. So what exactly is your role in this profane operation?
McMaster: Allison has more of a personal vendetta, on account of her husband's addiction. But for me, when I heard the idea coming out of Allison's mouth, it was like a light bulb. Because I was just sitting there thinking that there are millions of guys like me [who play fantasy sports] -- I didn't know the number at that time, I didn't know it was 19 million, but I knew there were a lot of us -- and as far as I could tell, there was nothing marketed toward all the girlfriends and wives on the other side of this life. I know how passionately people feel about this thing and how seriously we take it, because I'm a fantasy addict. That's my life. But, conversely, I figured there had to be a strong response from our counterparts -- the women who live and put up with our obsession.
So you're a mole, with a marketing degree. A business-savvy rat. Got it.
McMaster: You can't defend a fantasy sports addiction. I guess that's the point -- that's the reason why I'm on board. The only thing I can say is that I don't take myself and my compulsion too seriously. That's the only thing we can do. And, thankfully, I married the right person, with similar views, and she also doesn't take me too seriously. We know what this is and what it is not. I'm a guy who once played in 10 leagues at the same time, and this year, I thought I was cutting back, and somehow, by the time Labor Day rolled around, I was in five. That's totally indefensible! It's socially irrational.
Blasphemy!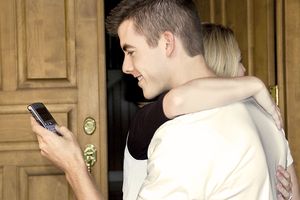 WomenAgainstFantasySports.com
Guys, admit it, you've done this kind of thing before.
McMaster: That's the point! That's why this Web site is such a good idea. And that's why, when you see all the backlash and negative comments from people about what we're doing, they're totally illogical. They make no sense. Fantasy sports don't make sense. It is an indefensible addiction that, if you're taking it seriously, your social perspective is skewed. I know this. I'm acknowledging that as an addict.
Lies! You've been brainwashed, man! This is a million little pieces of fabricated fantasy sports co-dependence. This site is a flash-animated, finger-pointing nag!
Lodish: The people who take the time to seriously criticize our site and the idea behind it have much bigger issues than just a love of fantasy sports.
Don't patronize us!
Lodish: Hey, we're just having fun. So if people are really taking this seriously, they need to realize that it really is just about having fun and poking fun.
Fun? This is McCarthyism! Why this, why now?
Lodish: My husband started playing fantasy a few years ago. And it started out with one league, which led to two, and then it just spiraled out of control. Just recently we were at a barbeque, and my husband said he was going to go refresh my drink. Fifteen minutes later? No drink, no husband. Where was he? He had snuck inside the house to our friends' office and was doing some fantasy stuff on their computer. He's got a problem! [Laughs] It was at another friend's party that I realized I wasn't alone. I watched all the husbands huddled together talking about their fantasy league, and all the woman were just looking on, rolling their eyes in disgust and frustration. And at that moment, I realized what a funny scenario it was! It got to the point where I realized it was too ridiculous not to play with. So here we are. The site launched in mid-August.
Would you rather your husband watch "Transformers" for the 14th time instead? That's a scary scenario now, isn't it? Fantasy compulsion isn't that bad.
Lodish: Well, you decide. The worst story I've heard so far that came through on a message board on our site was about the husband and wife who were away -- they were actually on their honeymoon -- and the husband said he was going downstairs to check on their flight. Actually, he was going downstairs to make a trade on his fantasy team. On their honeymoon! C'mon!
Azar, how bad are you? How many hours a week do you spend toiling with your rosters?
McMaster: Oh man, I'm almost afraid to answer this question. Let's see -- Friday, Saturday, Sunday … Monday! Then during the week … -- I guess over 10 hours.
Lodish: See? Oh. My. God. Seriously? It's sick. You should be ashamed of yourself.
McMaster: I am! I can't help it, though. That's what I mean!
Allison, seriously, what would these guys fill their time with? What would your husband do if you took fantasy sports away from him?
Lodish: I'm not trying to take fantasy away from him. I'm just making fun of him a little bit and trying to make him get a grip on the absurdity of fantasy sports. That's all. A little bit of reality would be great.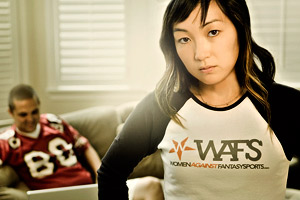 WomenAgainstFantasySports.com
Azar McMaster (background) is actually a huge fantasy sports fan.
Can't you just watch real football together on Sundays?
Lodish: We do! Well, we try. I sit with him until I just can't stand the flipping of the channels back and forth between games. It gets to a point where I just go in the other room and watch a game myself. It's ridiculous! He's pathetic.
Now, c'mon, isn't taking a stand against men hooked on fantasy sports but not men addicted to "Madden" sort of like a war on crack but not heroin?
Lodish: We would support any woman willing to take up that noble cause. [Laughs] We would band together in sympathetic solidarity. But fortunately, that's not a problem I've encountered at this point in time.
Don't mock their pain. Azar, rumor has it you once were in 10 fantasy leagues in one season. You animal! … How'd you do?
McMaster: Not too bad -- I won three.
Good man. There's hope for you yet. Don't look at the light. Last question: Matthew Berry … hot, or not?
Lodish: Please. He's like the George Costanza of fantasy sports advice! You want to do the opposite of whatever he says. [Click here to read Matthew Berry's response.]
McMaster: I think he's hot! He's one of the three that I listen to in the holy fantasy sports godhead.
Geez, Allison. If Matthew Berry is the George Costanza of it all, what does that make Eric Karabell?
Lodish: Ohhh man! It's a pathetic career choice, but I think he's the very best at what he does. What can I say -- I do give credit where it's due.
You know who these guys are!
Lodish: Exactly. And I've never ever played in a fantasy league. See the problem?
I believe we've just come full circle. Fantasy sports is indeed taking over the world.
Mary Buckheit is a Page 2 columnist. She can be reached at marybuckheit@hotmail.com.
Also See
ESPN Top Headlines