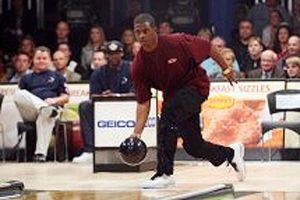 CP3 Foundation/Getty Images
Chris Paul is smooth as silk with a basketball or bowling ball in his hands.
Chris Paul isn't just an NBA All-Star and Olympic gold medalist: He's also a pretty nasty bowler. And this weekend, CP3 is taking his game from the hard court to the greased-up hardwood floors at the AMF Major League Lanes in Winston-Salem, N.C., for the inaugural Chris Paul PBA Celebrity Invitational. The event (broadcast on ESPN and ESPN HD on Oct. 19 at 1 p.m. ET) serves as the kickoff to the 2008-09 50th Anniversary PBA season.
We sent our Mary Buckheit in her best bowling blouse to have a quick post-Beijing, pre-bowl chat with the kingpin. Here's what happened.
Page 2: What have you been up to since winning gold in Beijing with the Redeem Team?
Chris Paul: Ever since I got home, I've been trying to bowl as much as possible.
CHRIS PAUL on "E:60"
Chris Paul is one of the NBA's top stars, but through his CP3 Foundation in his hometown of Winston-Salem, N.C., Paul spends much of his off-the-court time helping out the less fortunate in the community.

Paul gave "E:60" correspondent Rachel Nichols an all-access pass during his annual CP3 Winston-Salem Weekend that raises money for several community organizations. Catch the episode on Tuesday at 7 p.m. ET on ESPN.
You're described as an avid bowler in media guides -- so that's true?
A lot of guys play golf, but me, I don't play too much golf. If I get some downtime, you can find me at the bowling alley. It's funny, because so many people know me for bowling rather than basketball, especially on the NBA circuit. Whenever we play against the Pistons, right before [the] jump ball, Rasheed Wallace always tells me he wants to bowl against me. I need to see Rasheed bowl. And Michael Redd and all those guys.
You think bowling should be an Olympic sport?
I really think that bowling should be an Olympic sport. There are so many other sports in the Olympics, I'm surprised bowling isn't. It's a big sport; hopefully they can incorporate bowling into the Olympics soon. Very soon.
How did you get into bowling?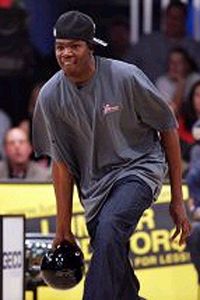 CP3 Foundation/Getty Images
Something tells us Kevin Durant probably didn't bowl the high score for the day.
When I was a young kid, my dad used to take me and my brother to the bowling alley with him all the time. Me and my brother started to go bowl a lot, and for Christmas, I think it may have been my senior year in high school, my parents got me a bowling ball that looked like the old ABA-style basketball. It was red, white and blue. And they got my brother a bowling ball that was brown, and it had Michael Jordan's signature on it.
What does your ball look like these days?
I got too many now. At the time, when I had that red, white and blue ABA-style bowling ball, that was a plastic straight ball -- you know, one that you throw straight. But now I'm into the different types of bowling balls that hook more.
Bowling the hook doesn't mess up your hand-in-the-cookie-jar jump shot?
No, no. I'm pretty serious, though. I actually have black tape that I put around my thumb before I bowl because when I first started bowling it used to rub my thumb kinda wrong. So now I use the tape that the professionals use.
What's your high score?
256, I believe.
Who are some other guys from the league that come out to your bowling events?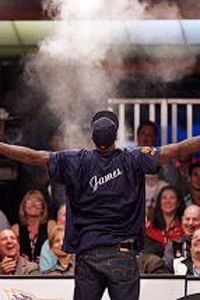 CP3 Foundation/Getty Images
Guess who?
Rudy Gay, Dwyane Wade, Jarrett Jack, Kevin Durant, Muggsy Bogues, LeBron James, Speedy Claxton, coach Byron Scott, Mo Peterson and a few other guys, so I'm excited.
So you're saying a lot of guys bowl?
Yeah, you'd be surprised. I think it's more than a lot of people realize. There are a lot of guys with their own bowling balls. After D-Wade came to my event the first year, he really got into it. Dwight Howard says he's a good bowler. Gilbert Arenas -- I've bowled with him before; he's a pretty good bowler. Guys start to see how fun bowling is and how competitive.
How are the Hornets at the alley?
My whole team went bowling when we were in Seattle. I took my bowling ball with me on the flight. Peja has had a bowling event. And Julian Wright, he went bowling every day after practice. He's a really good bowler.
Could an AND1 Mixtape-style bowling tour help grow the sport?
You mean like bowlers going on a tour?
Yeah, I think we could give bowling a little street cred.
You know, that would be crazy. I would love to see how that worked out. [PBA Bowler] Sean Rash was at the Dwyane Wade event I just attended, and Sean and those bowling guys have a lot of trick shots. They should send those guys on tour with those shots.
Do you have any trick shots?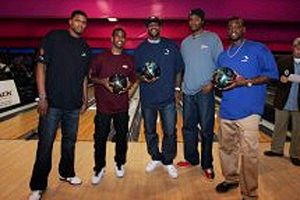 CP3 Foundation/Getty Images
Hey, this starting five could win a few NBA games -- Rudy Gay, Chris Paul, LeBron James, Kevin Durant and Dwyane Wade.
I have a few. I usually show a couple off during my events.
You're on Nike's Team Jordan, and you're one of a few guys to have your own shoe. Very prestigious, but do you have your own bowling shoe?
Yes, I had a bowling shoe that they made for me last year, but this year I got a nice new Jordan bowling shoe that they made for me.
When you score a bucket, the PA announcer gives you the big "CP3!" But what do you suggest for these big bowling events, after a strike, or a turkey, or something?
Hopefully, they'll just do what they do in New Orleans, you know, they'll give me Ric Flair "whooo" after a strike. We'll see.
Mary Buckheit is a Page 2 columnist. She can be reached at marybuckheit@hotmail.com.