Long Drive Champ Splits Watermellon
It's official: Hockey helps your golf game. Another Canadian has taken the throne of the RE/MAX World Long Drive Championship. This year it's Jamie Sadlowski, who gripped it and ripped it 418 yards to win the contest held in Mesquite, Nev. -- breaking the previous record (412 yards) held by former five-time champ Jason Zuback out of Calgary. (You can watch the championship on ESPN2, Dec. 24 at 3 p.m. ET)
"They were kidding us that it must be the water up here," said Sadlowski, who bested 128 of the top drivers from around the world.
The most intriguing thing about the new champ, whose longest drive in competition was 437 yards, is the 20-year-old is only a modest 5-foot-11 and 165 pounds. In fact, the giant cardboard check for $250,000 the kid received for winning the contest had broader shoulders than he did.
I recently scored a Q&A with him. Here's how it went:
Mary Buckheit: So I Googled your videos. I've seen you drive a golf ball through a watermelon. I'm unimpressed with detonating fruit. What else you got?
Jamie Sadlowski: We do other fun stuff. I've hit it through 3-inch plywood.
Black belt golf, now we're talking. What else?
Jason Zuback's done it through the Yellow Pages. That's hard to do. That takes some practice.
I'm no meteorologist, but I can't imagine Alberta allows for a lot of practice this time of year.
Yeah, it's 25 degrees Fahrenheit here right now. There's been nothing to do the past few weeks because it's so cold. My dog won't even go outside. There's been three or four feet of snow standing for awhile and we have nothing indoors out here -- no driving range. So it hurts my practice, for sure. I won't hit a ball for probably another four months now. I have nothing really to do with golf from about October 'til April, unless I come down to the States to do a show or something. I just let my body rest for a while.
Months without golf? Don't you have withdrawal?
Well, growing up playing hockey since I was three, I wouldn't play any golf until that season was over, so I guess I'm just used to that cycle. Plus, it's good for my body, this time off.
Are you one of those guys who always walks around and goes about life with an imaginary golf club in their hands, though? You know, that thing all golfers do?
Haha. Yeah, I know what you mean. Yeah, kinda, I guess I'm one of those. But if you came into my house, there's not much golf stuff around. I have one room full of equipment and trophies and pictures and stuff, but other than that it's normal. I'm not one of those crazy golf collectors -- but yeah, the invisible club swing thing I do.
The invisible club swing is probably a lot easier on your bod. How does your body feel after a weekend of hitting golf balls as hard as you possibly can?
You know, it's so different than going out and playing a round and trying to shoot a golf score. When you're trying to absolutely kill every ball you have teed up, everything you do is hard. Even when you're warming up there's nothing gentle about driving a golf ball, you know? It's grueling on your back, your hands, your wrists, your knees -- everything.
I hear there was a pretty nasty ab injury on record at this year's finals.
Yeah, Jason [Zuback] had this hernia that you could like, see through his shirt, it was so bad. It was nasty. I mean, it was really bad. I touched it and it felt like three golf balls stuck in there, stacked up. He was going to pull out of the competition, but he changed his mind and he actually made it to the quarterfinals.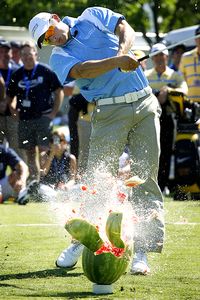 Stan Badz/Getty Images
Sadlowski did some serious damage to that watermelon.
What's worse, the morning after a hockey game or the morning after a golf driving contest?
You know, the soreness is really comparable, actually. You neck, your abs -- people won't believe it, but it's true. The day after one of those golf competitions, you feel like you were out there banging around for three periods and taking a few hits from a puck. The thing is, we're swinging anywhere from 140 to 150 miles per hour. Your average PGA Tour player is swinging around 118 miles per hour. It's a motion that you feel everywhere the next day. After two days of competition you want to just lay down, roll over, and not wake up for a while.
Do you do a lot of stretching before?
I don't do too much stretching. I've never been a big stretcher. Some guys will stretch for an hour before they hit a ball. I just grab a wedge, work my way up through the bag, and that does it. I'm pretty loose. The older guys make fun of me because I can hit five balls and just grab a driver.
Oh, to be 20 years old again.
That's just what they tell me. It won't last forever, I'm sure.
How about how fast you must rip through equipment?
Oh yes, golf gloves go pretty quick. And the toe of my shoes. And even the heads of clubs flatten out and your shafts break. The stuff takes a beating, that's for sure.
Gimme a quick rundown on the specs of your equipment.
My preferred shaft frequency is 268. Pretty stiff. I use a 5-degree head and the length would be 48 inches, USGA. I just switched companies to Cobra Golf last year and I've been really happy with them. I've yet to break or flatten one of their heads, which is unheard of. I used to go through five or six heads when I was at Worlds a few years ago.
Are people always asking you what you're swinging? Thinking it's the magic wand?
People are always coming up to me and saying, "Well, if I had your golf club, I could hit it that far, too." That's often the attitude. But for most people, that's too stiff, too low-degree. I tell people the most important thing is to get fitted right. You have to fit into your driver.
If some muni-course average Joe still swore that they needed your driver to win, how much would it set 'em back?
Mmm, that particular head? Probably 400 bucks. I'm not sure what they sell those for, and actually I don't think you could even find it out there though, because it's such a low degree. And the shaft, I don't know, maybe another 200 bucks?
Money well spent. Drive for show, baby.
That's right. I don't cash checks from making putts.
But you are a scratch golfer. Your short game can't be too shabby.
My short game? I can hit a putter 320 yards. That's what you mean, right?
Mary Buckheit is a Page 2 columnist. She can be reached at marybuckheit@hotmail.com.