To bikini or not to bikini, that is the question.
When NCAA officials met this past Thursday in Washington, D.C., to vote on adding beach, ahem, "sand" volleyball to its list of emerging sports that could eventually be sanctioned to appear at a college near you, it was no wonder the decision was rife with big, weighty issues like scholarships and budgets for sand.
But the real filibuster seemed to be one little, teeny, tiny, two-piece detail.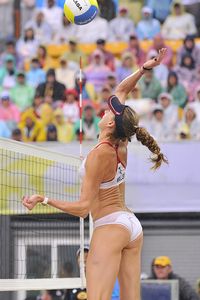 Imaginechina/AP Images
The bikinis that pros like Kerri Walsh wear may not fit the standards the NCAA will desire.
When the final tally was taken, beach volleyball fell just short of the two-thirds majority vote needed for approval from the 31-member Division Legislative Council, but when the measure is put to a straight majority second vote in April, a favorable conclusion appears likely. That means beach volleyball -- cloaked in its new, dry, fit-for-academia "sand" classification -- could take to college campuses as soon as the spring of 2011.
But just because they're not calling it beach doesn't mean folks aren't wondering about the bikini.
See, if the idea of college co-eds playing this sport stirs up immediate visions of student-athletes dressing more provocatively than USC Song Girls, dancing like sugar plums in cardinal and gold bikinis across athletic complex sands, you're not alone. You're dreaming a Technicolor American dream and NCAA administrators' imaginations couldn't help but snag on this impending portrait, either.
I know when I first heard the news, the question was triggered like a mallet to my knee cap: Would the NCAA really allow a college freshman to hop off the bench, rip off her tear-aways and take to the sands in a bikini -- in front of a bleacher full of roommates, boyfriends, girlfriends, grandmothers, protective fathers and mortified mothers?
Kathy DeBoer, executive director of the American Volleyball Coaches Association, laughed as I sheepishly delivered the million-dollar question.
"Are you kidding? That question was asked so much so early in this process we literally had to take it off the table," she told me on the phone after the conference. "You're not the only one wondering about this. You say college girls and beach volleyball at a table of administrators and immediately it's, 'Umm, what are they going to wear?'"
DeBoer says it is such a tremendous point of polarized contention that it literally had to be shelved so that discussion about the real issue at hand could be addressed.
The real issue is big-time schools -- perennial indoor powerhouses like USC, Penn State, Stanford, Texas, Washington and Nebraska -- fielding legitimate, competitive, national-championship-contending sand volleyball teams. How much fun would it be as a college kid to wake up -- no matter how hungover -- on a Saturday afternoon and stumble across the quad to the sand pit to cheer on your women's beach volleyball team? Come on. That's the best thing that could happen to this sport.
Maybe you can't get your mind around beach volleyball being played without the sound of the ocean lapping up to the sideline, but it's working right now for the pros. Check out the AVP Hot Winter Nights Tour -- the 17-stop season just kicked off and it's bringing volleyball, Olympians and truckloads of sand into snow-bound cities across America, including Minneapolis, Salt Lake City, Portland, Ore., and Grand Rapids, Mich. Kerri Walsh may be at home reading "What to Expect," but her husband, dad-to-be Casey Jennings, is playing this winter, along with Beijing Olympic gold medalists Phil Dalhausser and Todd Rogers, Athens bronze medalists Elaine Youngs and Holly McPeak and other fan favorites like Sean Rosenthal, Nicole Branagh, Annett Davis and Jenny Johnson-Jordan.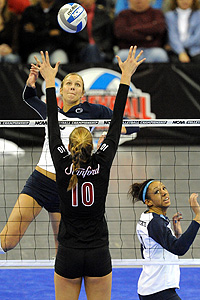 AP Photo/Dave Weaver
Penn State won the recent NCAA women's title. Will they seek a title on the sand in the future?
These professionals continue to ride the burgeoning success of a sport -- some 60 million people tuned in to watch the action in Beijing. Considering the Americans' unprecedented dominance there -- nabbing both men's and women's beach gold medals, men's indoor gold, and women's indoor silver -- it's no wonder the Volleyball Powers That Be are so hopeful about the progression of their sport.
So it is with care that advocates and challengers come at collegiate sand volleyball.
"This sport has roots all over the country; we saw that with the recent indoor Final Four of Stanford, Nebraska, Penn State and Texas," DeBoer says. "Sand volleyball is not just courting schools on the coasts, and it's riding a wave of very solid success from the indoor game which can't be taken lightly. Nobody is being cavalier about this. The attire is part of that business plan."
What would sail (and sell out) in places like Stanford or San Diego State might not fly in other areas of the country. Student-athletes competing in bikinis could hurt the sport's chances for long-term success. DeBoer concurs. "If you were to knock on some administrators' doors and tell them that their prospective female sand volleyball team would be playing in bikinis, it would be like, 'OK' then 'buh-bye.' End of discussion. It's not happening."
We've come to a point where it's difficult to imagine women competing in beach volleyball in anything other than bikinis. Players are diving, setting and spiking (not to mention crouching, bending and arching) while playing their sport. And they're not underwater, either. If, however, you think you're convincing the NCAA on the bikini-equals-functionality argument, think again.
"There is obviously a high level of sensitivity towards attire that would be appropriate for a university setting. A lot of people have this initial vision of pro beach volleyball projected onto college campuses but when you talk about a hot ticket and that anything-goes lifestyle, you're talking about the mantra of a professional sport. That's an entertainment business of adults," explains DeBoer, who was pleased that 62 percent of the Division I reps voted in favor of sand volleyball's future consideration.
But she tempered her excitement with the toils still ahead. "The NCAA will not be making their decision based on the fact that if you put college female athletes in bathing suits, people are going to come watch and the sport will have raucous success. That is, by definition, exploitive. So while there's a lot of excitement, the real work on how to carefully and respectfully craft this thing starts now," she says.
And when NCAA brass finally do have to decide on what the athletes will wear, DeBoer hopes advocates of the sport will have but one answer: "Whatever they tell them to."
The NCAA has complete control over every stitch of sanctioned sports uniforms and sand volleyball would be no exception, "so they'd certainly have control over the size of the uniform that college girls -- student-athletes -- would be wearing." DeBoer continues. "What's funny is that beach volleyball enthusiasts who have long adhered to the hang-loose, anything-goes attitude, may come to rue the day that the NCAA gets its hands on the sport."
But for now most are still trying to set the sport perfectly into the fingertips of the NCAA. For now, the NCAA, the AVCA, the AVP and USA Volleyball are trying to ignore the empresses' clothes and focus on the empresses' sport. And it's working. A willing majority of school athletic administrators are actually considering sand volleyball. They are in favor of adding a team and a staff and even the sand court complex construction that should make budget-makers spit up in times like these.
While it may disappoint a few fans if the players wear spandex shorts and unruly tank-tops instead of bikinis, it shouldn't detract one bit from what would be the best new excuse college campuses don't need to roll out in board shorts and light up their barbecues. Maybe you don't bring sand to the beach, but you can always bring the beach to the sand volleyball.
Mary Buckheit is a Page 2 columnist. She can be reached at marybuckheit@hotmail.com.