Commentary
The Dodgers Domino Effect
Originally Published:
June 29, 2011
By
Jim Caple
| Page 2
The aptly named Frank McCourt entered yet another court this week, adding bankruptcy court to divorce court. Some see this as a black eye for one of baseball's most prestigious franchises, but the Dodgers' woes actually present a golden opportunity for baseball to solve several issues and come out smelling even better than before. Here's how: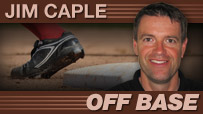 1. The Dodgers return to Brooklyn: Citing the best interests of baseball, commissioner Bud Selig has the league take over the Dodgers, then moves them back to Brooklyn. This delights the old Brooklyn Dodgers die-hards (literally die-hards since most are 70 or older) who still are angry that the evil Walter O'Malley moved a team that was barely drawing a million fans per season to Los Angeles, where it drew two to three times as many. The move generates employment in Brooklyn due to the reconstruction of Ebbets Field, at a bargain price of $14.5 billion, by the old Halliburton subsidiary, KBR.
This also places three teams in New York City, which evens the playing field for all teams by lowering the broadcast, marketing, attendance and assorted revenue advantages the Yankees have so long enjoyed in baseball's richest market. Suddenly pressed for cash, the Yankees are forced to trim their payroll from $207 million to a mere $206 million.
2. The Angels move to Dodger Stadium: This means Chavez Ravine will remain home to a great franchise, as well as one that has actually won a World Series in the years since Ronald Reagan left office. More importantly, it also allows owner Arte Moreno to finally change his team's name to the Los Angeles Angels of Los Angeles.
3. Tampa Bay moves to Anaheim: Do Southern Cal fans get the shaft in the first move? Not at all, because they replace a team currently in last place with one of the youngest and most talented rosters in baseball. Tampa Bay fans win, too. Thanks to revenues generated in the nation's second-largest market, the Rays are able to keep Evan Longoria, David Price, B.J. Upton, James Shields and everyone else. Plus, Tampa Bay fans can still watch them play on TV instead of going to the stadium, just like they do now. It's a win-win!
4. The Athletics get a new stadium. Without the Rays, Tampa Bay reverts to its traditional role as negotiating leverage in stadium disputes. The Athletics threaten to move to Tampa, which puts sufficient pressure on the Giants to partially relinquish their territorial rights to one city in their otherwise exclusive zone stretching to the equator. This allows the A's to move into a brand-new stadium and become the Oakland-San Jose Athletics of Fresno.
5. Wilpon sells Mets: Selig comes under intense public pressure that he's applied a double standard to the Dodgers and Mets, and he forces Fred Wilpon to sell the controlling interest in the Mets. Selig makes up for it by awarding Wilpon an expansion team in the only city in which he might be able to make payroll -- Havana.
After signing every star player in Cuba with a payroll of just $18,453.72, Wilpon's Havana Cigars win the World Series. And he still somehow winds up losing $120 million, including $30 million owed to Bobby Bonilla.
6. Baseball expands and realigns: The league solves its league, division and playoff issues by adding a 32nd team and realigning into eight four-team divisions. The new American League Far West: Seattle, San Jose-Oakland of Fresno, Los Angeles Angels of Los Angeles and the Tokyo Giants. The National West: San Francisco, San Diego, Arizona and the Anaheim Rays. The American League Flyover Division: Minnesota, Milwaukee, Colorado and Kansas City. The National League Central: Chicago (Cubs), St. Louis, Cincinnati and Pittsburgh. The American League Central: Cleveland, Detroit, Texas and Chicago (White Sox). The National League Amtrak: NY Mets, Philadelphia, Brooklyn and Washington. The American League East: NY Yankees, Boston, Baltimore and Toronto. And the National League Southeast: Houston, Atlanta, Florida and Havana.
Each division champ goes to the playoffs, plus wild cards go to the Red Sox and/or Yankees if either or both fail to win the division. All playoff rounds will be best-of-seven and the World Series will be included in the BCS schedule.
7. Ricketts family sells Cubs to Mark Cuban: The Dodgers and Mets sagas prompt the Ricketts family to sell the team before Selig gets pissed at them, too. Buoyed by the Mavericks' NBA title, the other owners approve a sale to Mavs owner Mark Cuban, who immediately invests hundreds of millions in the franchise, signing Albert Pujols and Prince Fielder, trading for the always-available Cliff Lee, hiring Ryne Sandberg as manager and returning Wrigley Field to its former glory as baseball's finest cathedral.
Alas, the Cubs still don't reach the World Series.
CSI: BOX SCORE
You know the rule. You get a fragment from an old box score and the challenge of determining what game it is from and why it is significant. I give this one a difficulty rating of 8.0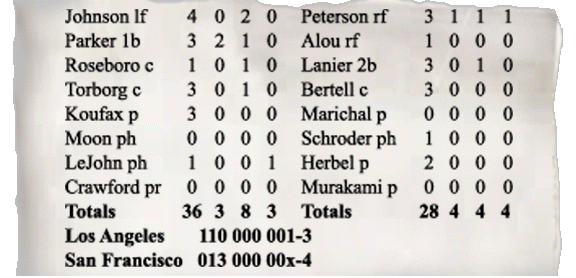 Kurt Snibbe/ESPN.com
BOX SCORE LINE OF THE WEEK
Justin Verlander had another exceptional game Saturday (8 IP, 2 H, 0 R, 0 ER, 1 BB, 14 K), running his record since May 7 to 8-0 with a 1.56 ERA and 73 strikeouts in 80 2/3 innings. And the Houston box Friday night had an interesting couple of lines because all three pitchers the Astros used were named Rodriguez (Wandy, Fernando and Aneury).
But this week's award goes to Tampa Bay's James Shields for his 13-strikeout performance against Houston and all those Rodriguezes; Shields threw a complete game, struck out nine and also struck out four times himself. His lines:
9 IP, 3 H, 1 R, 1 ER, 0 BB, 9 K
And:
4 AB, 0 R, 0 H, 4 K
According to ESPN colleague Doug Kerns, Shields is the sixth American League pitcher during the DH era to bat at least four times in a game and strike out in each at-bat (the previous pitcher to do it was Scott Richmond in 2009).
[+] Enlarge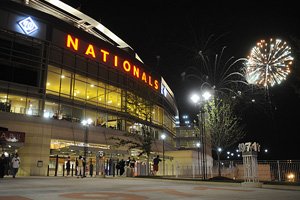 Mitchell Layton/Getty ImagesBring your love of our nation's capital and your wallet when you come to D.C.
BALLPARK RANKINGS
Nationals Park, Washington, D.C.: Nationals Park is a nice place to watch a baseball game -- especially if you have a Washington lobbyist paying for everything. We're all used to expensive prices at stadiums, but this place took it to a new level when it opened three years ago by charging $325 for box seats behind home plate, up to $70 for some seats in center field (lowered to $59 since) and as much as $8 for a slice of pizza. No wonder Stephen Strasburg wanted such a large signing bonus. He probably figured he would have to eat his meals at the ballpark. Interestingly, my favorite seats are the cheapest. Way up in the upper deck down the left-field line, $5 gets you views of the Washington Monument and the Capitol in addition to the field. The Nats have added tributes to Washington's baseball past with statues of Walter Johnson, Josh Gibson and Frank Howard, as well as a new concession area that gets rave reviews. I really like the access -- both getting to and around the stadium -- but just be careful navigating the cash registers.
Score: 76. Current Rankings:
1. AT&T Park, San Francisco 94.
2. Camden Yards, Baltimore 92
3. Target Field, Minnesota 91
4. Wrigley Field, Chicago 90
5. Dodger Stadium, Los Angeles 88
6. Safeco Field, Seattle 87
7. Comerica Park, Detroit 87
8. Kauffman Stadium, Kansas City 86
9. Progressive Field, Cleveland 82
10. Busch Stadium, St. Louis 78
11. Rangers Ballpark in Arlington, Texas 77
12. Nationals Park, D.C .76
13. Oakland-Alameda County Coliseum 74
14. Tropicana Field, Tampa Bay 68
[+] Enlarge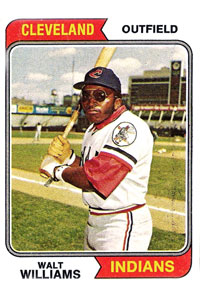 ToppsIf Walt played in the '90s, most people would wonder if he had a cousin named Yuri.
BASEBALL CARD OF THE WEEK
As should be clear from this card (1974 Topps No. 418), Walt Williams' nickname was No Neck.
YEAH, WELL, THAT'S JUST LIKE YOUR OPINION, MAN
• Last weekend's Marlins home series against the Mariners was shifted to Seattle due to a U2 concert at Florida's ballpark (the Mariners played "Where the Streets Have No Name" when the Marlins took the field). That gave Seattle fans a chance to see pitchers bat for the first time at Safeco Field. As I mentioned before, this is the way it should be at all interleague games. Play them under the visiting team's rules to allow the local fans to see games played a different way. Interleague games, which never held much appeal for most teams, have become even more dull over the years, but at least this would spice things up. One drawback is that fans in American League cities wouldn't get to see their normal DH, but with so few big-name DHs left, that really isn't a concern. After all, how many Seattle fans missed Jack Cust when Felix Hernandez and Doug Fister both had hits over the weekend?
CSI: BOX SCORE ANSWER
This was a tough one, but there were a couple of key clues. One, (Juan) Marichal is listed as the pitcher but mysteriously did not have an at-bat, which means he was lifted for pinch-hitter (Bob) Schroder by the end of the third inning. The linescore shows the Dodgers had scored only two runs by that point, so Marichal probably didn't leave due to his pitching. Why did he get an early hook? The explanation is in the Dodgers' lineup, where (John) Roseboro was replaced at catcher by (Jeff) Torborg early in the game, as well. So now it all makes sense. This is the box score from the game on Aug. 22, 1965, when Marichal attacked Roseboro with a baseball bat after the catcher deliberately buzzed his ear with a couple of throws back to Sandy Koufax. Both players were ejected and Marichal was suspended eight games.
The fight was a big deal at the time and remains a scar on the Giants-Dodgers rivalry, but imagine the 24/7 fuss if this had happened during the Internet, cable, Twitter era. It would make the coverage of Anthony Weiner seem restrained.
Jim Caple is a senior writer for ESPN.com. You can follow him on Twitter at jimcaple.