Commentary
Albert Pujols: Rise of the Machine
Originally Published:
July 6, 2011
By
Jim Caple
| Page 2
News item: Albert Pujols is expected to return to the Cardinals' lineup Wednesday, an astounding four weeks ahead of his estimated return from a wrist fracture.
From St. Louis trainer Greg Hauck's private medical journal ...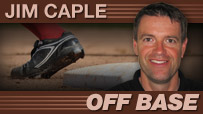 Feb. 17: Albert reported to camp for his routine physical examination this morning. No change from last year other than a 3-ounce gain in weight and a slight decrease in vision from 20/1 to 20/1.1112. Also, that weird, red glow he has at the back of his eye was slightly fainter than usual.
April 8: Albert showed up complaining of diarrhea and a strange fever. I'll say it was strange -- our digital thermometer showed him at 68.5 degrees! Anyway, he clearly had the 24-hour virus that's going around the league. I told him to go home and get to bed and see whether he felt better tomorrow. He shook his head and went to hit in the cage instead. Sure enough, he was eating pancakes and completely over the 24-hour virus within 20 minutes. What a remarkable recuperative system this man has.
May 15: Albert got hit in the wrist by a pitch from Reds closer and cheap-shot artist Francisco Cordero. From the sound when the pitch hit and the way the wrist initially swelled up, I was sure it was broken. But Albert said he was fine, and oddly, the wrist was completely normal when I iced it after the game. There wasn't even a bruise. Albert also took the whole thing in stride -- and he pretty much made Cordero wet his pants when he pointed at him like he was holding a gun, pretended to pull a trigger and shouted, "Hasta la vista, baby."
June 19: Bad news. Albert broke his wrist in a collision at first base against the Royals. The X-ray showed nothing, but the MRI revealed a small hairline fracture. We put him in a soft cast. He'll be out four weeks minimum, probably closer to six. Albert must have been in considerable pain because when it happened, he started mumbling something about "Kill John Connor," which is weird because there is nobody by that name on the Kansas City roster.
June 20: Albert has made an amazing recovery! His wrist is completely healed, and he's ready to play, so we won't have to put him on the disabled list anyway. We were dubious, but today's MRI revealed absolutely no sign of a fracture, although it did detect some adamantium screws.
July 31: Albert showed up missing his right arm and blood oozing from the wound. (I don't even want to know how that happened.) I told him we needed to get him to a hospital immediately, but he shook his head and said it was just a scratch, nothing but a flesh wound. "I've had worse." He covered the wound with duct tape and went 1-for-4 with a walk and a two-run double.
Odd thing about the blood, though. It wasn't red; it was more like a shimmering silver color, like molten metal or mercury.
Aug. 1: Albert is simply amazing. He showed up with a new right arm, and it looks exactly like the old one! We asked him where the new arm came from, and he said it was a new procedure like Tommy John surgery, only a little more involved. He said this type of surgery will be considered no big deal in the future.
Sept. 24: Oh, man. What a terrible way to go out. The final home game of the season is tomorrow, but Albert won't be able to play. It was Dog Day Afternoon at the ballpark today and for some reason, a bunch of dogs went crazy, charged onto the field and attacked Albert. They sank their teeth into him and tore Albert to shreds before stadium security could do anything. What a mess. Fingers here, toes there, liver and kidneys and spine over there -- it was awful. His body was slowly coming back together organ by organ and bone by bone -- almost like it was regenerating itself -- once we got him in the trainer's room, but we're definitely looking at the 60-day disabled list.
Sept. 25: Just another amazing recovery by Albert. He showed up today completely healed without a scratch on him. Then he hit two home runs and after the game took a curtain call and told the fans, "I'll be back." With his impending free agency, that was good to hear, but I wonder why he spoke in such a strange, almost Austrian/robotic monotone.
CSI: BOX SCORE
You know the rules. You get a fragment from an old box score and the challenge of determining what game it is from and why it is significant. I give this one a difficulty rating of 6.0

Kurt Snibbe/ESPN.com
BOX SCORE LINE OF THE WEEK
Milwaukee's Chris Narveson threw a 14-hitter (4 2/3 IP, 14 H, 7 R, 7 ER, 2 BB, 1 K) on Saturday, while Detroit's Rick Porcello threw three wild pitches and hit three batters (7 IP, 5 H, 3 R, 3 ER, 2 BB, 6K, 3 HBP, 3 WP) on Sunday. But this week's award goes to Baltimore's Zach Britton for his performance Sunday. Britton beat Atlanta with five so-so innings on the mound (5 IP, 6 H, 3 R, 3 ER, 3 BB, 4 K), but that wasn't what was impressive. It's what he did at the plate that earned this award. His line:
3 AB, 2 R, 2 H, 1 RBI, 1 HR
The game gave Britton five hits in eight at-bats in three interleague starts this year, the most by an American League pitcher in a season since MLB instituted the designated hitter rule in 1973. Baltimore pitchers overall hit .409 (9-for-22), three points higher than Ted Williams hit in 1941.
[+] Enlarge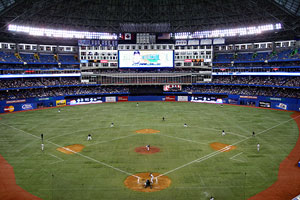 Harry How/Getty ImagesThe Rogers Centre, once a symbol of the future, is now a dated building.
BALLPARK RANKINGS
Rogers Centre, Toronto: I recently came across a postcard I had sent my parents in 1989 from my first road trip to Toronto as a beat writer. "I've seen the SkyDome," I wrote, "and I'm impressed." I went on to describe the hotel and bar in center field, the 110-foot-wide video board, the Hard Rock Cafe and the continent's largest McDonald's. Twenty-two years later, the SkyDome (now the Rogers Centre) doesn't seem so impressive. Rather than the wave of the future, it proved to be a little like Seattle's Space Needle -- an architectural icon representing what we thought the future would look like. Instead, ballparks went retro right after the Rogers Centre was built, and the stadium now seems dated. I like the place, although it always seemed more like a stage than a ballpark (and it's a rare retractable-roof stadium that is better when the roof is closed). But it's worth remembering that the Blue Jays drew 4 million fans a season when this place opened, Toronto was the best team in baseball and this was the hottest venue in Canada. (The Jays DOUBLED the Yankees' attendance a few years.) I was glad to see the big crowds there again this past weekend and hope those become a regular occurrence again soon.
Score: 75. Current rankings:
1. AT&T Park, San Francisco, 94
2. Camden Yards, Baltimore, 92
3. Target Field, Minneapolis, 91
4. Wrigley Field, Chicago, 90
5. Dodger Stadium, Los Angeles, 88
6. Safeco Field, Seattle, 87
7. Comerica Park, Detroit, 87
8. Kauffman Stadium, Kansas City, Mo., 86
9. Progressive Field, Cleveland, 82
10. Busch Stadium, St. Louis, 78
11. Rangers Ballpark in Arlington, Texas, 77
12. Nationals Park, D.C., 76
13. Rogers Centre, Toronto, 75
13. Oakland-Alameda County Coliseum, 74
14. Tropicana Field, Tampa, Fla., 68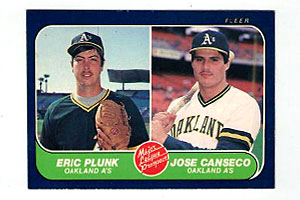 FleerLove him or hate him, Jose Canseco has been making headlines for close to three decades.
BASEBALL CARD OF THE WEEK
Boy, doesn't this card (1986 Fleer No. 649) take you back? This was Jose Canseco's rookie card 25 years ago. And doesn't Eric Plunk's mustache and comb-over hairstyle make you think high school annual photo? Anyway, a quarter century later, Canseco is player-manager for the Yuma Scorpions, an independent league team, and he hit two home runs and pitched last week. You can read about the weekend I spent with him here. Canseco may soon be joined by his former teammate Tony Phillips. Phillips is 52, and Yuma general manager Jose Melendez stresses that he isn't attempting a comeback, he just wants to play baseball again. I think that's great. It's also interesting that so many players from that old Oakland dynasty -- Canseco, Rickey Henderson, Phillips and Terry Steinbach -- will have all played ball after retiring from the majors. Call them the Men of a Certain Age of Summer. I wish all big leaguers showed that same love for the game.
YEAH, WELL, THAT'S JUST LIKE YOUR OPINION, MAN
• The three-pitch walk: We had some interesting moments when those fierce interleague rivals San Diego and Seattle faced off this past weekend. First, Orlando Hudson struck out on two strikes -- he was replaced with two strikes against him after fouling a ball off his shin, and the subsequent strikeout was charged to him while he was heading to the trainer's room. The next night, Doug Fister walked a batter on three balls. How did that happen? With Fister on the mound and Cameron Maybin batting, plate umpire Phil Cuzzi got mixed up when the scoreboard operator accidentally showed a 3-2 count instead of the actual 2-2 count. The next pitch should have been ball three, but Cuzzi called it ball four. And nobody noticed! Maybin went to first base, Fister concentrated on the next batter and no one in the Mariners' dugout said anything. Then Maybin came around to score the night's only run, costing Seattle the game. It was a bad deal for the Mariners, but they have only themselves to blame for not paying attention. But this may also be a solution to their extreme offense woes. All they need to do is tell the scoreboard operator to add a run or two throughout the game when no one is watching, and voilà! They could win the division.
• Play Woody for Me: I was at our local park Monday when the band played "America the Beautiful" just as the fireworks started. It was a great, beautiful moment and got me thinking. Isn't it about time we stopped playing "God Bless America" during the seventh-inning stretch and took advantage of the many other -- and better -- tributes to America? Such as "America the Beautiful" (particularly the Ray Charles version) or Woody Guthrie's "This Land is Your Land" or simply "America." By mixing the music and freshening things up, you get people's attention and pay a greater honor to the country. (Of course, there still is nothing more patriotic than "Take Me Out to the Ball Game.")
• Did David Wells feel like this all the time? I won a pizza-eating contest before a Savannah Sand Gnats game. I nearly completed the Full Lincecum. But a hot-dog-eating contest before the Mariners game kicked my rear Sunday. Given that I do not like hot dogs, this was the longest and most unpleasant two minutes in recent memory that did not involve a commercial break. All I could get down was two rather dry dogs in two minutes, and one-third of the second dog was simply stuffed in my mouth waiting for a moment to spit it out. It gives me new appreciation and disgust for Nathan's champions Joey Chestnut and Takeru Kobayashi. But I think I still tied for second -- being sports writers, we left a surprising number of free dogs on our plates.
CSI: BOX SCORE ANSWER
If the "Williams lf" and the "JDiMaggio cf" lines weren't a big-enough clue, the JDiMaggio and DDiMaggio lines should have indicated this was from an All-Star Game. (Joe and Dom never played for the same team in the regular season.) But which one? Well, the four RBIs for Williams is a pretty good indication that this was the 1941 All-Star Game that Ted won with a three-run homer in the bottom of the ninth, possibly the greatest moment in ASG history. Another clue is the Travis line. That would be Cecil Travis, who didn't play in an All-Star Game after 1941. That's because he went into the army when World War II started, suffered severe frostbite during the Battle of the Bulge and never regained his former level in the game.
And if you'll notice, Joltin' Joe had a hit in this game. This came during his 56-game hitting streak. It didn't count toward the streak, but it's worth remembering that he actually hit safely in 57 consecutive games that summer.
You could write a book about the players in that game and what happened to them afterward.
Jim Caple is a senior writer for ESPN.com. You can follow him on Twitter at jimcaple.