By Jim Caple
Page 2 columnist
Do svidanya, Anna Kournikova. Your time as the World Wide Web's favorite bookmark is over.
Oh, sure, Anna's back in Page 2's annual Hottest Female Athlete tournament, but there is no automatic berth for her this year. And, quite frankly, she's lucky she doesn't have to play her way in for the last seed. Fifteen minutes shy of her own "Behind the Music" episode, she's so tired that Grady Little would give her the hook.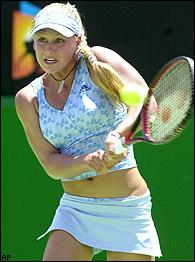 As Anna's tennis ranking dropped, so did her level of hotness.
She never was all that, anyway. Sure, Anna would have turned enough heads in a high school social studies class to make it look like a drama club production of "The Exorcist.'' But the way everyone worldwide slobbered over her? Never understood it.
Don't get me wrong. I'm a regular guy. I'm not auditioning for the role of sports consultant on "Queer Eye for the Straight Guy.'' Just like everyone else, I think Anna is pretty. But gorgeous enough to generate all that much fuss? To launch enough websites to crash the Google search engine? No way. Frankly, there are far-better-looking women in sports. Off the top of my head, I can name Tatiana Grigorieva, Jamie Sale, Stacy Dragila, Mia Hamm and Brandi Chastain -- and those are just the recent Olympic medalists.
But that's what sets them apart from Anna. They're champions. There's nothing wrong with 36-24-34, but an equally important figure these days is winning percentage.
Look, there are a lot of gorgeous women in the world, even though very few of them will talk to us without a restraining order. What made Anna a star was not her looks, but her looks combined with her tennis ability. She made the semifinals at Wimbledon in 1997 and climbed into the top 10 in the WTA rankings. She was young, pretty and a damn good tennis player.
But it's been a steady ride down the scale since she turned legal. Not only has Anna never won a singles tournament, she barely even plays anymore. Her once-promising career is virtually over, a victim of injuries and indifference. It's easier to pose for calendars than to train long and hard enough to beat Justine Henin-Hardenne or either Williams sister.
Compare Anna's career to the career of the woman who whipped her in Page 2's Hottest Female Athlete contest last year. Softball player Jennie Finch won an NCAA-record 60 consecutive games, won 199 games in her career at the University of Arizona, hit 50 home runs and recently was named to the U.S. Olympic team.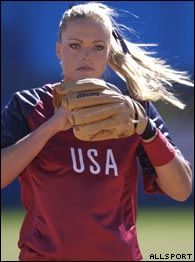 USA has never looked so good.
She also struck out Mike Cameron during an exhibition last spring. I know, I know -- everyone struck out Cameron last year. But let's just say that Finch looked a whole better doing it than Jesse Orosco.
What makes someone attractive? The ancient Mayans pressed the heads of newborn babies between two boards to elongate their foreheads permanently, possibly to better resemble ears of corn. If that sounds like a strange concept of beauty, just remember this: Sixty-year-old Mick Jagger is an international sex symbol.
Beauty is ever-changing, and always a matter of context. Cheerleaders used to be the most attractive girls in school. No longer. Now the hotties are the point guards, the sprinters and the midfielders, precisely because they ARE point guards, sprinters and midfielders. (Shotputters, however, still have a ways to go.)
This, then, is the real legacy of Title IX -- it's made athleticism sexy for women. All of a sudden, a girl in a basketball jersey is as sexy as if she were wearing a strapless gown.
For years, boys tried out for their high-school teams in no small part because they knew it would help make them attractive to the opposite sex (or at least more attractive than the guys on the A-V team). Now, girls can do the same thing. And that's good. Playing sports is great fun and a terrific confidence-builder, and girls were scared away for too long out of fear of being labeled tomboys and worse.
That's why Anna needs to get back on the court and start winning. Compared to Sue Bird breaking ankles with her crossover dribble, Anna is just another pretty face. And if we want simply to ogle a great-looking woman, it's a lot more satisfying to do it the old-fashioned way -- by asking the Hooters girl to bring us another pitcher.
Anna can display her ample cleavage in itsy-bitsy bikini tops for her swimsuit calendars; but unless she poses with a tournament trophy, she'll never be as sexy as Brandi Chastain in an unrevealing sports bra after that World-Cup win.
Deep down, all guys are pigs; we'll always appreciate a good wet t-shirt contest. But these days, we prefer a team's name to be printed on that t-shirt.
Jim Caple is a senior writer for ESPN.com