By Jim Caple
Page 2 columnist
After a long, cold winter, Greg Maddux is in uniform and Rickey Henderson still isn't. Which can only mean that spring training has finally begun.
The best part of spring training is reading the daily roundups from camps in the morning newspaper. Of course, amid all the position changes, contract holdouts and optimistic predictions, sometimes the papers can't get to all the notes. They miss a few here and there. Fortunately for you, Page 2 never does ...
AMERICAN LEAGUE
ANAHEIM: New owner Arte Moreno toured the Angels facility yesterday to mingle and boost fan relations. He ordered the price of Scott Spiezio replica jerseys cut in half and wandered around the stands talking to fans and heckling the players, telling OF Tim Salmon to "Get the piano off your back!" ... The Angels outrighted the Rally Monkey to Class A Rancho Cucamonga ...
BALTIMORE: One year after being knighted by Queen Beatrix of the Netherlands, RHP Sidney Ponson weighed in for his physical and was promptly christened King Ding Dong ... After watching Melvin Mora feed his quintuplets during a lunch break, DH Rafael Palmeiro announced that he will stop taking Viagra ...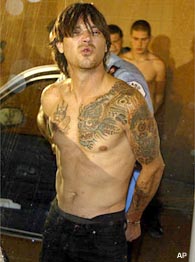 Mr. Ligue is also available for corporate events and motivational speaking engagements.
BOSTON: Red Sox president Larry Lucchino opened camp by declaring a jihad against the Yankees, while owner John Henry placed a fatwa on George Steinbrenner ... Boston further responded to the Alex Rodriguez trade by elevating the security threat level in Red Sox Nation to "Monster Green," one below the highest level of "Officially Eliminated Blue." ... The Red Sox also announced the promotional giveaway for their first home game against Yankees, with the first 20,000 fans receiving a free salary cap ... Former manager Grady Little called new manager Terry Francona to say that he thinks RHP Pedro Martinez is ready to throw nine innings in the first Grapefruit League game ...
CHICAGO: The White Sox announced that William Ligue Jr. will throw out the ceremonial first punch on opening day ...
CLEVELAND: OF Milton Bradley said he hopes to bat third against lefties this season and take the pole position in the Daimler/Chrysler 400 next month ...
DETROIT: The Tigers formally opened spring training by losing C Ivan Rodriguez's luggage ... In addition to signing Rodriguez, owner Mike Ilitch said the Tigers will further re-establish their identity and boost their self-esteem by replacing their bullpen carts with fully-loaded Cadillac Escalades that will need to be refueled after every pitching change ...
KANSAS CITY: In another detour for their rebuilding plans, the Royals lost their arbitration case with Garth Brooks, then traded the singer to the Tigers for two minor league prospects ...
MINNESOTA: Following a winter of payroll-trimming, the Twins have eight players in camp, two more than they had in 2002 ... The state legislature overwhelmingly passed a bill that would finance a new baseball stadium by making Wisconsin residents pay for it ...
NEW YORK: Upon further examination, the Yankees personnel department declared that Roger Clemens is not eligible to begin drawing from his 401K yet ... Homeland Security director Tom Ridge visited Legends Field and upgraded GM Brian Cashman's pallor to Ashen ... SS Alex Rodriguez said that if he were named team captain, he would boost team morale by making Fridays a casual day in the clubhouse ...
OAKLAND: The Athletics held fundamental drills, working on various techniques for missing home plate, including stopping three steps in front of home to argue with the umpire, side-stepping home plate to shove the catcher from behind when he's not looking and not sliding ... General manager Billy Beane explained how to clone human embryos ...
SEATTLE: The Mariners took the $9.5 million they saved from former closer Kazu Sasaki's contract and placed it in a 10-year municipal bond earning 5.1 percent interest ... Seattle responded to the A-Rod trade by signing former Mariner Rich Amaral ...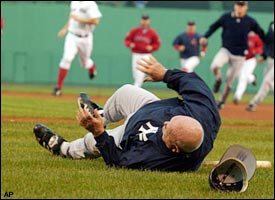 After practice Zim apologized to the Devil Rays, the fans, the umpires and his family.
TAMPA BAY: The Devil Rays announced they probably will just stay in Tokyo after their series with the Yankees. "I doubt anyone in Tampa will notice if we don't come home," GM Chuck LaMar said ... In an attempt to toughen their image, the Rays have added a new fundamental drill in which they take turns knocking down new consultant Don Zimmer ...
TEXAS: Despite being traded to the Yankees, SS Alex Rodriguez maintained his Rangers captaincy and renewed his commitment to Texas by shipping inspirational t-shirts to the team that read, "I'm Probably Pretty Sure It's Going To Work Out For the Best!" ... Owner Tom Hicks volunteered to pay the Yankees bar tab ...
TORONTO: New Canadian prime minister Paul Martin sided with the Separatist movement that seeks to break the Blue Jays off from the AL East and form their own division with Tampa Bay, Cleveland and Detroit ...
NATIONAL LEAGUE
ARIZONA: 2B Robbie Alomar reported late to camp, saying he got confused about which team he is playing for this season ... The latest air quality report for Tucson showed dramatic reductions in emission levels from last spring. City officials are attributing the improvement to new clean air requirements, the closure of a coal-burning facility and the retirement of chain-smoker Mark Grace ...
ATLANTA: OF Chipper Jones will miss the season after being wounded by shrapnel when Comcast made a very hostile takeover bid for AOL-Time Warner ... RHP John Smoltz maintains that his elbow is not only 100-percent healthy, but that it's also "picking up shortwave radio broadcasts from Venezuela." ...
CHICAGO: RHP Greg Maddux's first day back with the Cubs since 1992 was cut short by injury when Steve Bartman accidentally ran over him in the parking lot. Manager Dusty Baker said the club will simply go with a two-man rotation of RHP Kerry Wood and RHP Mark Prior until Maddux is healthy ... OF Sammy Sosa received his annual shipment of corked bats ...
CINCINNATI: In an attempt to keep OF Ken Griffey Jr. on the field more often this season, the Reds are moving the trainers room to center field ... Pete Rose has volunteered to run the Reds' NCAA Tournament pool ...
COLORADO: The Rockies hope to lower their staff ERA this season by keeping game baseballs in a humidor before the game and then transferring them to a locked steel vault when the opposing team comes to bat ...
FLORIDA: In a cost-cutting move, owner Jeffrey Loria said the team will give the players "We're No. 1" giant puffy hands instead of World Series rings ...
HOUSTON: RHP Roger Clemens and LHP Andy Pettitte sent out engagement announcements but haven't agreed on a china pattern yet ... 2B Jeff Kent said contrary to reports, Yankees 3B Aaron Boone actually tore his ACL helping him wash his truck ...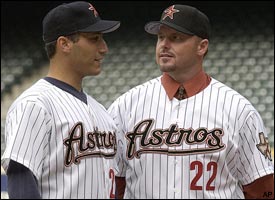 Peter Gammons reports that Andy and Roger are registered at Pottery Barn and Macy's.
LOS ANGELES: New owner Frank McCourt visited Vero Beach yesterday and wanted to know where all the good players went ... In an attempt to boost their offense, the Dodgers will require that their players take steroids ...
MILWAUKEE: Still seeking a buyer for the team, Bud Selig pleaded for Comcast to make a hostile takeover bid ... The Italian and Polish Sausages haven't reported to camp yet, citing visa problems ...
MONTREAL: General manager Omar Minaya announced that the Expos have been selected to be the opening act for the Barenaked Ladies on their 2004 Voodoo Stadium summer tour. In addition to 22 dates in San Juan, the schedule includes a week in Las Vegas filling in for Celine Dion ...
NEW YORK: RHP Scott Erickson's return from his elbow injury isn't going well. It turns out that doctors accidentally performed Elton John surgery on his arm, not Tommy John surgery. "But the good news is his voice has never sounded better," general manager Jim Duquette said ... SS Kazuo Matsui doesn't like the nickname "Little Matsui" and is requesting that reporters refer to him as "Just the Right Size" Matsui ...
PHILADELPHIA: The Philly Phanatic's costume head was stolen at an auction of Veterans Stadium memorabilia. Worse yet, someone stole John Kruk's pants ... New Class A manager Mike Schmidt said that after meeting with Selig, he expects Pete Rose will soon be allowed into the Hair Club For Men ...
PITTSBURGH: Florida resident Sylvester Stallone stopped by the Pirates' camp, but his visit was cut short when 1B Randall Simon hit the Italian Stallion with a baseball bat ...
ST. LOUIS: Under terms of the Cardinals' new $100 million contract with 1B Albert Pujols, Rangers owner Tom Hicks will pay $47 million ...
SAN DIEGO: Responding to angry feedback from fans, the Padres announced they will change the official name of their new stadium to "Sycuan Presents Petco Stadium at Qualcomm Fields, a Wholly Owned Subsidiary of Halliburton Powered by Intel and Supported by Lucent." ...
SAN FRANCISCO: A federal grand jury subpoenaed OF Barry Bonds to testify on charges that trainer Greg Anderson provided him with the performance enhancer known as Wheaties under the pretense that the cereal was the "Breakfast of Champions" ... In an attempt to reduce the number of intentional walks to Bonds, the Giants plan to have him use a really, really, really long bat ...
Jim Caple is a senior writer for ESPN.com