By Jim Caple
Page 2 columnist
The temperature was a record 96 degrees in Phoenix this weekend and the players complained so much about the heat you would have thought they were sportswriters.
But not Brian Jordan.
"Oh, man it's a joke,'' the Texas Rangers outfielder and former Atlanta Falcons All-Pro said. "There is no comparison between football and baseball, absolutely no comparison. You have no complaints about spring training. I was in Suwanee, Georgia for football training camp and it was hot and humid and people were throwing up all the time. We would jump in ice buckets right after practice just to survive the heat.''
Baseball players vomit, too, only instead of during afternoon scrimmages, they usually do it in the morning when they wake up.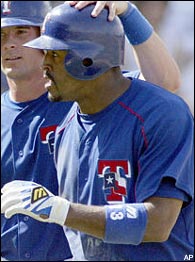 Even the Texas heat doesn't scare Brian Jordan.
That's just one of the differences between the joys of spring training and the agony of training camp. Football camp means vomiting during grueling two-a-days in the summer sun. Spring training two-a-days means finishing up BP early enough to get in 36 holes of golf.
"The first weeks when there are no games, you get a lot of golf in,'' Jordan said of spring training. "But once the games start, you have to limit yourself, if you're a position player. The pitchers have life easy. Pitchers can just kick back and golf whenever they want.''
Baseball players make sure to pack their golf clubs. Football players make sure to pack their IV tubes.
"In football there is no time for golf,'' Jordan said. "You don't have time for anything. There is nothing but focusing on football. You exert all your energy on the field. You have three practices a day, you're on the field twice and you've got film at night.''
Baseball has film at night as well. Only instead of studying Michael Vick, players study Angelina Jolie.
Jordan says the worst thing that can happen in spring training is not being able to get a tee time. In football, every day brings another face-to-face meeting with pain.
"It's a daily thing,'' he said. "You exert so much energy out there that you're just drained. You're throwing up, you're dehydrated, you're sucking down water and fluids wherever you go. You go back to your room and you've got jugs of water lying around just to make it through the night because you're body is cramping up so much. It's a brutal sport.
"In baseball you try to work yourself into shape. In football you have to come into camp in tip-top shape because it's a battle to win a spot. You have to fight for your position. It's an all-out brawl.''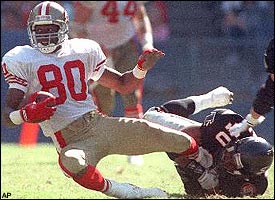 Brian Jordan (right) got tired of chasing Jerry Rice around the field.
In spring training, baseball players live with their families in plush condominiums that rent for $10,000 a month. The team parking lots resemble Cadillac Escalade dealerships. In football, players ride bikes and share dorm rooms with a 350-pound lineman whose flatulence is drowned out only by the sound of the mosquitoes and the odor of a four-day old tuna fish sandwich.
"In baseball, you have more freedom. You're old enough to take care of yourself and go out when you want and show up when you're supposed to. It's a more laid back, enjoy-the-family experience,'' Jordan said. "In football, you don't even want to see your family, you're so drained of energy and so locked in on football. The only thing you want to do is go back to your room, call your family and say good night.''
Of course, when the season opens, it's another story. The football season lasts 17 weeks, which is barely sufficient to eliminate the Lions from playoff contention. The baseball season lasts 26 weeks and it will seem like 26 years for Jordan's Rangers when they sink into last place for the fifth consecutive season.
"I used to call baseball players wimps,'' Jordan said. "But then I started playing baseball and going through an entire season, 162 games, one or two days off a month, I learned it really takes a toll mentally. I had a new respect for baseball and baseball players.''
Besides, there are some real hazards to spring training. As Jordan says, "You have to make sure you get your suntan lotion on right so that you don't burn in the sun.''
Box score Line of the Week
It only took a couple innings Sunday for Chicago starter Jason Grilli to go from a contender for the White Sox starting rotation to a possible contender for the Sox' Triple-A rotation. Facing the Mariners in Peoria, Grilli allowed 14 hits in three-plus innings, including nine hits in a row in the fourth inning when he failed to retire a batter before finally getting the hook. His line:
3 IP, 14 H, 9 R, 9 ER, 1 BB, 0 K
"I could have thrown the kitchen sink up there and they would have hit it today," Grilli told reporters.
From Left Field
Feeling old? New York's John Franco (44) and Roger Clemens (41) are the only players in spring training old enough to have been eligible to vote for Jimmy Carter (Jamie Moyer missed it by two weeks). On the other side of the spectrum, Florida's Miguel Cabrera is the only player on a 40-man roster too young to drink legally -- though that will change when he turns 21 April 18.
Here are the players in major-league camps who are, or will be, in their 40s by the end of the regular season:
| | | |
| --- | --- | --- |
| Age | Player | The skinny |
| 46 | Julio Franco | Turns 46 in August ... we think |
| 44 | John Franco | As old as Cabrera and Josh Beckett combined |
| 41 | Roger Clemens | Was in the Red Sox organization with Yaz |
| 41 | Jamie Moyer | Was a teammate of Davey Lopes |
| 41 | Edgar Martinez | Was a teammate of Gary Matthews |
| 41 | Terry Mulholland | On same staff as Vida Blue and Steve Carlton |
| 41 | Jeff Fassero | Spring invitee with Rockies |
| 40 | Pat Borders | May be Seattle's backup catcher |
| 40 | David Wells | Was on same staff as Phil Niekro |
| 40 | Randy Johnson | Went to USC with Marcus Allen |
| 40 | Fred McGriff | Nine homers short of 500 |
| 39 | Barry Larkin | Played with Pete Rose |
| 39 | Barry Bonds | Teammate of UL Washington |
| 39 | B.J. Surhoff | Old? He was Moses' teammate (Edwin Moses, that is, fellow member of '84 U.S. Olympic team) |
| 39 | Rafael Palmeiro | Viagra picked him for a reason |
Win Blake Stein's Money
This week's category is 'Five Degrees of Eddie Bacon.'
Question: What active players were teammates of a teammate of a teammate of a teammate of a teammate of Eddie Bacon, who pitched exactly one game in his career, for the 1917 Philadelphia Athletics?
Infield Chatter
Nostalgia Prompts Return of Negro Baseball League
NEW YORK -- Influenced by the high demand for Negro League memorabilia, Major League Baseball commissioner Bud Selig announced Monday that, for the 2004 season, the national pastime will return to its storied, segregated past.
"This is a historic day for baseball players and fans alike," Selig told an excited crowd of black reporters and players gathered around a radio in the lobby of his Park Avenue headquarters. "Today, we honor the memory of such great black players as Satchel Paige, Buck Leonard, and Cool Papa Bell by giving the Negro Leagues a place in American sports once again."
-- from story posted on TheOnion.com
***
Answer: Barry Larkin and John Franco both were teammates of Pete Rose (1986), who was a teammate of Joe Nuxhall (1963-66), who was a teammate of Gee Walker (1944), who was a teammate of Wally Schang (1931), who was a teammate of Bacon in 1917.
Jim Caple is a senior writer for ESPN.com