By Jim Caple
Page 2 columnist
Frankly, I hope Jason Szuminski cracks the Padres pitching staff to become the first M.I.T. graduate to play in the major leagues, if only for the following possible clubhouse conversation.
Szuminski: You know Boomer, the reason a curveball curves is because its spin creates a difference in airflow around the ball. It's the same principle as with an airplane or a Frisbee. Or it's like when you're rowing a canoe and you make the canoe turn by dragging one oar in the water.
David Wells: Hey, Professor, try this experiment. Pull my finger.
* * * * *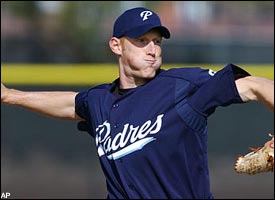 If it was simply math, Jason Szuminski would have no problems making the team.
There are a lot of interesting players in the Padres' clubhouse. There is Wells, whose mother rode with the Hells Angels. There is Sir Eugene Kingsdale, who was knighted by the Queen of the Netherlands last year. And then there is Szuminski. In addition to being an actual rocket scientist -- he graduated from M.I.T. in 2000 with a degree in aerospace engineering -- he also is a first lieutenant in the Air Force reserve who served his duty last winter working on the acquisition of high-frequency satellites at Edwards Air Force Base.
In other words, Szuminski already knows all about challenges as daunting as pitching to Barry Bonds with the game tied and first base occupied.
"I think that's the biggest thing I've taken from school -- how to take the pressure," the right-handed reliever said. "After how long-term, challenging and difficult it was, I have the attitude now that I can do anything. That's what I learned in school. You're presented with something, 'Here, figure this out,' with a project and that's what you do.
"That applies to a lot of things in life and is probably why a lot of the people I went to school with are successful because you learn to rise up to challenges. You learn to take something difficult and master it.''
A very fit 6-5, 225 pounds, Szuminski looks nothing like the stereotype of the M.I.T. computer geek, though he says the stereotype is fairly accurate. He says there were a couple other players on the school's baseball team -- yes, M.I.T. has a baseball team -- who might have been able to play at the Division I level, but the problem was that with so many academic responsibilities, baseball was not a priority and it wasn't abnormal to only have 10 players show up for practice.
Top 10 Side Benefits to Having an M.I.T. Aerospace Engineering Graduate on the Padres:
10. Able to accurately determine weight of David Wells based only on his circumference.
9. Can calculate Adam Eaton's ERA to one thousand decimal places.
8. Knows how to hack into the Questec system and give the Padres pitchers a huge strike zone.
7. No more embarrassing losses to the American League in the All-Star Game "Jeopardy" Derby.
6. Knows how to rig the bullpen cart to make it do 150 mph on the freeway.
5. Can accurately estimate tale of the tape on Barry Bonds home runs off Jay Witasick.
4. Teammates need less time for crossword puzzles, leaving more time for fundamental drills.
3. Raises overall level of infield chatter.
2. Can use the stars to circumnavigate teammates' way home after late nights at Hooters.
1. Actually understands what broadcaster Jerry Coleman is saying.
"I didn't go to practice much. It was always the people who showed up at practice who got worse," Szuminski said. "It was the people who just showed up at games who stayed pretty decent for a few years. Practice just reinforced bad habits."
So, it's no real surprise that no M.I.T. grad has ever played in the majors. Szuminski said M.I.T's field was in such bad shape that just running full speed could be dangerous. The outfield fence was a temporary road construction fence.
"It wasn't uncommon for totally oblivious kids going back to their dorms to lift their bikes over the fence and cut across the outfield during games,'' Szuminski said. "There would be guys running on the field and playing Frisbee in left field. But why would they think there was a game going on -- there were just a few guys on the field and nobody in the stands. We looked like an intramural softball game.''
You had uniforms though, right?
"Yeah, we had uniforms. They didn't fit but we had uniforms."
Not surprisingly, the M.I.T. Beavers ("Nature's engineers," Szuminski said, explaining the team nickname) lost a lot and lost badly. "Harvard beat us 27-2 and then they didn't schedule us again," he said, adding, "I played down a lot. I usually play to my environment.
"I was just trying to throw as hard as I could. It was just a physical release for me because school was so frustrating. Baseball was a way to get away from school."
A scout looking at a pitcher on another team noticed Szuminski in his junior year and prompted him to pitch in the New England amateur league that summer. He caught enough attention that the Cubs drafted him in the 27th round in the 2000 draft. The Royals picked him in the Rule 5 draft last December, then traded him to San Diego.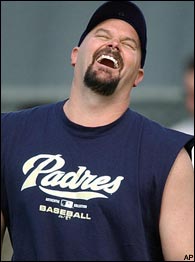 The other side of the spectrum.
After going a combined 9-5 with a 2.78 ERA at three minor-league levels last year, Szuminski, 25, has been one of the better relievers with San Diego this spring, taking a 2.61 ERA into the weekend. He not only can tell you why a curveball curves, he throws an effective fastball, sinker and slider. "He's done everything he can for himself to make the team. Now it's up to us to see whether we can find a spot for him," Padres manager Bruce Bochy said. "He's done a good job here, been solid every time out.''
Bochy said those words before Szuminski allowed two runs, four hits and walked two batters in two innings Thursday, which did not help his cause. Still, as a Rule 5 draftee, Szuminski must either be on the major-league roster all season or be offered back to his former organization (the Cubs). General manager Kevin Towers said that if there isn't room for him on the staff when the season starts, the Padres will try to work out a deal with Chicago to keep him in the San Diego system.
Szuminski takes the attention and the jokes about his M.I.T. education in stride, willingly talking about it but also wishing he was known for something other than his alma mater. "Maybe someday somebody will write about me playing baseball."
We can only hope.
* * * * *
Szuminski: You know, Boomer, the "rising fastball'' is a physical impossibility. A pitch drops as much as two feet from when it leaves the pitcher's hand to when it crosses home plate. With sufficient backspin and velocity it won't fall quite so far. So when people speak of a fastball "rising," they're really describing its failure to drop as far as its anticipated trajectory.
Wells: (Lifting up his right buttock and farting): You going to eat the rest of that pizza?
Jim Caple is a senior writer for ESPN.com