By Jim Caple
Page 2 columnist
MESA, Arizona -- Chicago reliever LaTroy Hawkins grew up a huge Cubs fans in Gary, Indiana, and he was rooting for them last fall. He's played in the majors for eight years and has seen his share of strange things, so he knows that things like the Bartman collapse happen. But he was so worried about his uncle in the hospital that he phoned him to make certain he stayed calm after that loss. "I didn't want him to have a heart attack or a stroke."
The Cubs have been testing the hearts of their fans for generations, but never more so than last October, when they took a 3-1 lead in the National League championship series against the Marlins and a 3-0 lead in Game 6 with just five outs to go. Club president Andy MacPhail, a third generation baseball man who knows you can't assume anything in this game, had just allowed himself to start thinking, "Shoot, I may get the National League championship trophy here in about 20 minutes so I better figure out what I'm going to say ... and then as soon as I got into that mindset -- bam! bam! bam! -- it all fell apart.
"It was tough. Basically, you had a choice. You could reflect on the achievements of the year, which were considerable, or you could reflect on not getting the last five outs. It was your choice. And I think the overwhelming majority chose to reflect on the achievements."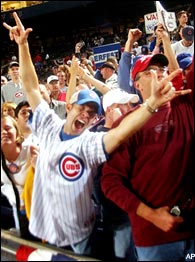 Many Cubs fans believe this year could be finally be their year.
That choice is not surprising. Cubs fans are as resilient as ivy. Cut the vines back as much as you want and they will grow back the next spring, spreading over the wall and under the scoreboard and onto Sheffield Avenue and across the street and into Murphy's Bleachers and around the handle of a mug of Old Style. Baseball has been taping "Kick Me" signs to back of their replica jerseys for 95 years and yet Cubs fans keep coming back, with smiles so big and goofy they look like Harry Caray usually did in extra innings, absolutely certain that "next year" truly will be this year.
Being drunk only accounts for so much of this.
Cubs fans are simply different from normal human beings. A good friend of mine has a special Cubs room in his home, asked his wife to marry him in front of the Wrigley Field marquee and named his first two daughters Sammy and Kerry before his poor wife finally declared enough of this Cubs nonsense was enough and that from now on she would be in charge of naming their children. So what did she do? She named their third daughter Addison. (It could have been worse -- she could have named her Waveland.)
Thus, one tortured generation begets another generation to endure the trials and sufferings of rooting for the Cubs. As Hawkins says, their fan base reaches "from great-grandparents to children in the womb."
No wonder there are more Cubs fans in Arizona this spring than Circle K's. The Cubs set the spring training record for attendance Tuesday, soaring past the 175,000 mark in their 15th game at HoHoKam Park. They're averaging nearly as many fans this spring as the Expos averaged during the regular season last year.
"I've never experienced anything like this," MacPhail said as he signed 10 autographs within five minutes. "My sense is that people have been following the Cubs for so long that they want to be there when it happens. They all want to be there and to participate. That's why you had so many people outside our walls during the playoffs."
Among the thousands Tuesday were Greg Nasman and his family, all dressed in Cubs gear. Greg wore a Maddux replica jersey, his wife, Lee Ann, wore a Wood jersey, their son, Cole, wore a Sosa jersey and their daughter, Carly, wore a Cubs T-shirt (I could only assume the Cubs don't make replica jerseys in her size). Lee Ann gave him the trip to spring training as a birthday present.
Now, this is a woman to love, honor and obey. She also gave him a Cubs victory flag -- a blue W against a white background -- last fall and the plan was for him to raise it when Chicago reached the World Series. He didn't get the chance but he's confident he'll do so this season.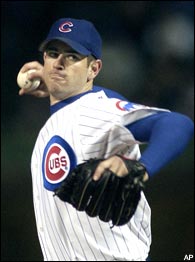 But if Mark Prior spends a lot of time on the DL, the Cubs could be in trouble.
The thing is, Nasman and all these delirious Cubs fans may finally be right. "Next year" could be this year. Cubs fans aren't the only ones picking the team to reach the World Series -- so are sane, sober, intelligent people, in addition to a number of baseball writers. And for good reason. After coming within five outs of their first World Series since World War II, the Cubs added former ace Greg Maddux, 11 wins shy of 300, to what may already have been the league's best rotation. They also added Hawkins to the bullpen, and first baseman Derrek Lee to their lineup to provide much-needed protection for Sammy Sosa.
On paper, they look like the team to beat.
Of course, they play on grass.
These being the Cubs, not everything can be easy. Mark Prior spent spring training undergoing two MRIs and a bone scan and will open the season on the disabled list with a sore Achilles tendon. He says he isn't sure when he'll be ready to pitch, but it likely will be at least six weeks. "It will be like starting over from day one of spring training," he said. "It would be great if it was around mid-May, give or take a week. But I'm not going to rush it and then have to miss another two weeks. I want to be completely ready."
The Cubs also have history against them. They haven't had consecutive winning seasons in 31 years. And when was the last time anything ever went as planned for the Cubs?
Nasman doesn't care. Friends try to warn him about what could go wrong this summer and he just tunes them out. The Chicago forecast is bright, he's got Lee Ann's victory pennant and he's ready to raise it after each Cubs win this season.
"I'm going to be busy this summer."
Box Score Line of the Week
Very few people root for extra innings in spring training. By the ninth inning most of the regulars are long gone and fans just want to get out of the park in time to avoid rush hour and catch happy hour.
And it seemed like the Brewers were going to oblige Monday, trailing the Diamondbacks 6-0 with two outs in the bottom of the ninth. And then Snakes reliever Greg Aquino suddenly started getting bashed when he threw strikes, which wasn't very often. A home run, a couple hits and three walks later, the score was tied 6-6 and the game was going into extra innings. Aquino's line:
1 IP, 3 H, 6 R, 6 ER, 3 BB, 0 K
Milwaukee won the game in the 10th on Lyle Overbay's leadoff home run.
Jim Caple is a senior writer for ESPN.com