By Jim Caple
Page 2 columnist
Barry Bonds has tied his godfather, and he's about to assume sole possession of third place on the all-time home run list. Willie Mays is so pumped that he would like to hand Barry his Olympic torch to carry around the basepaths.
But how are we supposed to feel about this? Given all the rumors of the past few years and all the BALCO reports of the past winter, how are fans supposed to feel now that one of the most revered players in baseball history is going to be eclipsed by someone who has been accused of having more chemicals in his body than Keith Richards on New Year's Eve?
I'll tell you how. We should stand up and applaud.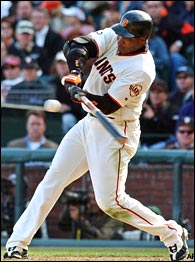 We should all stand up and applaud Barry Bonds for his performance.
I know, I know. Bonds has been named in the BALCO investigation and his personal trainer is a prime target. He has been suspected of using steroids for several years and the size of his head supposedly rivals Mr. Met's. But I also know that Bonds has been so much better than everyone else that his performance can't be explained by any performance enhancer short of weapons-grade plutonium.
Mariners second baseman Bret Boone has said he is so in awe of Bonds that he would intentionally walk him every time first base is open, no matter who the next hitter is. "Even if Albert Pujols was on-deck, I'd walk him."
Besides, I've had it up to the top hair in Randy Johnson's mullet with all this steroid hysteria. I'm tired of reading how the scandal is going to cast a black cloud over baseball all season, and how all the recent performances should carry an asterisk. Yes, steroids are bad and baseball should work to try to eliminate them. But how much longer is baseball supposed to be the nation's official punchline for steroids when there is another sports league filled with 220-pound safeties, 260-pound quarterbacks and 330-pound linemen?
You want to know why so many people are upset about steroid use in baseball? It's certainly not out of any concern for the health of players -- if injury risk and long-term health were really a concern, fans would insist that the NFL be shut down immediately. It's because they don't want anything to disturb their perception of the all-important home run statistics.
"The Players Association and MLB should be concerned about the health of the players, but that's not a reason the fans want to see it cleaned up," Paul Molitor says. "You have people who have followed this game for a long time and if people are going to be compared from generation to generation, they want people to play under the same guidelines and the same rules."
And that's what this all comes down to. Not whether steroid use is dangerous, nor whether steroid use is cheating. Only that steroid use means we don't instantly know how to regard a home run record.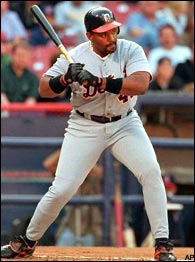 Cecil Fielder came out of nowhere to homer 51 times in 1990.
Cecil Fielder complained this week that when he reached the 50-homer mark in 1990 he was the first player to do so in 13 years (it was such a big deal that the Detroit newpapers printed special sections when he hit No. 50) -- and then 10 players did it in the next 13 years. "Everything is speculation," he told Florida Today. "But I look back on some of the guys that hit 50 home runs after I did and say, 'Damn. OK. He did it?' I don't know."
Frankly, with increased weight programs, smaller ballparks, expanded leagues, diluted pitching and smaller strike zones, the question is not why there have been so many 50-homer seasons recently, but why players hit that many home runs only twice from 1966-1994. After all, players reached the 50-homer mark eight times from 1947-65.
Besides, Fielder hit 37 career home runs in his first four big-league seasons and spent 1989 in Japan before returning to the majors in 1990. The Twins even complained that Detroit failed to bring the required four regulars to a spring training game in Orlando because Fielder wasn't good enough to be counted in that role. So when he went out and hit his 51, I imagine a few people were shaking their heads and muttering, "Damn. OK. He did it?"
But that's the mystery and beauty of baseball. These things happen, and we don't know why.
The home run record was 24 when Ruth hit 29 in 1919, and then he hit 54 the next year (more than every other team but one) and 59 the next. Steroids didn't even exist then -- there goes Jeff Kent's theory -- yet Ruth more than doubled the record in three years. How was that possible?
Other than 1961, Roger Maris only twice hit as many as 30 home runs in a season, and he never hit as many as 40. So how did he hit 61 in that magical 1961 season?
And while you're answering those questions, kindly explain how Davey Johnson hit five home runs in 1972, and then hit 43 in 1973 but just 31 the remainder of his career. And tell me how Kirby Puckett hit four home runs in his first 1,251 at-bats and then suddenly hit 31 in his third season. And then tell me how Gary Gaetti could hit 21 home runs in 584 at-bats in 1983, then hit just five in 588 at-bats in 1984 and then hit 20 in 560 at-bats in 1985 (and you might as well tell Gary as well, because he has never figured it out himself).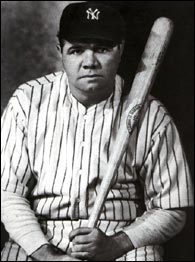 Babe Ruth shattered home run records long before steroids.
And finally, explain how Mays and Mickey Mantle both stood less than 6 feet tall and weighed less than 200 pounds and yet each still had more 50-homer seasons (two apiece) than Bonds has (just one).
Yes, steroids are having an effect on baseball, and perhaps Bonds has been aided by them (though neither Cecil Fielder nor President Bush nor Hans Blix knows for sure). But he's still better than anyone else has been -- suspected users and presumed non-users alike -- and he deserves recognition.
So take a deep breath from the steroid hysterics and clap both for what Bonds has done in this era and for what his godfather did in his.
And then let us have no more of this ridiculous talk of tainted records and asterisks. Unless you're also prepared to put them next to Ruth for the home runs he hit when baseball barred minorities from the field. And next to Joe DiMaggio's hitting streak for the same reason. And Hack Wilson's RBI record. And Ted Williams' .406 season. And Walter Johnson's ERA mark, and on and on and on ...
Box Score Line of the Week
Bonds went 3-for-3 with a home run in the season opener. So did Mets shortstop Kazuo Matsui. White Sox reliever Damaso Marte faced just three batters and still somehow allowed a three-run homer and a two-run homer. And Octavio Dotel presented this puzzler in losing Houston's opener: 1 IP, 0 H, 1 R, 1 ER, 0 BB, 1 K.
But the winning box score line goes to San Francisco reliever David Aardsma. After carrying snacks to the bullpen in a My Little Pony backpack and drinks in a Backstreet Boys lunchbox, Aardsma pitched two scoreless innings to win his major league debut Tuesday night. His line:
2 IP, 3 H, 0 R, 0 ER, 1 BB, 0 K
What's so special about that line? Well, as Baseball Encyclopedia devotees know, with that appearance, Aardsma officially replaced Hank Aaron as the first player listed alphabetically in major league history.
"That's going to be pretty cool and something I'll always have," Aardsma told reporters. "That's not where I want to stop by any means. I want to have a longer career than being known as that little trivia guy. I want to have a good career and have HOF (Hall of Fame) next to my name."
Fans of Aaron and eerie coincidence can take some solace in the fact that the first batter listed in the Baseball Encyclopedia remains the man with more home runs than anyone else.
Lies, Damn Lies and Statistics
Garth Brooks finished spring training with nearly as high a batting average (.143) as Ken Griffey Jr. (.158).
Win Blake Stein's Money
This week's category: The Bible May Say "The First Shall Be Last And The Last Shall Be First," But The Standings Say Differently.
Question: Who is the last person alphabetically in baseball history?
Answer: Dutch Zwilling, who has held that distinction since he made his major league debut in 1910 with the White Sox. While Aaron hit 755 home runs in his career, Zwilling hit exactly one in his American and National League career, plus 29 in the Federal League.
Infield Chatter
"It was on at 5 a.m. and I was having a great time. I'm sitting there in my underwear, having a beer and the next thing I know, they come over and finally toss me out of Hooters."
-- David Letterman on watching the Yankees game from Japan
Jim Caple is a senior writer for ESPN.com