By Jim Caple
Page 2 columnist
The Tigers are in first place. Barry Bonds just passed his godfather's career home run mark. The government has seized baseball's steroid tests for the BALCO investigation. But there is a far more important issue to discuss today.
Johnny Damon's hair.
When Damon showed up this spring with wild, shoulder-length hair and a full beard, the only things he was missing were a volleyball named Wilson and a Fed Ex package under his arm. Either that or a club and a leopard skin. Or a big cross. "Was he an extra in 'The Passion of the Christ'?" Seattle hitting coach Paul Molitor asked.
Call it the Tom Hanks/Castaway look, the Caveman look or the Jim Caviezel look -- no one can remember seeing anything quite like it on a major-league baseball field.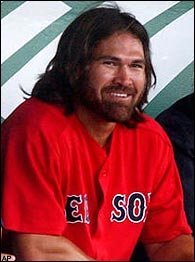 Come on Johnny, just make an appointment at the barbershop.
"Geez, who could even come close to that look?" Molitor said. "In the late '70s and early '80s, we had a lot of hair but it was usually in the afro fashion. Gorman Thomas had a lot of facial hair, but whoever had a full beard like that? The House of David team?"
Giants catcher A.J. Pierzynski lives in Damon's neighborhood, so he got to see the hair grow all winter. And grow. And grow. "Everything comes around again, doesn't it?" Pierzynski said. "You just never know. Every fashion that you think no one will ever go for again, it eventually comes back and they're wearing it again."
Unlike the Yankees, who would have had Damon publicly executed for breaching team tradition, the Red Sox don't have a problem with the hair style. Neither do the Boston fans who showed up over the weekend wearing wigs and fake beards and calling themselves "Damon's Disciples."
But the stylists/Red Sox fans at Laschi Hair Stylists in Reading, Massachusetts (just outside Boston) aren't so crazy about the new style. They were bothered enough when Damon's hair started getting long last year, but are appalled by this season's Johnny the Baptist look. "He looks like Oscar the Grouch on 'Sesame Street,'" said Tina Cataldo.
SportsNation: Damon's hair
Has Johnny let his tresses grown too long? Is he showing disrespect for the game? Or is it just ... hair. Vote at SportsNation.
"We don't really care for it at all. We don't like it long," stylist Jenn Brickly said. "He's got hair sticking out everywhere. Johnny's definitely a clean-cut type guy -- he's better looking that way. We would definitely shorten him up and give him some highlights, maybe some sort of caramel coloring, and gel it up. And we would advise him to shave the beard and maybe go with a nice goatee."
Brickly and Cataldo don't like Manny Ramirez's style, either. They do, however, give the thumbs up to last year's "Cowboy Up" look when the Red Sox all shaved their heads. "That was awesome because they all did it together," Brickly said. "But I wouldn't be too keen on them getting Mohawks."
What if the team decided to "Caveman Up" and all grow hair like Damon? Would Brickly approve then? "That's a good question. I don't know," she said. "Not everyone can pull that look off. Johnny sure can't. Did they have to buy him another cap because of the hair? We'll have to send him some barrettes to hold his hair back. And I'd recommend a strong gel or a wax."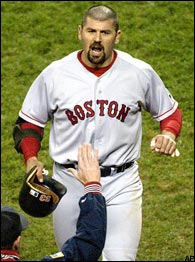 Jason Varitek and several teammates went for a different look last season.
If the Red Sox did agree on a team hair style, Brickly said the Laschi salon would be delighted to provide the cuts, "But only if they brought us tickets." She said the salon has 28 employees, all women. "And they're all cute."
Brickly and her co-workers are ready to give Damon a "Fan's Eye for the Caveman Guy" makeover, so the next move is up to Johnny. Will he take them up on the offer, or will he stay with the Cro-Magnon look? "It depends on whatever kind of year he's having," Seattle second baseman Bret Boone said. "If he's having a great year I guarantee that sucker is staying."
Regardless of what Damon does, Cataldo says she would love to see Pedro grow his hair out long and then braid it.
Anything else?
"I don't want to see him stay in a game longer than eight innings."
BOX SCORE LINE OF THE WEEK
At first glance, there aren't a lot of similarities between Babe Ruth and David McCarty. The Babe batted left-handed and McCarty bats right-handed. Babe was, well, fat, and he barely attended high school; McCarty is 6-foot-5, trim and attended Stanford.
But there is one thing McCarty shares with the Babe. He wants to have a career with the Red Sox as both a pitcher and a position player. Which is pretty amazing given that McCarty has been in the majors since 1993 and had never thrown a pitch in a real game prior to this year. He never even pitched when he was at Stanford. But he had pitched in a blowout in the minors, and had pitched in high school. After playing just 528 games in the majors and changing organizations nine times during a 13-year pro career, McCarty figured it was worth seeing whether he could add a new skill to his resume.
He worked on the pitching thing during spring training (and when was the last time you saw five consecutive words that ended with "ing"?) and made the team as a backup DH/first baseman and possible mop-up relief pitcher. And when the Red Sox found themselves out of pitchers and trailing the Blue Jays 8-5 with one out and a runner on base in the ninth inning last Friday, they handed the ball to McCarty. It could have been better (a double, a walk and a run) and it could have been worse (he got out of the inning). His line:
2/3 IP, 1 H, 1 R, 1 ER, 1 BB, 0 K
Will McCarty grow from a mop-up man to something more important? Let's hope so. McCarty deserves some solid success after 13 years in the pros, while baseball needs to be more open to things like this. Besides, when the Red Sox last won the World Series, Ruth was 13-7 with a 2.22 ERA as a pitcher and hit .300 with 11 home runs as a batter.
LIES, DAMN LIES & STATISTICS
How significant was it when Barry Bonds passed his godfather for third place on the all-time home run list this week? Babe Ruth, Hank Aaron and Willie Mays had held the top three spots for 34 years and nine months. The last time Mays wasn't in the top three was in midseason 1966, just before he passed Ted Williams for third place with 522. That was so long ago that Joe Nuxhall, Joe Adcock and Hoyt Wilhelm were in the major leagues but Nolan Ryan (called up that September), the Oakland Athletics (they still were in Kansas City) and Barry's father (Bobby was still in the minors) weren't. The Phillies played in three home stadiums (Shibe Park, Veterans Stadium and the new one, barely) while Mays was in the top three. Or look at it this way: If you aren't at least 38 years old by this summer, this is the first time in your life that Mays wasn't in the top three . . . Speaking of old guys, Rickey Henderson was on hand for the opening series in San Diego last weekend and he says that he still wants to play but will probably have to start with an independent league team again and then hope someone gives him a chance.
FROM LEFT FIELD
McCarty is not the first position player to pitch for the Red Sox since Ruth. Ted Williams pitched two innings in one game for Boston in 1940, allowing a run and three hits. Here are the most career home runs by players who also pitched in the majors:
Babe Ruth, 714: Hit 3 HRs in 1916 and allowed none in 323 IP
Jimmie Foxx, 534: 1-0, 1.52 ERA in 23 2/3 innings
Ted Williams, 521: Struck out one batter in two innings
Jose Canseco, 482: Blew out arm in relief appearance
Stan Musial, 475: Faced one batter in big leagues
Dave Kingman, 442: Two games, four innings in 1972
Rocky Colavito, 374: 1-0, 0.00 ERA in 5 2/3 innings
Gary Gaetti, 360: Pitched 2 1/3 innings in three games
WIN BLAKE STEIN'S MONEY
This week's category: Baseball People With Facial Hair Other Than Schottzie
Question: Who ended baseball's 50-plus year mustache drought by wearing a mustache on Opening Day 1973?
Answer: Oakland's Reggie Jackson, Catfish Hunter, Rollie Fingers, Darold Knowles and Bob Locker.
Jim Caple is a senior writer for ESPN.com