By Jim Caple
Page 2
San Diego's new stadium cost $480 million (including the price of sandstone imported from India for the main entrance's exterior), and about the only amenities missing are leather recliners and Hooters waitresses stationed at each locker. But it could be a tricky ballpark for broadcasters.
Swung on and belted deep to left! This ball is going, going -- better warm up your tonsils, William Hung, because She Bangs! Wait ... oops ... ummm ... No, never mind. Larkin catches it in back of the infield grass for the third out.
The Padres hit just three home runs in the first nine games in the new stadium. That put them last in the league with six, total. Meanwhile, they allowed seven. Barry Bonds, the greatest home run hitter of his era, went homerless in the first three games and declared the stadium to be not only "Bonds-proof" but also "baseball-proof." In the park's second game, Ryan Klesko hit three towering fly balls he was certain were home runs, yet all three fell short of the fence. After the third, he swore so loudly and was so frustrated that I expected Ken Caminiti to come out of the stands and offer him his leftover steroids.
"I laid into all three balls. Those would have all been home runs anywhere else in the National League," Klesko said. "But that's the way they built it and there's nothing we can do about it. At least not until next year."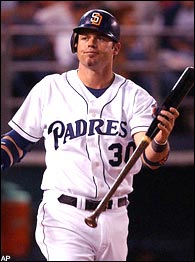 Petco Park has frustrated Ryan Klesko at times this season.
Typical reaction. So many home runs have been hit over the past decade that today's hitters think home runs are constitutionally guaranteed. Batters think that if home runs don't soar out of the park accompanied by oboe music and fireworks, the "Trading Spaces" designers should be brought in for an overnight remodel.
Well, we simply must do something with those walls. They're too far away. The stadium feels too roomy, so we'll move them in 20 feet to make things seem cozier and also lower them so we can see the view better. And then we'll put up some nice pictures and these great shelves I found at IKEA.
The Padres aren't alone. The Mariners' batters have been moaning about Seattle's new stadium since the architect sat down at the drafting table -- "Geez, you're not going to use blue ink, are you?" -- complaining that the park swallows fly balls the way David Wells swallows pizzas. Ken Griffey Jr. once told team officials to have the roof closed for a game because he thought the ball traveled better that way. Alex Rodriguez wanted the Mariners to move the fences in when he filed for free agency after the 2000 season. Mike Cameron was convinced the stadium's size hindered him at the plate.
And once such a thought gets into batters' heads, it tends to stay there as permanently as the steel plate in Don Zimmer's noggin.
"They start feeding off each other," San Diego general manager Kevin Towers said. "'Geez, this place is big.'"
But is Seattle's stadium really that unfair to hitters? Aaron Sele once watched a batter angrily toss his bat under the assumption that he had hit a routine fly, only to look up and see the ball clear the fence for a home run.
"If you hit it good, they'll go out," Towers said. "Hitters want the cheap home runs."
Exactly. Look, I can understand why batters want their ballpark to be favorable for home runs. The long balls are exciting and fun to hit. But more importantly, they directly translate into higher salaries -- and I think we can all appreciate a player who would rather have a home run that may lift his salary $100,000 than a flyout that doesn't help his stats or his team.
But having a couple of pitchers' parks is good for the game -- variety is always welcome -- and usually very good for the teams calling them home. Teams in hitters' parks give up more hits and more runs, throw more pitches and tire their staff out more often. Pitchers in a pitchers' park are better rested, more confident and able to stick to a routine more easily. While other factors are involved, the Mariners dramatically improved when they went from the Kingdome to a more pitching-friendly stadium.
So, tell the hitters to zip their mouths and let the pitchers catch a break for once.
We don't need fewer stadiums like San Diego's. We need more of them.
BOX SCORE LINE OF THE WEEK
Cleveland starter Jeff D'Amico didn't retire a batter Monday night, allowing six men to reach base (and four to score) in the top of the first inning before a 65-minute rain and hailstorm delay. When the game resumed, Cleveland brought in Jake Westbrook to relieve D'Amico and he retired his first batter, some 70 minutes after the game's first pitch.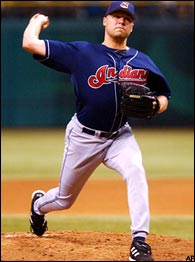 Jake Westbrook had a relief outing to write home about.
But what is more interesting is that Westbrook retired the next 20 batters as well -- 21 consecutive in all -- before Cleveland manager Eric Wedge reluctantly gave him the hook in the eighth inning with the game tied 4-4 because he had thrown 83 pitches. His line:
7 IP, 0 H, 0 R, 0 ER, 0 BB, 7 K
It wasn't the longest performance of perfect relief in baseball history -- remember, Ernie Shore recorded 27 consecutive outs in relief of Babe Ruth in 1917 -- but have we ever seen a box score line like that in the majors? Two sevens book-ending four zeroes?
"I felt like I could go another inning, but he was just looking out for me," Westbrook told reporters. "It's probably the best stuff I've had in a big league game. I had a good sinker and changeup."
Unfortunately, Cleveland allowed six runs immediately after Westbrook's departure and lost, 10-4.
LIES, DAMN LIES AND STATISTICS
Counting the Japan series as the season's official start, it took Dontrelle Willis three weeks to make an out. Toronto's Chad Hermansen, meanwhile, still doesn't have a hit. Not counting the postseason, Willis went seven months without making an out or allowing a run ... As loyal reader Linda Vessa points out, Monday's schedule of games began at 11:07 a.m. Eastern with the annual Patriots Day Game in Boston, and didn't end until nearly 16 hours later at 11:54 p.m. Pacific when Oakland's Justin Duchscherer balked in the winning run in a 2-1, 14-inning loss in Seattle. Talk about marathons ...
Jim Caple is a senior writer for ESPN.com