By Jim Caple
Page 2
As befits a nation founded on democracy, Americans love to vote. Unfortunately, instead of the elections that determine who will govern us and how, we prefer to vote on far more important issues. Such as which performer sang the best Barry Manilow tune on a TV show.
We also love voting in online polls that ask such crucial questions as, "Should Pete Rose be allowed into the Hall of Fame if he promises to get a decent haircut?" and "Who has suffered most, Red Sox fans, Cubs fans or the people who saw 'Gigli'?"
ESPN.com has polled readers a couple times with a certain line of questioning. In one of these polls, we asked readers to pick the worst offense a baseball player could commit, and more respondents (21 percent) said not hustling was worse than betting on baseball (19.5 percent). In another poll, we asked what the worst offense in all sports was, and more readers (18 percent) said not hustling was worse than taking steroids (14.9 percent).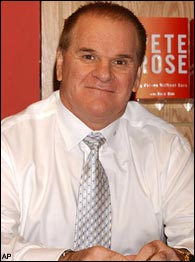 You've gotta admit, Pete really should do something about his hair.
Granted, these polls are about as scientifically valid as the explanation for the earthquakes in the NBC mini-series "10.5." For one thing, the two polls offered differing results on the hustling/steroid question. In one poll, more people were offended by steroid use than lack of hustle. But there is one consistent, dependable trend that comes through in these polls: A sizeable portion of fans find not hustling to be worse than anything else in sports, including shaving points.
That's more ludicrous than the ending to "The Bad News Bears in Breaking Training." Anyone who thinks that not running out a groundball is a worse crime than throwing the game's outcome has been watching the Tom Emansky video too long.
Hustle is overrated.
Don't get me wrong. I can understand why fans want athletes to hustle. After all, it isn't asking very much that players hustle in exchange for their enormous salaries. And I much prefer the athlete who is talented and hustles, over the player who is merely talented and loafs.
But forced to choose, I'll pick talent over hustle every time.
Why? Because anyone can hustle. I hustle. When I play softball, I always run out to my position at the start of an inning. I always run to the bench at the end of an inning. I always run out a groundball (which, I hate to admit, is becoming an all too frequent result of my at-bats).
And is there anyone who would pay to see me or anyone else on the field play? Of course not. The only spectators at the field are spouses who want to make sure we head home after the game instead of to the nearest tavern.
Hustle is easy. Talent is rare.
I would rather watch Manny Ramirez dog it than watch a lesser player give 110 percent, because I know that Manny will occasionally do something at the plate that will make me want to stand up and cheer.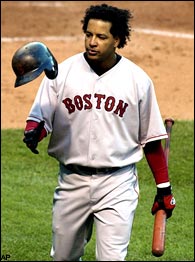 Manny may get on people's nerves, but can also do some incredible things.
Much of the hustle we applaud is false hustle anyway. So Pete Rose always ran to first base after he was walked. Big deal. Did that help his team win in any way? No. Ken Griffey Jr. occasionally doesn't run out routine groundballs. So what. Does it hurt his team that he's out at first base by four steps instead of one step? Maybe one time in 100, because of a bad throw. But how many times did he help his team by diving for a ball or crashing into a fence without regard to injury? A whole lot more often.
Just because you're not hustling on a given play doesn't mean you didn't bust your ass improving your game, and it doesn't mean you're not trying. When Ted Williams was in the minors, he was known to stand in the outfield with his back to the plate, working on his swing. He didn't hustle when it came to fielding; but, boy, he worked on his hitting. And far more people paid to watch him hit baseballs than ever paid to watch outfielders hustle after them.
Yes, for the price of tickets these days, I would like to see the players hustle all the time. But more importantly, for the price of tickets, I need to see the players perform feats that I can't see at the local softball field.
BOX SCORE LINE OF THE WEEK
Atlanta starter Horacio Ramirez had an interesting accomplishment Sunday. He allowed eight runs in less than four innings and still lowered his ERA, from 2.73 to 2.43. How? All eight runs were unearned, thanks to seven Atlanta errors, including four by third baseman Mark DeRosa. DeRosa made a fielding error in the second, a throwing error in the third and a fielding and throwing error in the fourth. "I never gave Ramirez a chance from inning one," DeRosa told reporters. "I'm humbled and my confidence level has been shocked by having a game like that."
Ramirez's line:
3 1/3 IP, 5 H, 8 R, 0 ER, 3 BB, 1 K
DeRosa shouldn't feel too bad. Bob Brenly once made four errors at third base in a game and he wound up doing all right.
LIES, DAMN LIES AND STATISTICS
Rangers closer Francisco Cordero had three saves in less than 30 hours over the weekend, finishing up both Texas wins in a Saturday doubleheader, then recording the save Sunday as well. Interestingly, he only threw two innings, total, in the three games ... Barry Bonds reached base 64 times in 92 plate appearances in April, then was walked intentionally a record four times in one game on May 1 ... Minnesota manager Ron Gardenhire was ejected after the second at-bat of a game against Seattle on Tuesday. The game lasted 113 more batters before it ended in the bottom of the 16th ... The independent minor league St. Paul Saints auctioned off an at-bat in an upcoming exhibition game, and Marc Turndorf of Los Angeles won with a bid of $5,601.01. To put that into perspective, Alex Rodriguez gets paid about twice that per pitch ... When the Mariners routed the Tigers 12-2 on Sunday, it marked the first game this season they had not blown a lead or trailed at some point in the game ... Last week, we congratulated pitcher Matt Thornton, who struck out a certain Page 2 writer during spring training, on being called up by the Mariners. Unfortunately, the Mariners sent him down three days later -- before he threw a single pitch. Don't worry, Matt. With the nasty stuff you showed Page 2, you'll be back.
INFIELD CHATTER
"I feel like one of those mass murderers on death row. I never understood how the hell they got more chicks than I did. Now I know. They sold crap on eBay."
-- Unidentified man who modeled and then sold his wife's wedding dress, originally purchased for $1,200, for more than $3,000 on eBay to raise money for Mariners tickets
Jim Caple is a senior writer for ESPN.com