By Jim Caple
Page 2
Randy Johnson threw a perfect game at age 40 and I feel young enough to appear in a Mountain Dew commercial.
Roger Clemens is 7-0 at age 41 and I feel so young my face is breaking out, my voice is changing and I'm having the most interesting dreams.
Julio Franco is hitting .281 at an official age of 45 (and an unofficial age close to Yoda's) and I feel young enough to be in a boy band, young enough to date Lindsay Lohan and young enough to be hit on by Demi Moore -- or Michael Jackson.
I'm 42, and with each passing year there are fewer and fewer major leaguers in my non-coveted demographic. The number of big leaguers older than me is even smaller. So when Jesse Orosco retired over the winter at age 78, I figured I would be reduced to reading Larry King's column, bitching about prescription drug prices and watching reruns of "Murder, She Wrote'' on A&E this season. But then baseball's grand old men started playing like boys of summer, rolling the calendars far enough back to make the rest of us want to start wearing our jeans down around our knees.
Clemens is so old that he retired three months before Orosco. He was supposed to spend this season going to the hardware store and losing his car keys in between ferrying his boys to their games. Instead, he's playing so close to his suburban Houston home -- just a 15-minute drive -- that he can almost drive his Hummer2 to the ballpark and back on a single tank of gas. He struck out Barry Bonds twice and allowed one hit in his season debut and won his first seven starts, extending his winning streak to 11 decisions and drawing sellout crowds in Houston. His fastball was recently clocked at 95 miles per hour. He even has four RBIs. He's so energetic that he took a day off to travel to an Air Force base in Nebraska for an appearance with the USO. If he keeps this age-defiance thing up, Cooperstown not only will ask him what cap he wants to wear on his plaque, but whether he wants any nose rings included, too.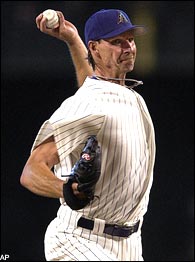 The Big Unit found perfection at age 40.
The Rocket is second in the majors in strikeouts with 70. The leader, naturally, is Johnson, with 86. Since turning 40 last September, Johnson has pitched a perfect game, a one-hitter and a two-hitter. He's had three 10-strikeout games, an 11-strikeout game, a 12-strikeout game and a 13-strikeout game since then, and hit his first career home run. The last pitch of his perfect game clocked 98 miles per on the radar gun. Counting the games before and after his perfect game, he retired 39 batters in a row -- two shy of the big league record. Said the Big Unit while reading off the "Top 10 Cool Things About Pitching a Perfect Game" on David Letterman: "No. 8: Shows everyone that even though I'm 40, I can still ... I'm sorry, I lost my train of thought."
Then there is Franco, who is in more denial about his age than Burt Reynolds. He's been teammates with Pete Rose, Mike Schmidt, Steve Carlton, Nolan Ryan, Bert Blyleven, Juan Gonzalez, Sammy Sosa, Rafael Palmeiro, Charlie Hough, Kevin Brown, Oil Can Boyd, Goose Gossage, Ivan Rodriguez, Tim Raines, Frank Thomas, Albert Belle, Eddie Murray, Orel Hershiser, Wade Boggs, Jose Canseco, Fred McGriff, Greg Maddux, Tom Glavine, John Smoltz and Tug McGraw. He's changed big league teams seven times, played in Mexico, Korea and Japan and went through a span when he batted only once in the majors in four years.
He turns 46 in August, and yet he's still playing in the field everyday, the oldest position player in baseball since Carlton Fisk retired. He has more RBIs than Corey Koskie, Mike Cameron and Chipper Jones. He has a higher OPS than Miguel Tejada, Eric Chavez and Gary Sheffield. The man is old enough to begin drawing his pension, if only he would retire. He recently became the second-oldest player in history to hit a home run.
And those golden oldies aren't alone. True, 41-year-old Edgar Martinez is looking like Grampa Simpson, but Barry Larkin is an everyday shortstop and hitting nearly .300 at age 40. Rafael Palmeiro is on pace to drive in 100 runs at age 39 (he shouldn't be hawking Viagra, he should be dancing in a Gap commercial). Oh, and 45-year-old Rickey Henderson has four home runs in 13 games at independent Newark.
I would go on, but I have to get my braces tightened and then go door-to-door selling magazine subscriptions for the senior class trip.
BOXSCORE LINE OF THE WEEK
And while we're at it, here's a shout-out for Tom Glavine. After going 9-14 with a 4.52 ERA last year, Glavine turned 38 this March and recaptured his form. He's 6-2 with a 2.13 ERA this season and this past Sunday he pitched a one-hitter, allowing only a two-out double in the eighth inning. His line: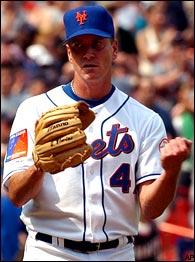 Tom Glavine almost pitched the first no-hitter in Mets history.
9 IP, 1 H, 0 R, 0 ER, 1 BB, 8 K
The one-hitter was the 23rd in the history of the Mets, who still have never thrown a no-hitter. Ex-Mets Nolan Ryan (seven), Tom Seaver, David Cone, Dwight Gooden, Hideo Nomo and Octavio Dotel (partial no-hitter) have thrown 11 1/9 no-hitters.
LIES, DAMN LIES AND STATISTICS
The sneeze that placed Sammy Sosa on the disabled list naturally made many remember former Giants third baseman Chris Brown, who once missed a game because he slept on his eyelid wrong. But guess what Brown is up to these days? David Bush of the San Francisco Chronicle reports that Brown is in Iraq driving an 18-wheel fuel truck for Halliburton. "I'm OK," Brown told Bush by telephone from Iraq. "I'm upbeat, and thank the Lord for every day. I really miss my family and being able to go to church, but other than that, it's all right." Bush writes that Brown declined to be specific about his situation. "You don't know the half of what's going on here, but I can't talk about it." ... The Mariners are 16 games under .500 since blowing a four-game lead in August last year. They are about to start dumping players, with only Ichiro off-limits. The symbol of their season might have been last Saturday night, when John Olerud and Rich Aurilia got locked in the video room, delaying the game several minutes while the Mariners got someone to drill out the lock ... At last glance, Atlanta's starting pitchers were 12-20 ... The Expos have drawn 13 crowds under 10,000, six crowds under 6,000 and four crowds under 5,000 ... Kazuo Matsui has five leadoff home runs, tying Chili Davis' National League rookie record ... Oh, and by the way -- according to Tom Verducci's nice Sports Illustrated cover story on Clemens, the Rocket has four Hummers. Four Hummers? He's singlehandedly driving up oil prices worldwide.
FROM LEFT FIELD
So where does the Big Unit pitching a perfect game at age 40 rank? Pretty high. While by no means a definitive list, here are some other outstanding performances by 40-somethings:
Fabulous performances at 40+
Age
Player
The Skinny
59
Satchel Paige
Pitched three scoreless innings in 1965
46
Satchel Paige
Pitched 12-inning shutout and was All-Star in 1952
44
Nolan Ryan
Pitched no-hitter and was 12-6 with 2.91 ERA in 1991
42
Nolan Ryan
Struck out 301 batters and went 16-10 in 1989
42
Warren Spahn
23-7 with 2.60 ERA in 1963
41
Ted Williams
.316, 29 HRs and homered in final at-bat in 1960
41
Cy Young
21-11 with 1.26 ERA and no-hitter in 1908
40
Ty Cobb
.357 with 22 steals in 1927
40
Warren Spahn
21-13 with 3.02 ERA and no-hitter in 1961
40
Rickey Henderson
.315 with 42 steals in 1999
40
Dave Winfield
26 HR, 108 RBIs and World Series-winning hit in 1992
40
Jamie Moyer
21-7 and first All-Star appearance last year
40
Davey Lopes
47 steals in 1985
WIN BLAKE STEIN'S MONEY
This week's category: Players Who Endorsed Depends
Q: What is the oldest age someone has hit a home run?
A: Brooklyn pitcher Jack Quinn, nine days short of his 47th birthday in 1930.
INFIELD CHATTER

1. "George Steinbrenner just offered me one billion dollars to sign with the Yankees."
-- the Big Unit reading the Top 10 Cool Things About Pitching a Perfect Game on David Letterman
Jim Caple is a senior writer for ESPN.com