By Jim Caple
Page 2
ATHENS, Greece -- There are many routes to the Olympics.
Pentathlete Anita Allen is an Army captain who serves an occasional weekend of duty as part of the Army's elite athlete program. Swimmer Lenny Krayzelburg grew up in Odessa, Ukraine, emigrated to the United States with his parents as a boy and became an American citizen. Carmelo Anthony led Syracuse to the Final Four, was drafted by the Denver Nuggets, signed a seven-figure shoe contract and was invited to spend his summer vacation on the U.S. basketball team.
And then there is Maurice (Termite) Watkins.
A 47-year-old former boxer from Houston, Watkins reached the Olympics as a coach by going to Iraq to exterminate bugs.
"A friend of ours with Kellogg, Brown and Root called one day last year and said they needed help with pest control in Iraq, and asked whether I still was licensed to do that," Watkins says. "I didn't think much about it at the time. But a couple days later, something came over me and told me it was my time to go over and support the military that has defended me all my life."
Naturally, his wife, Sharla, reacted the way you might expect when he told her the news. She started crying and told him he was crazy.
"I told her, 'Sharla, I think I can change Iraq.' She was crying and said, 'You can't change an entire country.' I said, 'I know. But I can try.'"
Watkins isn't the slightest bit embarrassed to say things like that. After all, he also was a car salesman back in Houston. He is so bursting with confidence, enthusiasm and aphorisms that he makes Dick Vitale seem sedated.
In fact, if you call him right now on his cell phone, he probably will be only too happy to tell you his whole story, beginning with the night he fought for the world championship junior welterweight title on the undercard of Muhammad Ali's bout against Larry Holmes. (Watkins lost in a split decision and finished with a 58-5-2 pro record.)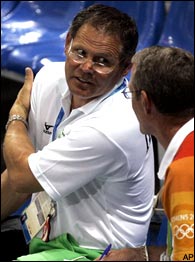 Maurice Watkins is trying to change a country -- one person at a time.
To save you the international charges, however, here's the basic tale: Through a series of encounters and conversations while working in Iraq, he was asked to coach a group of Iraqi boxers to see if he could take them to the Olympics.
Which brings us to Najah Ali, the 24-year-old Iraqi light flyweight who is just as bold as his coach. During an interview on ESPN2's "Cold Pizza," Ali quickly announced that he is seeking help obtaining a student visa so he can complete his studies in computer science in the United States. Asked whether he had ever been the victim of Uday Hussein's infamous torture of Olympic athletes, he quickly replied, "No. It happened to the soccer team and to the wrestlers, but not to me. I was lucky. I always won."
In fact, Ali, the son of an Arab champ, won his weight class at the 2002 Arab Games in Cairo. Then came the war. By the time it was over, Ali and his fellow boxers were working out in a small gym in Baghdad, training without speedbags, headgear or mouthguards.
None of the Iraqi boxers made the Olympics at the qualifying tournament in the Phillipines, but the International Olympic Committee granted Ali an exemption to fight here, anyway. He boxes Wednesday against Hyok Ju Kwak and will try to extend Iraq's surprising early success here -- the soccer team won its first two games.
"All of Iraq is caught up in this," Ali says.
Watkins, naturally, says Ali could win a medal, but even he doesn't sound convinced. He says that isn't important, anyway.
"The biggest thing is that whether they win, lose or draw, they're here and free."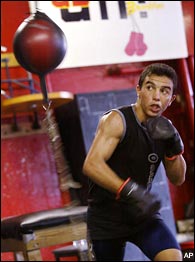 Najah Ali -- the lone Iraqi boxer in these Olympic Games.
Yes, but the violence continues in Iraq, and Ali hasn't seen his family since he left them in Baghdad four months ago.
"I don't know what it's like for them," Ali says. "They don't tell me anything. They just ask me how I'm doing and about my matches. I have spent a fortune on the phone."
Watkins is not shy about promoting himself. He was quick to say that he saved two lives in a car accident in Iraq, and he finished this interview by mentioning that he is soliciting movie offers for his stories.
"We've already been contacted by three companies," he says.
He also says he is being represented by the William Morris Agency and is writing a book due out this fall. Of course, "It's going to be a No. 1 best-seller," he says.
And yet, amid all the outrageous hyperbole and promotion -- what, did he train under Don King? -- there is an undeniable truth.
"I know I can't change a whole country," Watkins says. "But I can start with one person."
Jim Caple is a senior writer for ESPN.com