By Jim Caple
Page 2
ATHENS, Greece -- This just in. Turns out the official scorer at the women's gold medal softball game accidentally charged an unearned run to Australian reliever Melanie Roche that should have been scored an earned run under Rule 10.18 (i). The South Koreans have filed a protest and are demanding that the gold medal be stripped from the Americans and awarded to them even though they didn't actually field a team.
Ha! Just kidding. Everyone knows that under official softball guidelines, all softball protests must be made immediately by screaming at the umpire as if you're Joe Pesci stuck in rush-hour traffic and spitting sunflower seeds on the umpire's shoes, and generally embarrassing yourself so much that your spouse won't talk to you that night and none of your teammates will even look at you at the office the next day.
There are many great things about softball, many of them involving beer. Another is that there are no judges. Sure, umpires can squeeze a pitcher's strike zone or make a bad call on a close play but it's not like they sit around at a table after a game and deliberate over who won.
I know the Americans scored 11 runs but dash it all, some of those were on cheap two-out singles just over a drawn-in infield. Meanwhile, did you see those perfectly marvelous flyballs to the warning track struck by the Australians? Positively awe-inspiring. And wasn't that a wonderful diving stop the Aussie shortstop made? True, the runner beat the throw by six steps but it was still smashing glove work. And I know that Titcume woman never made contact with a pitch but her form was absolutely spot-on. I say the final score should be Australia 8, U.S. 6.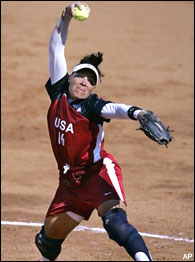 Lisa Fernandez won the gold-medal ... oh, and hit .545 in the tournament.
All agreed? Excellent. I simply love it when they sing that old Men at Work song, "Down Under."
No, there was none of that gymnastics scoring controversy at softball, never any doubt about who won. The Americans so thoroughly dominated every other team they should have worn pinstripes and been introduced by Bob Sheppard.
As a matter of fact, it almost seemed like the Yankees were playing late in the game when the American fans started a U.S. roll call that mimicked the New York bleacher fans (without the beer or the foul language). It was a wonderful, appropriate gesture and the fans didn't limit it to the players on the field (Cry-stl Bu-stos! Clap-clap, clap-clap-clap) either, instead extending it to those in the dugout as well (Jen-nie Finch! clap-clap, clap-clap-clap! Jen-nie Finch!).
"That was awesome,'' Finch said. "We felt big time. We felt like we were big leaguers."
As well they should. The Americans really are the Yankees of international softball, winning 79 consecutive games and three consecutive Olympic gold medals. They've lost only five games since 1986 and naturally, none of those were to the Red Sox.
As Finch said, "Coach (Mike) Candrea told us, let's not go in there to win, go in there to dominate."
Unsatisfied that they lost a couple games on the way to winning the gold medal in 2000, Candrea brought in sports psychologists and sent the 2004 team through Navy SEALS training. That sort of overkill is like the Yankees giving Derek Jeter a curfew, but it worked. The U.S. destroyed all competition here, outscoring their opponents 51-1 and allowing only 18 hits. The American starting rotation held everyone scoreless for the first 54 innings until Australia managed a two-out run in the sixth inning of the gold medal game after a catchable popup in the sun dropped for a double.
I would say that the U.S. team took pity on the Aussies -- they beat them three times -- and relaxed at the end of the game, but these women don't play that way. They are positively relentless and they would have rather surrendered their U.S. passports than give up a run.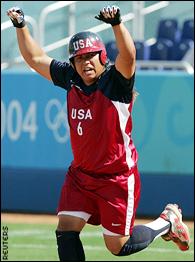 Crystl Bustos smashed two home runs in the gold-medal game.
"We don't even like giving up a hit," said Finch, who threw two shutouts. "Someone said the run gives us something to improve on."
"This team has raised the bar which is what I wanted them to do," Candrea said. "For the first time I can remember, little girls are looking up to the team and know the names and faces of the players."
Not only that, there are those older boys looking up Finch on the Internet. Finch, of course, won the ESPN hottest athlete contest two years ago, dethroning Anna Kournikova. Which is good because unlike Kournikova, Finch has actually won something that matters. An Olympic gold.
The U.S. team is a very likable group but you probably would hate playing them in a rec league. They're that serious team that looks down on your team for bringing beers onto the field. Then they beat you mercilessly and while shaking hands afterward, they say, "Nice game," with a tone that translates into "Maybe you should drop down a classification or two."
Of course, fastpitch is a much different than the game we play in our rec leagues. Lisa Fernandez, Finch and company fire the ball over 60 mph, which doesn't sound that tough until you realize that they're only 40 feet away from home plate and that Finch once struck out Mike Cameron in an exhibition. True, everyone strikes out Cameron, but still. If our pitchers are striking out major leaguers what hope did the Italians have?
And that's one of the key issues with the domination of the U.S. women's teams. Yeah, our teams are great and should be celebrated. But can women's sports also grow enough around the world to level the playing field the way it has in men's basketball? Can other women across the globe be as inspired by women Olympians as much as ours obviously are?
That's an important question, but understandably one the U.S. team wasn't thinking too much about after winning the gold.
"We're going to enjoy this medal right now and we should," Candrea said, "but we're still thinking about what we are going to do next for 2008."
Spoken like a true champ. Staying hungry is crucial to maintaining a dynasty. That's why the U.S. team celebrated the gold medal with only a single order of nachos at Bennigan's before going out and trading for Alex Rodriguez.
Jim Caple is a senior writer for ESPN.com