By Jim Caple
Page 2
THESSALONIKI, Greece – Now, there's a dateline you don't see everyday: Thessaloniki, Greece. In fact, I had never even heard of the place until I looked at the Olympics schedule and learned that it was the site of the semifinal soccer game between Iraq and Paraguay.
Iraq, naturally, became the
cause celebre
of these Olympics with its stunning success in the qualifying round. Even President Bush referenced the team on the campaign trail. Despite almost unimaginable hardships -- in addition to facing torture from the late Uday Hussein during his father's dictatorial reign, they don't have any Nike contracts -- the Iraqis won three of four games to advance to the medal round and set up a must-see game here against Paraguay.
Thessaloniki is in northern Greece, up near Bulgaria, about 300 miles from Athens. I learned my lesson last week when a supposed three-hour, 200-mile bus ride to Olympia instead took closer to six hours. The lesson: Don't trust Greek time estimates. I called a reliable Athens-based British journalist who informed me that the train to Thessaloniki would take five hours "and you don't want to even know how long the bus takes."
That made it an easy call. I took a one-hour flight.
The Iraqi exiles living in Athens, however, don't have the luxury of an expense account. They took an eight-hour bus ride to root on their team -- which sounds like a long trip, but at least it was better than their trip to a game in Crete over the weekend. Between the bus and the ferry, that one took 15 hours.
"We were so tired when we got back from Crete. But we walked five kilometers, anyway, to celebrate the victory,'' Arkan Sabah said through an interpreter. "This team made the people of Iraq feel happy. It made Iraqis feel joy for the first time since the war -- since before the war. Since the 1980s, we have no joy in Iraq, only killing and bombing.
"That we could reach this far is a victory. People all around the world have seen us. They have seen our flag.''
How could we miss it? Sabah was wearing his homemade flag like a cape; and he was surrounded by 800-to-1,000 fellow flag-waving, face-painted Iraqi fans who made a crowd of perhaps 7,000 at the stadium sound like a Michigan-Ohio State game.
I was told that most, if not all, of the Iraqi fans at the game were exiles who fled their country to escape Saddam Hussein or the war and its aftermath.
"I left 18 years ago,'' one said.
"Nine years ago,'' said another.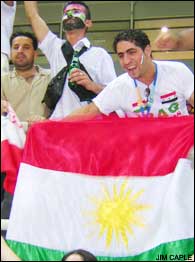 Forget the bullets and the bombs -- these fans will always love their homeland.
"Seven years," said another.
"Ten months,'' still another.
Many live in Athens, but I spoke with some who had scattered to as far away as Sweden. They proudly sang the national anthem before the game, with many reading the lyrics off hand-written cards.
Michael Heriz, who left Baghdad last fall because of the war, said he didn't know if the game was being broadcast back home. But what with the shortages of electricity -- "They watch TV by generator'' -- it didn't really matter.
Besides, the Iraqis cheered and chanted so loudly that they needed no artificial amplification to be heard in downtown Fallujah. The Cameron Crazies have nothing on these guys.
"These people have left their jobs for more than a week to follow the team,'' Sabah said, gesturing to the fans around him. "They need money to buy food and live, but they left to support the team.''
Sort of puts bitching about TicketMaster charges in new perspective, doesn't it?
Despite the hopes of an entire nation, Iraq played a subpar game, surrendering two goals to Paraguay in the first half and another early in the second to fall behind 3-0. If Uday had still been in charge, the Iraqi goalkeeper would be facing a very troubling meeting today. When the third goal skipped past him, he collapsed to the ground and lay there in anguish.
The Iraqi fans felt just as bad. They not only were disappointed by the performance, they seemed in pain.
"I cannot talk to you now,'' Heriz said during halftime. "I am too sad.''
But he proceeded to talk anyway, about the soccer team and about Iraq and about America.
"I am grateful America removed Saddam Hussein's regime; but at the same time, they let bad people do what they are doing," he said. "Bombing, shooting, killing. This is why many Iraqis hate America ... Life is worse in Iraq, so much worse now than before the war.''
Asked what should be done now, he shook his head.
"When everything is destroyed, you can't fix everything by snapping your fingers," he said. "It takes ages.''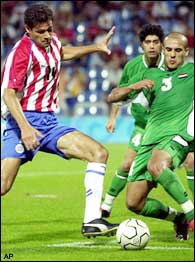 Paraguay's dominant play brought Iraq back down to earth.
You know how distraught Cubs and Red Sox fans were last fall when they fell just short of their long-sought goal? Well, at least they could go home to their possessions and cable TV and full refrigerators and public utilities and wireless Internet. Imagine what it's like when funerals are a bigger part of daily life than reliable electrical service.
"It means a lot in our heart,'' Mena Shinawa said after the 3-1 loss. "Because of the war and everything, it means a lot to have a little bit of happiness in Iraqi hearts.''
Shinawa is a 23-year-old economics student from Goteberg, Sweden, whose parents fled Iraq before he was born. He had never set foot in Iraq until a visit there last December, but he still considers himself an Iraqi first and foremost. He said he dreams of returning to live there when "the situation'' improves.
He was helping translate an interview for me with an exile named Fahran Kshaish when the two began talking about their backgrounds, and it suddenly it dawned on them that they had already met long ago.
"I know your father!'' Kshaish said, throwing his arms around Shinawa and hugging him for more than a minute. "I have not seen your father for 18 years. I knew you when you were a little boy.''
"Fahran and I met by chance tonight, but these reunions are not rare,'' Shinawa said. "When people flee Iraq, the contacts are broken. But there are Iraqi people all over the world, and they come together again.''
Chased from their homeland by a cruel dictator and separated by the decades, the two Iraqis had been brought back together in this city far from home, reconnected by a simple game as surely as the panels on a soccer ball.
"Tell the American human beings to help Iraq,'' Kshaish said. "Not the soldiers, not the government -- we do not believe in them. We believe in the people who are behind them, the human beings of America.
"And Iraqis need their help.''
Jim Caple is a senior writer for ESPN.com