By Jim Caple
Page 2
"What can I say? I tip my cap and call the Yankees my Daddy."
-- Pedro Martinez, after blowing another lead to New York in the eighth inning Friday and losing 6-4
"Yes. It is true. It brings me great shame to admit it, but the Yankees are my Daddy. I never knew until recently because my father left my mother before I was born.
"The Dodgers, of course, are my mother, and I loved her as I love life itself. She was the most beautiful woman in the world; and when I close my eyes now, I can still see her dressed in the purest whites and deepest blues you have ever seen. She sacrificed everything to raise me and my older brother, Ramon. She worked in the fields until her hands were raw and her back ached, and yet she always found time in the early evening to teach Ramon and I how to throw a beanball.
"One day when I was six and Ramon was nearly 10, we asked our mother about our father -- who he was and where he lived and when he would come home to teach us how to throw sliders. She only told us that our father was a very bad man, and then began weeping. She walked into her room, closed the door and stayed inside for three days. She ate nothing and drank only the tears that ran down her cheeks. We could hear her sobs even when we turned up 'Welcome Back Kotter' very loud; and when she finally emerged from the room, she said that we were never to ask her any questions about our father again. I tell you, these were the saddest moments of my life until Grady Little left me in too long in Game 7.
"Looking back now, I suppose there were clues to my father's identity I should have recognized if only I had opened my eyes wide enough to examine them closely. But so much of life is a deception, is it not? Even now, many Red Sox fans think we are going to win the World Series.
"I once caught my mother opening a worn shoebox and pulling out faded black and white photos of her when she was a girl in Brooklyn. Then she looked at a photograph of her as a young woman smiling with a man in pinstripes. When she looked at it, she made a strange sound and I could not tell whether she was laughing or crying -- it was similar to the sound Red Sox fans make at the beginning of each October. I asked who the man in the picture was, and she quickly put the photos away. She said only that he was a rich man she once knew in New York, and that I should not sneak up on her anymore and should instead go outside and practice knocking down 72-year-old men with Ramon.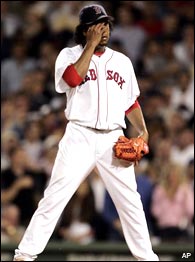 Pedro can't handle the truth.
"My mother also had a beautiful ring she kept protected under the mattress. Ramon and I never were allowed to look at it closely, but she would occasionally take it out to slip on her finger. We could see that it was gold with a ruby in the middle and small diamonds surrounding it and some sort of inscription. We asked why she didn't sell it in the market so that we could move into a better neighborhood with cable TV, and she said it was all she had left from our father and that she would never sell it. I understand now that it is a World Series ring, though of course, I have never seen such a thing up close.
"My mother died just before I reached the majors, and I was always sad that she never got a chance to see me pitch. But worse was the longing I felt for my father. Whenever I would see Ken Griffey Jr. or Barry Bonds or Aaron Boone, I would feel such jealousy. Why did they have fathers in the game, and I did not even know who mine was? And why did they always hit so many home runs in extra innings? I would be so envious that I wanted to hit them all in the head with my pitches. And I usually did.
"And then I visited my old, beloved aunt, the Expos, in Montreal this summer. She said that she would be moving soon, she did not know where, and that I should know the truth about my father in case she never saw me again. She said that the Yankees were my Daddy and that though they were dishonorable and had treated my mother very badly by not marrying her and never once paying child support, I must seek them out and resolve our relationship, though perhaps I should have my agent phone first.
"It was painful to learn, but at least now I know the truth. The Yankees are my Daddy and I look forward to reuniting soon and getting to know him as a son should know his father, perhaps beginning next season if he will offer me a four-year, $60 million contract. Perhaps he will even take me to the World Series.
"But the truth about my father is not the most amazing thing I learned. No, the strangest part is what else I discovered.
"Don Zimmer is my crazy uncle."
BOXSCORE LINE OF THE WEEK
The bad news for Yankees fans as they head toward the playoffs is that in Kevin Brown's return to the mound Sunday, he threw 32 pitches and failed to get out of the first inning, producing this ugly line:
2/3 IP, 6 H, 4 R, 4 ER, 0 BB, 1 K
The good news is he avoided punching the clubhouse wall after he left the game.
LIES, DAMN LIES AND STATISTICS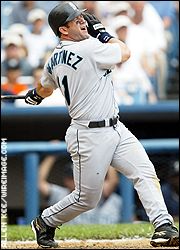 Everyone will remember Edgar's sweet swing.
While the national eyes will be on Ichiro and the hit record this weekend, Seattle fans will bid a fond adieu to Edgar Martinez, who has been under the employment of the same minor or major league organization for longer than any active player. (He signed with the Mariners in 1984, a year before Barry Larkin signed with the Reds.) Edgar made his major league debut on Sept. 12, 1987, as a pinch runner the same year Howard Schultz bought Starbucks and a week before Microsoft announced its first stock split. If you bought 10 shares of Microsoft that day and held onto them through all the splits, your initial $1,100 investment now would be worth approximately $78,000. Starbucks had 17 locations when Edgar made his debut. It has opened nearly four stores for every Edgar hit, and plans to have nearly 9,000 by year-end ... Amazing Barry Bonds-Ichiro comparisons of the week: After becoming the fourth player in history to reach the 254-hit mark Tuesday night, Ichiro has an outside chance of finishing this season with as many hits this year as Barry has had in the past two years combined (265). Barry leads the National league with 116 intentional walks. Ichiro leads the American League with 19. Bonds has been intentionally walked more times this season than Cal Ripken Jr. was his entire career (107) ... The Brewers have clinched last place and their 12th consecutive losing season. No one has a longer string of losing seasons. But it's the Expos who need to move, right?
FROM LEFT FIELD
If Wednesday's home game is the final one for the Montreal Expos -- and we'll believe they're moving to Washington when there is an owner in place, a stadium approved and guys turning double plays on the RFK infield -- it will be the first franchise shift since the Senators moved to Texas after the 1971 season. Only one current Expo, pitcher Joey Eischen, was alive when the Senators moved. No current Montreal player was alive when the Expos were born.
The Expos would also be the 13th franchise shifted in major league history. The moves and the average attendance for each team in its final season before loading up the U-Hauls:
| | | | |
| --- | --- | --- | --- |
| Year | Team | Avg. attendance | The skinny |
| 1901 | Milwaukee Brewers | 2,030 | Move to St. Louis, become Browns |
| 1902 | Baltimore | 2,477 | Move to New York, become Yankees |
| 1952 | Boston Braves | 3,677 | Move to Milwaukee, retain name |
| 1953 | St. Louis Browns | 3,860 | Move to Baltimore, become Orioles |
| 1954 | Philadelphia A's | 3,906 | Move to Kansas City, retain name |
| 1957 | Brooklyn Dodgers | 13,354 | Move to Los Angeles, retain name |
| 1957 | New York Giants | 8,493 | Move to San Francisco, retain name |
| 1960 | Washington Senators | 7,992 | Move to Minnesota, become Twins |
| 1965 | Milwaukee Braves | 6,859 | Move to Atlanta, retain name |
| 1966 | Kansas City A's | 9,027 | Move to Oakland, retain name |
| 1969 | Seattle Pilots | 8,370 | Move to Milwaukee, become Brewers |
| 1971 | Washington Senators | 8,241 | Move to Texas, become Rangers |
| 2004 | Montreal Expos | 9,124 | ????? |
WIN BLAKE STEIN'S MONEY

This week's category: Like We Need More Senators in Washington.
Question: Who was the losing pitcher in the Washington Senators' final defeat before moving to Texas?
Answer: No one. The fans charged onto the field in the ninth inning and the umpires declared a forfeit. There are no pitchers of record in the case of a forfeit.
Jim Caple is a senior writer for ESPN.com