By Jim Caple
Page 2
Through its many connections in the entertainment industry (it helps to have the Mouse as your boss), Page 2 has slipped under the velvet rope to make up another celebrity take on the World Series. Today, we put our mock microphone in front of noted Red Sox fan, Ben Affleck ...
"I'll be honest with you, this was a tough weekend for me. On the one hand, the Red Sox -- the baseball team for whom I've rooted all my life, the team I included in my Academy Award-winning screenplay, 'Good Will Hunting,' the team I love more than anything, including Matt (sorry, man) -- my beloved Red Sox played in the World Series for the first time in 18 years and need just two more victories to win their first world championship in 86 years. And I was there in Fenway Park to see it, sitting in box seats behind home plate with one of the sexiest women in the world, Jennifer Garner, as my date.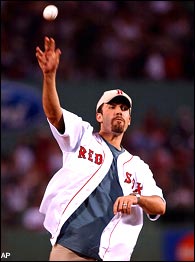 Ben might have to turn to baseball full-time, since his films are failing.
"On the other hand, the critics hate my new movie, 'Surviving Christmas.'
"Personally, I think the poor opening grosses were due to everyone staying home to watch the Red Sox in the World Series, but the reviews didn't help. I take comfort, though, in that 'It's a Wonderful Life' and 'A Christmas Story' weren't big hits when they first came out, either. So I'm confident 'Surviving Christmas' will do great on video and become a holiday classic in years to come, just like those movies did. Same with 'Reindeer Games.'
"The other problem this weekend was all the yahoos calling me up and asking me if I think this is finally the year the Red Sox are going to break the Curse of the Bambino. I hate that Curse of the Bambino crap. It's nonsense. Look, you morons, it was just the catchy title of a book to help sell more copies, OK? Now, if you want to talk about curses, how about the Curse of Lou Merloni? Ever since I criticized that loser on a Red Sox broadcast -- and justly so, I might add -- my career has been saddled with poor scripts, bad supporting actors, poor direction and clumsy marketing. And I won't even bring up that witch, J-Lo, though she's the one to blame for all the bad buzz on 'Gigli.'
"I mean, what marketing genius came up with the idea of releasing a Christmas movie in October? I had no chance with that sort of a release date. And excuse me, did the writers on 'Gigli' really think that audiences would take J-Lo seriously as a hitman for the mob? And why couldn't my agent have gotten me the role of Jason Bourne? No offense to Matt, but I'm taller than he is and I could have been much more convincing as a trained secret agent killer.
"But anyway, back to the Red Sox. After all these years, I was happy to see them win; I just wish I wasn't involved in my own personal tragedy so that I could enjoy it more. This season really has been like a movie -- what with the comeback against the Yankees and that fun stuff with the hair -- and I'd write a good script for myself about it, except Matt's too busy with that 'Bourne Supremacy' junk of his and I've had writer's block the past six years."
Jim Caple is a senior writer for ESPN.com