By Jim Caple
Page 2
Through its many connections in the entertainment industry (it helps to have the Mouse as your boss), Page 2 has slipped under the velvet rope for another celebrity take on the World Series. Today, Jim Caple puts his mock microphone in front of noted Boston native, Aerosmith's Steven Tyler ...
"Hello, Boston!!! I love you!!!!!
"Man, what did you think of me singing the national anthem before Game 1 of the World Series? Can you imagine George Steinbrenner inviting me to do that? No way. He never would have let me in the stadium with my hair. And even if he did, he would have upstaged me with that stupid bird of his. But the Red Sox are cool with my hair! I love you, Johnny Damon!!!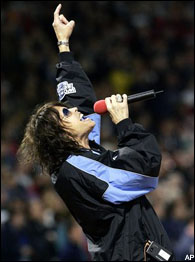 "You don't hear me blaming acid reflux disease for my screeching anthem."
"Actually, to tell you the truth, I was a last-minute fill-in. Fox wanted to promote 'Star Search' or whatever the hell that talent show of theirs is, and they scheduled Clay Aiken to sing the national anthem. I guess he was real excited to do it, too, because he was pretty ticked off when he showed up at Yankee Stadium and no one was there except A-Rod doing a baserunning video for Tom Emansky. "I was at Fenway to see my boys -- you're my Papi, David! -- so I pinch-hit for him. And I got to say it was a blast, though it was pretty damn cold and windy out there. I went through a case of Chapstick before the first pitch -- and that was just my lower lip.
"This gives me the Super Bowl and the World Series -- I love you Curt Schilling!!!! -- under my belt, and I'm even more excited about my next gig because my agent is getting in touch with Hootie Johnson at Augusta. Hell, if I had known I could get into all these sporting events for free -- and stand next to Britney and her pants -- just by singing a song or two, I would have cleaned up my life a lot earlier.
"People ask me all the time what finally got me off the drugs and the booze in 1986. Was it the breakup with my wife? Was it the estrangement with my daughter? Was it falling off the charts? Was it the virtual bankruptcy? Was it religion? Man, it wasn't any of those things. It was Bill Buckner.
"Truly! Me and the band were doing Zimmer Shots -- you drink a martini laced with cocaine, heroin and Neet's foot oil through your nose until you feel like you have a steel plate in your head -- and watching Game 6 backstage in 1986 when the ball rolled right between Billy Buck's legs. And I said right then and there, 'Boys, I need to go into rehab because I could swear I just saw the Red Sox blow a two-run lead with two outs in the bottom of the 10th inning.' And I checked into the Betty Ford clinic the next day.
"The good news is those great doctors cleaned me up and I've been sober ever since and life is great. The bad news is I wasn't hallucinating -- that ball really did roll through Buckner's legs.
"But that's OK, because the Sox are going to win it all this year -- I love you, Jason Varitek!! -- though they better field better in St. Louis. I mean, from the looks of his play in the outfield, I think maybe Manny was doing some Zimmer shots of his own."
Jim Caple is a senior writer for ESPN.com