By Jim Caple
Page 2
The most sacred right in this country is not guaranteed by the Constitution, not protected by any state authority and not available over the counter even with a prescription. It is the right to vote in the Hall of Fame elections, with ballots normally reserved only for those select sportswriters who possess enough tenure, passion and dedication to meet Cooperstown's most stringent requirement: reaching the platinum level in the Marriott Rewards frequent guest program.
But now fans can vote as well.
Not on the players, mind you. Unfortunately, you'll have to leave the fates of Ryne Sandberg, Jack Morris and Alan Trammell up to we writers who can't even be counted on to calculate our expense reports accurately. But fortunately, you can vote for someone far more important to your enjoyment of the game. The broadcasters.
Each year, the Hall of Fame welcomes a broadcaster into its doors and onto its walls with the Ford Frick Award. The beauty of this award is that it can be presented while the broadcaster is still active, which is a good thing considering that not only do the very best rarely retire, but they still give play-by-play when they're six feet under.
Hello everybody -- it's a beautiful day for a funeral and I'm particularly delighted to see such a big crowd on hand.
Ernie Harwell, Vin Scully, Lon Simmons and Bob Uecker are just a few of the past Frick winners; and now through the end of the month, you can help decide who joins them in that elite club. Go to www.baseballhalloffame.org and you can vote for your favorite broadcaster from more than 150 listed on the site. The three who receive the most votes will be included with seven other candidates on the ballot that will be given to the 20 formal Frick electors. They'll choose the 2005 honoree, much in the same way the Electoral College chooses the president. Except Florida and Ohio aren't nearly as important.
Who should get your vote? That's easy. The Seattle Mariners' Dave Niehaus.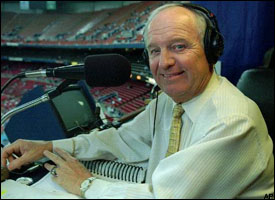 Mariner fans love it when Niehaus gets out the rye bread for a grand salami.
I know Hall of Fame voices when I hear them. I've sat in the booth with Ernie Harwell. I lived in Minnesota for a decade and listened to Herb Carneal. I've logged so many thousands of miles on the nation's interstates with so many broadcasters on the car radio that I should have been allowed to use the carpool lanes. I've tuned in to the extraordinary Jon Miller, Vin Scully and Jack Buck on TV. And I grew up with Lon Simmons describing the Giants' saga through the frustrating static, interference and breakup of a 700-mile separation between the radio station tower and my bedroom.
"Here's Sutton's windup and pitch ... McCovey swings ... It's a drive deep to right field ... It's going, going and --" crackle, crackle, pop, buzz, crackle "... my friends, the Lord is everywhere. You can find Him in your church, you can find Him in your home but most importantly, you can find Him ..." -- crackle, crackle, pop, buzz, crackle "... Down on the corner, Out in the street, Willie and the Poor Boys ..." crackle, crackle, pop, buzz, crackle "... lose another heartbreaker to the Dodgers by a score of 5-4. We'll be back with the postgame show right after this."
I haven't heard all the broadcasters, but I've heard a lot of them. And none surpasses Niehaus. He is so much the voice of summer that he should come with a UV rating.
When Niehaus leans toward the microphone and says it's a beautiful night for baseball in Seattle, it's radio's best moment apart from Garrison Keillor saying "It's been a quiet week in Lake Wobegon ..." He called the first game in Mariners history in 1977, and he'll be in the booth again next opening day for the 4,412th game in Mariners history. And for three decades, his voice has been smoother than a Starbucks' double tall, more intoxicating than a Red Hook ISB and more comforting than an REI fleece pullover.
And when Bret Boone homers or Ichiro singles or the Mariners win, that voice carries throughout the Northwest farther than a Boeing 747.
Sure, Niehaus could stand to give the score more often than he does. But that's a small quibble, especially when the Mariners' score was so often something best left unspoken. And that brings up perhaps the strongest endorsement I can make: Dave made the likes of Pat Putnam, Bob Kearney, Salome Barojas and the players on all those other awful pre-Griffey teams sound exciting.
Trust me. Millions have invited Niehaus's voice into their homes and cars. Now it's time to invite him into Cooperstown.
Jim Caple is a senior writer for ESPN.com