By Jim Caple
Page 2
The problem with the recent winter meetings is not how much money it took to sign the free agents (though $45 million for Troy Glaus is pretty hard to explain). It's that even when teams signed players, they didn't actually sign players. People kept reporting all week that teams had come to terms with free agents, but the official announcements never came.
For example, the Yankees have supposedly signed Jaret Wright and Carl Pavano. Unless they haven't. As of Tuesday night, the team hadn't officially announced either signing, presumably pending physicals.
Pedro Martinez has agreed to terms with the Mets. Except the deal might fall through. The Mets haven't made any announcements; and he, too, must undergo a physical exam, which either includes an MRI (the Mets' preference) or a Magic 8-Ball (Pedro's preference).
Richie Sexson has agreed to terms with the Mariners. Or maybe he hasn't. His agent, Casey Close, said no deal has been reached and that he is still accepting offers. Depending on reports, Sexson either has or hasn't taken a physical; and if so, has or hasn't passed it.
And then there are the Expos, who are moving to Washington, D.C. to become the Nationals. Unless they aren't. The D.C. council found its backbone and voted Tuesday night to require private funding for at least half the construction costs of a new stadium.
While the council vote is a potential deal-breaker for the Expos' move and leaves their future up in the air (did anybody really think baseball could pull this off without hitting any snags?), we can assume most of the above-mentioned free agent contracts eventually will be finalized, pending doctor approval. The biggest of those signings is Pedro, whose departure from Boston has returned Red Sox fans to their traditional winter whining. Just when it seemed as if they had finally lost their voices from going on and on about their first world championship in 86 years, Bosox fans are back to feeling sorry for themselves about losing Pedro, and to a New York team to boot.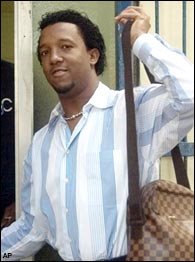 AP Photo
The Mets also threw in this lovely man-bag.
It isn't the four guaranteed years that attracted Pedro to the Mets, though. Nor is it the $56 million they will give him. No, he's leaving Boston because the Mets showed him the respect he deserves after a Hall of Fame career. They're giving him perks.
And I'm not just talking about the usual private plane and the corner suites for road trips or the triple locker in the clubhouse. I'm talking about the special perks that are necessary to keep a diva of Pedro's stature happy. Here are the top 10 clauses in Pedro's contract:
1. Before Pedro's starts, the team must provide him with a bowl of M&M's, with all the green ones removed.
2. When he is not the starting pitcher, Pedro is not required to show up for Mets games until after Sammy Sosa has left the Cubs game. When he is the starting pitcher, Pedro must show up 90 minutes before the game but is not required to stay past the sixth inning.
3. Pedro gets first crack with Anna Benson if Kris ever cheats on her.
4. Pedro's dwarf friend, Nelson de la Rosa, gets the use of a private plane 12 times a season for road games. Pedro doesn't have to go to road games.
5. Pedro can get his hair cut in the Mets clubhouse any time he wants, but Rey Sanchez's old barber is not allowed to touch Pedro's hair under any circumstances.
6. Pedro's locker includes a leather recliner and a Hooters waitress, plus a hyperbolic sleep chamber for his chimpanzee, Bubbles.
7. Pedro gets the personal chef that Barry Bonds stole away from Gary Sheffield.
8. During the annual subway series, Pedro receives 60 percent of all revenue from "Who's Your Daddy?" T-shirts sold outside Yankee Stadium.
9. Pedro gets the use of Alex Rodriguez's old merchandising tent during spring training.
10. And the final clause in Pedro's contract ... Mr. Met has to pick up his dirty jockstraps.
LIES, DAMN LIES AND STATISTICS
The happiest teams if, indeed, Pedro signs with the Mets? The ones in the AL West, who won't have to regularly face their nemesis any longer (though the Mets are on their interleague schedule next season). Pedro is 39-5 against the four AL West teams, including a spotless 13-0 record with a 1.30 ERA against the Mariners.
FROM LEFT FIELD
The bat Babe Ruth used to hit the first home run in Yankee Stadium history was auctioned off last week for $1.26 million (his pants fetched $109,250), the third-highest price ever paid at auction for baseball memorabilia. A glance at some of the highest prices paid by baseball collectors:

Year    Item                          
1998    Mark McGwire's 70th home run ball ($3 million)
2001    Honus Wagner baseball card ($1.265 million)
2004    Babe Ruth's bat ($1.26 million)
2004    Barry Bonds 700th home run ball ($804,129)
2001    Joe Jackson's bat ($577,610)
1996    Eddie Murray's 500th home run ball ($500,000)
2003    Barry Bonds 73rd home run ball ($450,000)
Jim Caple is a senior writer for ESPN.com