By Jim Caple
Page 2
I hope Red Sox fans are happy. Because their team won the World Series (and more importantly, beat the Yankees in the playoffs), everyone else has to suffer.
Boston's postseason success at New York's expense means the Yankees are even more driven than normal to acquire weapons of mass destruction. Last year, all they did was trade for Alex Rodriguez, Javier Vazquez and Kevin Brown.  Humiliated in October, this winter they not only have signed 15-game winner Jaret Wright and 18-game winner Carl Pavano, they're negotiating with Carlos Beltran and still trying to acquire Randy Johnson.
I'm just waiting for them to hold a press conference to introduce their new outfielder, Roy Hobbs.
That proposed three-team, 10-player Johnson trade was as confusing as the instruction manual to my new DVD recorder. (Anyone who wants five hours' worth of Weather Channel broadcasting for the afternoon of Dec. 18, give me a call.) I listened to the news reports, heard the rumors and studied the documents submitted to the commissioner's office. I thought I had it all figured out. But there was one thing that still perplexed me:
How come the Yankees weren't going to get Barry Bonds included in the deal, too?
I mean, if the Yankees had pulled this trade off, they would have had a starting rotation of Johnson, Mike Mussina, Pavano, Wright and Kaz Ishii, with Brown available in the bullpen in case they need something broken in the clubhouse. And if they sign Beltran, he'll join a lineup that already has Rodriguez, Gary Sheffield, Hideki Matsui, Derek Jeter, Jorge Posada and Bernie Williams, plus Jason Giambi, in case he ever finds a uniform that isn't too baggy for him.
Following the details of the Johnson trade was as daunting as figuring out the plot to "The Matrix 3." Completing it would have required -- and I'm not making any of this next part up -- Vazquez flying from the island of St. John to Los Angeles for a physical, Brad Penny returning from the mountain he had been climbing for a physical, Johnson and Shawn Green both agreeing on contract extensions and Bud Selig approving the whole deal.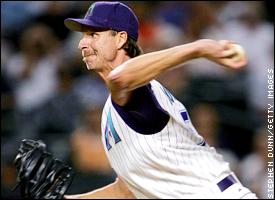 Getty Images
Yankees fans are eyeing a return to glory with Randy Johnson leading the way.
And people wonder why it fell apart?
How complex was that trade? Part of it would have required that the Dodgers give the Yankees $1 million to help pay Ishii's salary. That would have been like the Salvation Army ringing bells to raise money for Donald Trump.
As best I can tell, here's how the deal nearly came together and then fell apart:
Vazquez served up the grand slam to Johnny Damon in Game 7 of the ALCS, knocking George Steinbrenner off his sedan chair. Steinbrenner's fall crushed three Yankees interns who were peeling his grapes in between sending out e-mails announcing an increase in co-pays on the team's medical plan. When Selig presented the Red Sox with the American League pennant, Steinbrenner's howls of "Give us back our precious!" reached ultra-high frequency wavelengths that sent dogs scurrying from Yankee Stadium and was heard by player agents as far away as Los Angeles.
Frightened by the packs of wild dogs in the streets, a vendor selling "Who's Your Daddy?" T-shirts for half-price leaped onto a fire escape, which sent Mike Tyson's old pigeons flying above the tenement buildings. One pigeon was killed when it flew into the path of a Randy Johnson fastball, prompting Bronx police officers to arrest the left-handed pitcher on charges of animal cruelty.
Bronx police forced Johnson to use his one phone call to contact Yankees general manager Brian Cashman and demand a trade to New York. Cashman and Arizona general manager Joe Garagiola Jr. quickly agreed on a deal that would send Johnson to New York, Vazquez to Los Angeles, Shawn Green to Arizona and Giambi to Bangkok. They then submitted the trade proposal to Selig.
Selig approved the trade, provided the Washington, D.C. council also agreed to build a new stadium, airport, subway line and tax shelter for the Washington Nationals' private use. The council agreed, reluctantly adding a clause saying the city would also pay Selig's income taxes for the remainder of his life.
At that point, Dodgers general manager Paul DePodesta first learned of the deal's details on "SportsCenter" and phoned Peter Gammons to veto the trade.
If that sounds complicated ... well, you don't want to know what Scott Boras is requiring teams to do to sign Beltran.
Jim Caple is a senior writer for ESPN.com