By Jim Caple
Page 2
The Yankees, the Lakers and the U.S. men's basketball team were all humiliated short of a championship. The biggest plays in the NFL were Justin Timberlake's illegal use of the hands and Nicollette Sheridan's piling-on. There was a riot between fans and players even though the NHL isn't playing this season.
FINAL EXAM
So, you think you know what happened in sports this year? Then go ahead and take our year-end quiz.
And in the most amazing event of all -- the Red Sox won the World Series, a feat that still seems difficult to believe even though Boston fans haven't shut up about it for one minute since it happened.
In fact, with so many strange things going on, you might have forgotten these moments in between deciding whether to take the Cream or the Clear ...
Jan. 1: Hundreds of thousands gather in Times Square to ring in 2004 in traditional fashion by toasting the new year and then dumping their champagne on Ron Artest.
Jan. 4: Following Louisiana State's victory over Oklahoma in the Sugar Bowl and USC's victory over Michigan in the Rose Bowl, there is a split decision in the national championship. The BCS declares LSU the national champion and the AP declares USC, though both agree that Colorado is the No. 1 Party School.
Jan. 6: By upstaging the Hall of Fame election of Paul Molitor and Dennis Eckersley with a poorly timed admission that he bet on baseball, Pete Rose cripples his chances for ever being inducted into Cooperstown. All is not lost for Rose, however -- the wig Tom Sizemore wore in "Hustle" is placed on display in the Museum of Natural History.
Jan. 11: Seahawks quarterback Matt Hasselbeck becomes the subject of national ridicule in Seattle's playoff game against the Packers when he tells the referee at the start of sudden-death overtime that "We want the ball and we're going to score and then we're going to go on to Carolina and New York and New England and we're not going to stop until we get to the Super Bowl -- YEEOWWWLLLL!!"
Jan. 19: Howard Dean finishes a disappointing third in the annual Arkansas Razorbacks Hog-Calling contest.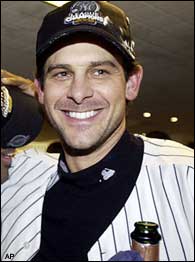 After the ALCS, Boone was quietly signed by Isiah Thomas.
Jan. 25: Aaron Boone suffers a season-ending injury during a pickup basketball game when he ill-advisedly throws his Gatorade on Ron Artest.
Feb. 1: A half-dozen viewers and the FCC are offended during the Super Bowl broadcast when Nicollette Sheridan bares her breasts and leaps into the arms of Terrell Owens.
Feb. 16: The Yankees trade for Alex Rodriguez, Hank Aaron, Willie Mays Hays, Roy Hobbs, Nuke Laloosh and Ted Williams' frozen head.
Feb. 18: In sealed testimony to the BALCO grand jury, Jason Giambi credits his dramatic weight loss to the Atkins diet.
Feb. 29: The Red Sox get off to a bad start when the Academy Awards snub Johnny Damon for his role in "The Passion of the Christ."
March 8: In one of the most appalling and brutal incidents of player violence in sports history, Vancouver Canucks forward Todd Bertuzzi cowardly attacks his unsuspecting opponent by skating up from behind and throwing a beer on Ron Artest.
March 10: NHL commissioner Gary Bettman responds swiftly and harshly to Bertuzzi's brazen attack by locking out the entire hockey league for the rest of the year and the 2004-2005 season as well.
March 15: Pete Rose's bad year continues when he picks Stanford to win the NCAA Tournament in the office pool.
March 23: North Korea officials claim that Kim Jong II shot a 38 with five aces on a course in Pyongyang.
I'm not making that up, by the way. That is what they actually claimed. They also insist that Kim Jong II averages three or four holes-in-one a round, though they refused to confirm whether the course includes a windmill and swinging barn doors.
April 7: The UConn Huskies complete an unprecedented run, winning the men's NCAA basketball championship, the NCAA women's basketball championship and the Iditarod.
April 12: Phil Mickelson shoots an electrifying 31 on the back nine, birdies the final hole and rallies from two strokes down to catch and pass Ernie Els at Augusta. Alas, Mickelson finishes a distant second in the Masters, losing to Kim Jong II by 128 strokes.
April 13: Barry Bonds homers to tie Willie Mays for third place on the all-time list, and in a stirring, emotion-filled ceremony at home plate, the Say Hey Kid greets his godson with his latest shipment from BALCO.
April 15: The first season of the monstrously popular "The Apprentice" draws to a close when Donald Trump fires Tyrone Willingham.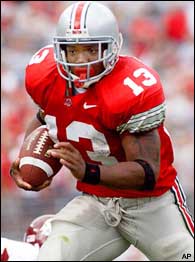 The NCAA is investigating whether Ohio State violated the salary cap.
April 20: A federal appeals court rules that Maurice Clarett cannot leave Ohio State for the NFL because it would require a cut in salary.
April 25: Prior to the NFL draft, Archie Manning demands that the San Diego Chargers trade the draft rights to his son, Eli, to the Yankees.
May 12: The FCC receives a dozen angry complaints from viewers enraged that from 11 a.m. until 2:16 p.m. on May 8, not a single TV channel was showing poker.
May 19: Despite his continuing gaunt appearance, Jason Giambi claims that he hasn't lost weight, it's just the slimming effect of the Yankee pinstripes.
June 5: More bad news for Pete Rose. He places his entire $1 million advance from "My Prison Without Bars" on Smarty Jones to win the Belmont and complete the Triple Crown.
June 16: The Pistons celebrate their upset over the Lakers in the NBA Finals in the traditional fashion -- by having Detroit fans spray champagne on their opponents.
June 23: During the preliminary hearings for Kobe Bryant's rape charge, Kobe testifies that he witnessed Karl Malone making a pass at the victim.
July 18: Just seven months after qualifying for his PGA card, Cinderella story Todd Hamilton beats Ernie Els in a four-hole playoff at Royal Troon but finishes 142 strokes behind British Open champion Kim Jong II.
July 24: Ricky Williams abruptly retires from football to pursue other career options, including an acting role opposite Cheech Marin in "Up in Smoke 3."
July 27: Lance Armstrong wins the Tour de France for the sixth consecutive year and is presented with the highest award in cycling -- the coveted yellow Livestrong bracelet.
July 31: During testimony at his preliminary hearings for a rape charge, Kobe accuses Peyton Manning of making touchdown passes to his wife, Vanessa.
August 13: The Summer Olympics open in Athens with a security force of 45,000 -- or slightly smaller than the U.S. men's basketball team's posse. The security force successfully keeps the competition venues completely free of terrorists, political protestors and fans.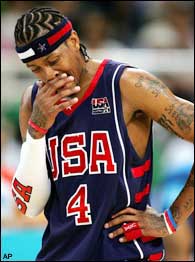 "Maybe I should get a Chinese character tattoo that says rebound."
August 14: The U.S. men's basketball team loses to the Washington Generals.
August 15: Kim Jong II completes the grand slam by winning the PGA championship, then marries Elin Nordgren.
August 18: A dramatic return to the original site of the ancient Olympic Games goes terribly awry when, in keeping with ancient Olympic codes, the female shotputters insist on competing in the nude.
August 21: The U.S. men's basketball team loses to the Beach Volleyball Bikini Dancing Team.
August 23: President Bush takes credit in a campaign ad for the Iraqi soccer team, saying his policies are responsible for them reaching the medal round. In a related development, the Swift Boat Veterans for Truth say John Kerry is responsible for the U.S. men's basketball team.
August 24: The International Gymnastics Federation requests that "in a show of sportsmanship" swimming champ Michael Phelps give one of his six gold medals to the Korean gymnast "because it would mean so much to him and you won't even notice it's gone because you still have so many."
August 25: The U.S. men's basketball team loses a pickup game against Aaron Boone.
Sept. 1: With the war in Iraq worsening and the presidential campaign tightening, Americans desperate for real news are relieved when rape charges against Kobe Bryant are suddenly dropped, thereby allowing networks to double their reporters assigned to the Laci Peterson case.
Sept. 5: His weight loss having now left him lighter than air, Giambi simply floats away and is not seen again the rest of the season.
Sept. 19: A bullet strikes Kyle Denny in the leg during a drive-by shooting but the Cleveland pitcher is saved from injury by the knee-high white boots he is wearing while dressed as a cheerleader as part of a rookie hazing ritual.
By the way, this actually happened.
Sept. 20: A national guardsman asks Secretary of Defense Donald Rumsfeld why there aren't enough knee-high cheerleader boots for all the troops in Iraq.
Sept. 24: In another crushing blow to Boston's championship hopes, Pedro Martinez learns he was adopted.
Oct. 3: Peyton Manning throws three more touchdown passes, and inexplicably, also sets the major-league record for base hits in a season.
Oct. 16: After routing the Red Sox 19-8 in Game 3 of the ALCS, the Yankees go home early to rest up for the ticket-tape parade.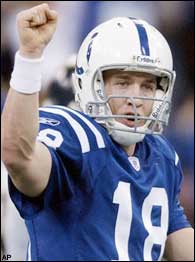 Rumor has it Peyton celebrated with two, yup we said two, milkshakes.
Oct. 17: Peyton Manning is finally slowed down when he throws only two touchdown passes during the Colts' bye week.
Oct. 19: Curt Schilling beats the Yankees in Game 6 of the ALCS despite third baseman Bill Mueller and shortstop Orlando Cabrera having to play out of position in an extreme shift while operating the pitcher's dialysis machine.
Oct. 23: As the Red Sox and Cardinals open their historic World Series, George Steinbrenner fumes about the poor turnout at Yankee Stadium.
Oct. 27: The highlight of the entire sports year unites fans around the country and sends New Englanders singing and dancing into the streets -- the Red Sox win the World Series of Poker. In a related development, Satan barely escapes the swiftly advancing glaciers in Hell by moving his base of operations to the regional office on 161st Street in the Bronx.
Nov. 2: President Bush is narrowly re-elected thanks to last-moment campaigning by Mack Brown's brother and the Big 12 coaches.
Nov. 19: The nation is appalled by one of the most notorious incidents of player-fan violence in sports history when a riot breaks out in Detroit after Nicollette Sheridan leaps on an unsuspecting Ron Artest.
Nov. 21: Amid accusations of fraud and intimidation, the BCS declares Viktor Yanukovych the new president of Ukraine.
Nov. 25: Hundreds of thousands line the streets of New York to watch the annual Macy's Thanksgiving Day parade and its newest lighter-than-air balloon: Jason Giambi.
Dec. 1: Anna Benson goes on Howard Stern and tells the radio host and his national listening audience that if she ever catches her husband, pitcher Kris Benson, cheating on her, she'll have sex with the entire Mets team, including the coaches, trainers and bat boys.
She really said that, by the way.
Dec. 2: Eli Manning demands a trade to the Mets.
Dec. 5: The final BCS standings come out amid more controversy when Halliburton gets the bid for the Rose Bowl.
Dec. 7: Notre Dame athletic director Kevin White fires Bob Cratchit.
Dec. 19: Terrell Owens suffers a season-ending spinal injury while filming a promotion for ABC when Jim Belushi leaps into his arms.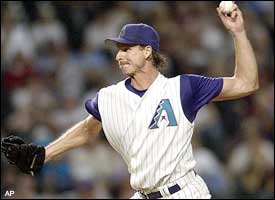 Arizona will finally cave and trade Randy for good tickets to "The Producers."
Dec. 21: New York's proposed 29-team trade for Randy Johnson falls apart when Bud Selig refuses to let the Yankees expand their roster to 725 players.
Dec. 22: Vice-president Dick Cheney brokers a last-minute compromise to salvage the Expos' move to Washington: D.C. agrees to pay the entire cost of a new stadium but Halliburton gets the no-bid contract to build the ballpark, now estimated to cost $68 billion.
Dec. 23: At the annual BALCO Christmas party, employees receive their annual year-end grand jury subpoenas while sipping eggnog topped with the Cream.
Dec. 24: With nothing to complain about, millions of fans throughout New England sit around not knowing what to do with themselves.
Dec. 25: The Kobe-Shaq rematch on Christmas Day is disrupted when Kobe accuses his wife, Vanessa, of kissing Karl Malone dressed as Santa Claus underneath the mistletoe. "They didn't hear me creep down the stairs to have a peek," Kobe tells reporters, "They thought that I was tucked up in my bedroom, fast asleep."
Dec. 26: A naked Nicollette Sheridan leaps into Peyton Manning's arms, giving him the NFL scoring record.
Dec. 31: The sports year comes to an end as hundreds of thousands gather in Times Square for the tradition of watching Jason Giambi drop 12 more pounds.
Jim Caple is a senior writer for ESPN.com