By Jim Caple
Page 2
PHILADELPHIA -- As the tour group crowds into the old court room at Independence Hall, ranger Patrick Whalen explains that when the Declaration of Independence was read in public for the first time here, Philadelphia citizens were so moved that they yanked King George's Coat of Arms from the wall, paraded it through the city streets and ceremoniously tossed it into a bonfire. This defiant, treasonous act demonstrated two things. One was that Philadelphians no longer considered themselves subjects of the British Empire.
The other, Whalen says, "Is that in 228 years as sports fans, we have not changed."
Well, that's only partly true. As Whalen, an Eagles fan so devoted that he owns not one but two replica jerseys, acknowledges, "We don't get a lot to celebrate from our sports teams around here."
No, they don't, they most certainly don't. Welcome to Philadelphia, the City of Brotherly Love, where the fans know pain New England fans never imagined.
"We're talking 20-plus years between having anything to parade about down Broad Street," Aaron Coleman says in a perfectly matter-of-fact tone despite the fact he is wearing a shocking blue wig, has dyed his goatee blue and is wearing a Philadelphia Soul jersey to watch the Arena Football League team's season opener at the fabulously popular Chickie and Pete's sports bar. "I know that isn't like going since 1900 or whatever it was for the Red Sox but we didn't have the Celtics and Larry Bird and Robert Parish like Boston did, either. Even this year, the Phillies were supposed to go to the World Series and they didn't even make it to the playoffs."
The Phillies have lost more games than any team in professional sports history, went 77 years before winning their first (and only) World Series title, suffered the most infamous fold in the game's history in 1964, finished last or next-to-last 20 times during a ghastly 25-year stretch and once lost 100-plus games five consecutive seasons.
The Sixers have lost twice as many times in the NBA Finals as they've won and set the league record for most losses in a season in 1973. The Flyers haven't won the Stanley Cup since their second title in 1975. Even the Philadelphia Freedom lost in the World Team Tennis finals and inspired a bad Elton John song before folding.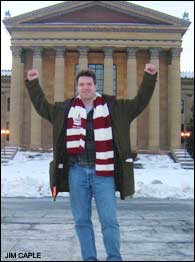 No raw eggs or sides of beef were harmed during the taking of this photo.
And then, of course, there are the Eagles. Native son W.C. Fields once remarked that "I once spent a year in Philadelphia. I think it was on a Sunday." Which just about sums up the eternal misery of rooting for the Eagles, who lost the only previous Super Bowl in which they played, 24 long years ago, back when Janet Jackson still wore training bras. Sure, Boston fans endured that agonizing Red Sox loss to the Yankees in the 2003 playoffs but the Eagles lost the NFC championship game three consecutive seasons.
Last year's loss to the Carolina Panthers was so humbling and so wrenching that it left one fan weeping before the TV cameras, "Every year they break my heart. I hate them, I hate them, I hate them!"
Philadelphia's sports history has been so rough that it's no surprise the city's most famous athlete is fictional. Rocky fought for the heavyweight championship at the Spectrum on the Fourth of July in 1976, the year of the country's Bicentennial. And in true Philadelphia tradition, when the world championship was just within his grasp, he lost.
Rocky did, however, recover to knock out Apollo Creed in a rematch, as well as beating an increasingly cartoonish string of opponents, becoming such a global Philadelphia icon that within a five-minute span Sunday, three tourists from Mexico and four from Japan recreate his run up the steps leading to the Philadelphia Museum of Art and pose for pictures with their arms raised in triumph.
The Japanese tourists did not know the Eagles existed, let alone know of their painful history or that they were playing in the Super Bowl, but they can repeat those words that are as well known, important and meaningful as "We hold these truths to be self-evident."
"Yo, Adrian!" they shout through thick Japanese accents as they dance atop the steps. "Yo, Adrian!"
* * * * *

"Strength is her religion, Mr. Connor. She finds human imperfection unforgiveable."
-- Cary Grant describing Katharine Hepburn in "The Philadelphia Story"
Philadelphia fans are so infamous that old Veterans Stadium not only had a jail, it had a courtroom, though alas, the stadium and courtroom were both destroyed before the man who stole the Philly Phanatic's head last year could be tried there.
The most infamous moment in Philadelphia sports, however, occurred at the end of the 1968 Eagles season when fans booed Santa Claus and pelted him with snowballs. That's a bit like mooning Mother Theresa and giving her the finger, so even though it happened a year before the Eagles oldest current player was even born it lives on as persistently as heartburn from a bad Philly cheesesteak.
"Every year since then," Frank Olivo says, "whenever the fans boo someone, the sportscaster will always say, 'Well, what do you expect from the city that once booed Santa.' "
Olivo is the man who had the misfortune of being the most shabbily treated Santa Claus this side of Target. He was a 20-year-old season-ticket holder in 1968 and it was his tradition to show up to the final game dressed as Saint Nick. The Eagles planned to have Santa Claus appear at halftime during the season finale but when a snowstorm prevented him from reaching the stadium, the team asked Olivo to substitute.
"That's how I got to do it," he says. "And basically, the team was horrible, the coach, Joe Kuharich, was hated, and there was just a bad feeling in the city. So the booing started as the players left the field at halftime and they started snowballing Joe. And the booing just continued for Santa. It was just the frustration the fans felt about the season.
"I must have been hit by 100 to 150 snowballs. That whole walk back along the sideline I was within range. They were so close I could hear them making the snowballs and throwing them. My own family was throwing them at me."
"The Eagles asked me if I wanted to do it again the next year. I told them, 'No. If it doesn't snow, they're liable to throw beer bottles.'"
Thus was a legend born.
"The fans in Philly got this reputation from that and they revel in it," Olivo says. "They like that image. I think they're a tough crowd, yeah. They'll let their feelings know when they're not satisfied. And I'm one of them."
Oh, they're rough, no doubt about it. Red Sox manager Terry Francona and Sixers coach Jim O'Brien both have done time in Philly and Boston and when the Philadelphia Inquirer asked them to compare the two cities, O'Brien said Philly fans are a little hungrier and a little edgier. "The one thing I kind of feel," Francona said, "and I don't want this to come out the wrong way, is that Philly fans feels something is owed to them."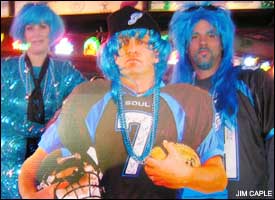 At Chickie and Pete's, Paula and Aaron Coleman blend right in.
Well, maybe there's a reason for that.
"We have more heartbreak than everybody else," says Paula Coleman, who like her husband, wears a spectacular blue wig and Philadelphia Soul jersey. "We always get so close and then we don't get the rest of the way.
"We're almost too knowledgeable. We know the game so well inside and out that it's almost worse when we lose."
"Our fans are so passionate," says Chickie and Pete's bartender Brian Roakes. "And for Philly not to be able to release that passion with a championship and a parade, well, it just builds up and rolls over to the next year and the next year. It snowballs.
He pauses.
"So to speak."
* * * * *

"You're gonna eat lightning and crap thunder. You're gonna become a very dangerous person."
-- Burgess Meredith to Sylvestor Stallone in the first Rocky
OK, it's easy to get caught up in the losses and the grumpy fans -- for crying out loud, people even talk about the curse of William Penn, so named because no pro team has won a championship since developers broke the unwritten rule to construct no building higher than the William Penn statue atop city hall. But that's unfortunate because Philadelphia has a sports tradition as thick and rich as a five-gallon tub of cream cheese.
Sure, there are a lot of disappointing seasons but the city remains so passionate about sports that former mayor and current governor Ed Rendell is an analyst on the Eagles postgame show. It's so crazed that this weekend's annual Wing Bowl eating contest draws all-night tailgaters and up to 24,000 fans. The city is so jazzed for the Super Bowl that a local news station is running an on-screen clock showing how many hours and minutes remain until kickoff.
And while there may not be a Super Bowl title (yet) for Philadelphia, in the NFL's pre-Roman Numeral days, when championships were settled without the aid of wardrobe malfunctions or Paul McCartney concerts, remember that the Eagles won three titles.
Yo, Adrian -- Philadelphia sports is not just the Philly Phanatic and fans throwing snowballs at Santa and teams losing in the end. It's also Dr. J soaring to the basket, Villanova upsetting Georgetown, Mike Schmidt crushing one into the upper deck, the cadets standing at the Army-Navy game, Chuck Bednarik going both ways and playing 60 minutes a game. It's Norm Van Brocklin and Ron Jaworski and Reggie White and Randall Cunningham and Donovan McNabb.
So, if you want to get to the heart of Philadelphia sports, think about the great things that make this city special. Put a construction worker like Jeff Thomason on the roster to reflect the city's blue-collar virtues. Clothe him and the team in the throwback jerseys sewn at the century-old Mitchell and Ness sporting goods company on Walnut Street. Introduce them with the sound of the late John Facenda, the original voice of NFL Films, located nearby in New Jersey. Crank up "Gonna Fly Now" for theme music. Then grab a beef and cheese sandwich, elbow your way into a seat at Chickie and Pete's and get ready for Sunday.
* * * * *

"The angriest fans in the country? I haven't heard anyone describe us that way before but that's pretty good," cabdriver Victor Varns says. "But I see these crazy people on TV and I wonder what city they live in, because it isn't Philadelphia.
"I see this guy crying on national TV and I'm wondering, where do these people live? I used to run cable in South Philly and there isn't a house there that I haven't been in and the people who live there are good, normal people."
Maybe he's right. Everyone certainly sounds happy and upbeat this Sunday evening, confident their team is finally going to win the big one, though being careful not to say anything that might jinx it. As radio host Anthony Gargano puts it on WPI: "We've never had happiness this rampant." Perhaps Philadelphia's reputation for sour fans is overblown.
Then again, as Varns drives down the snow-lined streets from Chickie and Pete's, there still are 165 hours and 43 minutes left until the Super Bowl. Better check back later after we find out who wins.
Jim Caple is a senior writer for ESPN.com.