Single page view
By Jim Caple
Page 2
Despite living his entire life nearly 2,000 miles from Chicago, my friend Sarge is such a huge Cubs fan that he not only named his three daughters Sammy, Kerry and Addison, he named the oldest, Sammy, before Sosa hit 66 home runs in 1998.
Thus, last week, Sarge had the most difficult conversation he'll ever have with a daughter that does not require references to the human reproductive system and "certain feelings." He had to sit Sammy down and explain why the Cubs had just traded her namesake to the Orioles.
"She was a little teary-eyed, but I told her that this meant he would be in the American League and we could see him play in Seattle more often," he said. "And I told her that it might prolong his career because of the designated hitter."
I needed to talk to Sarge so I could hear from a sensible Cubs fan (well, relatively sensible -- we are talking about a Cubs fan, after all). Because after the past couple weeks, I'm beginning to think that most of them have gone absolutely insane (well, more insane than normal).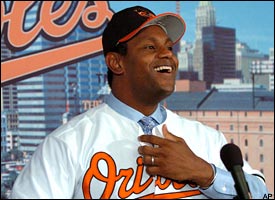 Mark Jim Caple's words -- Cubs fans will miss Sammy Sosa.
Think about it. The Cubs just traded their best, most popular player since Ernie Banks to the Orioles for Jerry Hairston -- and paid Baltimore more than $10 million to boot. And yet a lot of Cubs fans are happy about this. The Cubs just traded a future Hall-of-Famer for a .261 hitter with 26 career home runs, and some fans not only would have helped pack Sosa's bags, they would have been glad to drive him to O'Hare for his flight.
I just don't understand this. Has any player ever gone from team icon to pariah so quickly? I saw this to some extent with Ken Griffey Jr. when he asked to be traded out of Seattle, but not this complete a turnaround, not this quickly. Good lord. Sosa hit 35 home runs in 126 games last year and people act as if he sprayed the Wrigley Field ivy with weed killer.
Granted, Sosa had become a royal prima donna, surrounding himself with an entourage so large you might mistake it for Oprah's studio audience. He had become so self-centered that the simple act of lowering him in the batting order required a court order, an act of Congress and the express written consent of the commissioner of baseball.
But who tolerated his act for so many years, allowing his ego to grow so large he needed Velcro fasteners on his cap? The Cubs. They were perfectly happy to put up with Sosa when he was averaging 50 home runs a season, but as soon as he dropped to 35, it suddenly became too much to handle.
Yes, yes. I know. Sosa turned his back on the team by ducking out of the season's final game early, leaving in the first inning and then lying about it. That was bad. That was really bad. That he couldn't wait around two extra hours before going home for the winter rightfully angered fans who make less per year than he would have made between the second and ninth innings.
But I also would think that the 545 home runs he hit for the team prior to that day might justify cutting Sosa a little slack and a chance to make amends.
Instead, Cubs management handed the media videotape of Sosa leaving the park early, publicly humiliating their best player as a liar. Whether it was their intention or not, that move helped turn fans against the player primarily responsible for attendance increasing more than 10,000 per game and for the Cubs reaching the playoffs as often in the past seven years as they had in the previous 50. Sosa nearly carried them into the World Series in 2003, but by the next winter, fans turned against him so completely that they booed soundly whenever his highlights played during the Cubs Convention.