Single page view
By Jim Caple
Page 2
CHAMPAIGN-URBANA, Ill. – When people ask me where I'm going during the second week of my March Madness tour, I tell them the destination is Tobacco Road in North Carolina.
A more accurate destination is the Betty Ford Clinic.
When I woke Wednesday morning from another fitful and brutally short night of sleep, I gave myself about as much chance of surviving through the Final Four as the Oakland Golden Grizzlies have. My head felt as if Dee Brown had dribbled it all night long, and my tongue needed a shave. And that was after just two nights at the University of Illinois. With the first day of the tournament coinciding with St. Patrick's Day – what campus police no doubt refer to as a Perfect Storm – I knew I had to take a break to recover.
It was either that, or take the advice offered by one reader:
"You mentioned that you are having trouble sleeping due to the number of roommates you have at the Sig Ep house. You clearly aren't drinking enough. You should be passing out every night and waking up fresh as a daisy."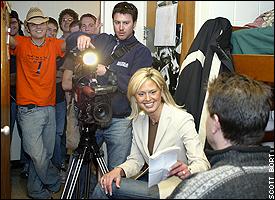 Jim is interviewed on local TV as the Blaisdell dorm residents look on.
Well, that's one approach. But since I'll need to be on my best behavior when I spend tonight in the apartment of the fabled four chicks (I wonder – should I bring flowers, a nice bottle of wine or just wear the Tigger costume?), I figured a day of sobriety might be in order.
Well, relative sobriety.
This worked out well. I moved into the Blaisdell dormitory, where alcohol in all forms is strictly (wink, wink) prohibited.
This is my first night in a college dorm since REO Speedwagon had a career. Little has changed. The rooms are still cramped, cinder blocks remain the bookshelves of choice and students still proudly stack beer cans in triumphant pyramids. (My wife always makes me take mine down right away.) In fact, so little has changed since I was a student that REO Speedwagon is actually playing at Assembly Hall tonight, along with Styx. REO Speedwagon and Styx? What, did Pat Benatar and Flock of Seagulls have scheduling conflicts?
I don't think attendance will be too good at the concert. For one thing, it's REO Speedwagon and Styx. More importantly, the concert goes head to head with Illinois' opening-round game against Fairleigh-Dickinson. Heck, U2, Green Day, Dave Matthews and Ludacris could be playing tonight and Assembly Hall would be as empty as the classrooms figure to be this afternoon when the tournament tips off.
The tournament is the main topic on campus. Everyone is filling out brackets, wearing orange and planning to cut classes today so they can paint their faces, watch basketball and drink heavily.
And that's just the faculty.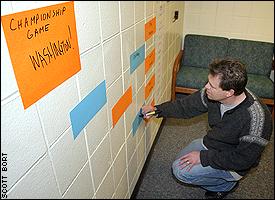 Jim fills out his bracket and, shockingly, goes with his own alma mater, Washington, to win it all.
"Even my teachers today were saying, 'I'd like to teach today, but who else has spring fever and March Madness?'" freshman Julian Scharman said. "I never liked that teacher. She's just such a rigid lady. But I enjoyed her class just that little bit more today. I was like, 'Today I'm going to listen to what you have to say.' ...
"When chicks are filling out brackets, you know it's March Madness."
Scharman told me that at around 4:30 in the morning (I really must stop pulling these all-nighters) on the second floor of Blaisdell Hall. There are 60 students on this floor, and they come from as far away as India, Korea, Wales and Oman. Their backgrounds range from the rich Chicago suburbs to the crowded neighborhoods of Hong Kong, yet the Illini basketball team unites them all.