By Jim Caple
Page 2
CHAPEL HILL, N.C. – I wake to find that someone has sutured my eyelids together and poured cement into my nostrils. Raccoons are nesting in my lungs, woodpeckers are attacking my throat and a metal band is playing a concert in my brain. And when I finally summon the strength to rise from the two lumpy futon cushions that form my bed, I find a condom by my pillow.
Fortunately, it is unopened.
Ah, yes. It's all beginning to come back to me now. This is Week 2 of my own personal March Madness, and I'm on Tobacco Road.
I left the University of Illinois last Friday with the beginnings of a cold that now shows all the signs of full-blown pneumonia. I'm tired, coughing, sneezing, aching and stumbling along. After essentially pickling myself at Illinois, my adult-beverage consumption for this week will pretty much be limited to straight shots of NyQuil.
And yet, despite the hacking, wheezing and sniffling, my timing is impeccable. I'm on Tobacco Road, where North Carolina, Duke and N.C. State are so close to one another that the only thing separating them is mutual disdain.
N.C. State hates North Carolina.
Carolina hates Duke.
And Duke ... well, Duke looks down on most everyone.
With N.C. State's upset victory last weekend, all three schools have reached the Sweet 16 for the first time since 1989. If things break right, Carolina could play N.C. State and Duke in consecutive games before the Tar Heels lose to my alma mater, Washington, in the title game.
If you love passionate college rivalries and you love basketball, this week is as good as it gets – at least without an NCAA recruiting violation.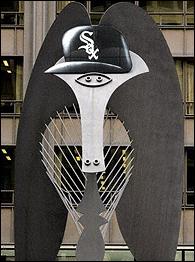 Is the Picasso statue the gateway to Comiskeyville?
My first stop is in Chapel Hill, where I'm staying at the Lodge, home to the good men of the Chi Psi fraternity. Like the Sig Eps at Illinois, these guys are the sort of dependable friends you can trust to always be there for you, to offer a bit of helpful advice, an encouraging word, a needed $20 or to simply pull your head out of the toilet so you don't drown in your own vomit.
At least, that's how I felt about them until they dressed me in a complete Duke uniform and forced me to go to a crowded Chapel Hill bar.
And to think: I thought it was embarrassing when I wore a Tigger costume at Illinois.
North Carolina is the oldest public university in the United States, founded in 1789. I know this because 1789 is the year on the oldest NCAA Tournament banner hanging from rafters in the Dean Dome.
I'm just kidding about that. It only seems like the NCAA banners date all the way back to the school's founding. In reality, they only extend back to when Mike Krzyzewski last had a fashionable haircut. Gazing up at all the NCAA and ACC championship banners and all the jerseys honoring former players such as Sam Perkins, James Worthy, Vince Carter and Michael Jordan, I suddenly became lightheaded – and it had nothing to do with the cold medicine I'm taking.
"Imagine your first time walking in here as a freshman player and seeing all those banners," Carolina student Ananda Ghosh says. "I've heard players say they get star-struck by it."
Ghosh grew up in Durham. His high school graduation was at Duke's Cameron Indoor Arena. He's a lifelong Carolina fan, though, and he's getting what amounts to a graduate degree in basketball at Chapel Hill.
That's because basketball is everywhere at UNC, as inescapable as the construction crews working on the campus' 50-year renovation plan. (That's right: 50 years. Heck, the school should have hired Roy Williams to oversee the rebuilding; it would have gone quicker.) Carolina's great players have left a trail as unmistakable as the school's footprint logo you see on all the shirts. Look closely and you can pick up the trail at old Woollen Gym, where the team played when Dean Smith first arrived on campus and where students play pickup games now.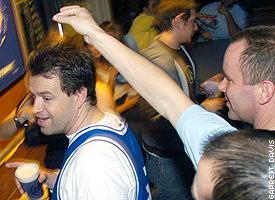 Who's going to burn whom? Might have to wait for the Final Four to find out.
"It makes you think, I'm walking on the same spots on campus that they walked on," Yemi Ojutiku said during a break at Woollen. "I'm playing on the same courts as they did."
I ate lunch Tuesday in the same spot Jordan did. For that matter, I ate lunch in the same spot that the current team uses – Jawad Williams and Marvin Williams sat down in the booth by ours when Chi Psi president Derwin Dubose took me to Sutton's Drugstore. Located on Franklin Street (the main drag in Chapel Hill), Sutton's is a Carolina institution where students have been coming to eat at the counter for generations. Photos of current and past customers line the walls at Sutton's, and a blowup of a Sports Illustrated cover of Jordan and Perkins is posted high above the counter.
"We had to put that up there high where no can reach it," says John Woodard, the owner of Sutton's. "It's sad. The last time [Jordan] came back about 15 or 16 years ago, it got to the point where it was like a major event. The place just exploded with people. It just got annoying and aggravating for him."
In other words, it must have been like being surrounded by Duke fans – who, Carolina fans assure me, are without exception arrogant, rich, pampered and, perhaps worst of all, from New Jersey.
And you Duke fans can stop right now. There's no need to send me any angry e-mails. Your school will get your turn to hurl stereotypes later this week. Besides, I did my part for Duke when the Chi Psi guys had me wear a Blue Devils uniform to Bub's for '80s night. (Frankly, I don't know which was worse: Wearing the uniform or listening to songs that I hated back when I was in college.)
There was a line to get into Bub's when we arrived, so I kept in character by marching to the front and asking whether the line applied to Duke fans.
"Especially Duke fans," the bouncer assured me.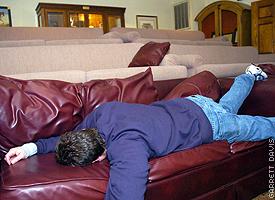 Wake up, Jim, you've still got three days left on Tobacco Road.
Threatening to call daddy, I stomped back to the end of the line. It quickly shortened, and a few minutes later we were allowed into the bar. The reaction was immediate. There was hostility, although not quite to the level of "Yankees Fan Wearing A Jeter Jersey In Boston, Call 911 Immediately" hostility. Which is to say, I emerged with my teeth. Many people seemed puzzled. Some laughed and shook their heads. A handful glared at me, apparently thinking sinister thoughts. A couple congratulated me on my courage.
And two young women pulled off my jersey and tried to tear off the T-shirt underneath, a first for me in a bar.
It was pointed out that while Duke and Carolina fans are intense rivals, they do have to live together and some even inter-marry. Out of ACC pride, a lot of fans even root for the other team in the NCAA Tournament, once their school has been eliminated. So even when I got on top of a bench and chanted "Let's go Duke," the response was relatively good-spirited. Everyone chanted "Duke sucks!" and scowled and flashed me the finger. But that was as far as it went.
And then I got hit with the first beer.
And then I got hit with the second beer.
And then I decided it was probably a good time to leave.
But what the heck. I did my part for college basketball's best rivalry, and so being hit with beer was not unlike being sprayed with champagne after a championship. A badge of honor, if you will.
Besides, with this cold, I can't smell the beer in my hair, anyway.
Jim Caple is a senior writer at ESPN.com. His first book, "The Devil Wears Pinstripes," was recently published by Plume. It can be ordered through his Web site, Jimcaple.com.