By Jim Caple
Page 2
Stephen King hasn't written any best sellers about their angst and Jimmy Fallon hasn't filmed any movies about their pain, but the White Sox have gone longer without a world championship (88 long years and counting) than the Red Sox did. As season-ticket holder and former old Comiskey Park beer vendor Steve Fischer says, "We've thrown a World Series more recently than we've won one."
A LONG TIME WAITING
Team
Last
WS
Last
title
Yrs
Skinny
Cubs
1945
1908
97
Lost WS in '10, '18, '29, '32, '35, '38, '45
White Sox
1959
1917
88
Won Game 1 in 1959, but lost Series in 6
Indians
1997
1948
57
Led 2-1 in 9th inning of Game 7 in '97, but lost in 11 innings
Giants
2002
1954
51
Have made playoffs eight times since move to S.F. in 1958
Rangers
none
none
44
Have won just one playoff game in franchise history
Astros
none
none
43
Lost final two games of '80 NLCS in extra innings after leading both in 8th inning
Expos
none
none
36
Lost Games 4 and 5 of '81 NLCS; Game 5 on Rick Monday's HR in 9th
Padres
1998
none
36
Beat 100-win Astros and Braves in '98 playoffs, but not 114-win Yankees
Brewers
1982
none
36
Haven't even had a winning season since 1992
Mariners
none
none
28
Griffey, A-Rod, Edgar, Big Unit, Buhner ... and no World Series
The Cubs haven't won a World Series since the final year of Teddy Roosevelt's administration and haven't played in one since the last year of Franklin Roosevelt's administration. Cleveland hasn't won since 1948 (curse you, Jose Mesa!). The Giants haven't won since 1954 (damn you, Scott Spiezio!). The Brewers and Padres have never won a World Series. The Astros have never reached the World Series, despite having late-inning leads in NLCS clinching games with Nolan Ryan and Roger Clemens on the mound. The Rangers have never been to the World Series, either. Neither have the Mariners.
Doesn't every fan deserve some joy, some reward for his or her perseverance? Well, Montreal fans rooted for their team to reach the World Series for 36 years ... and we know how that turned out for them.
In other words, those Boston fans weren't so special in their suffering, just louder. Given the average age of fans, roughly one-third of us have never known the thrill of watching our favorite team win the World Series.
So as New Englanders watch their precious Red Sox finally receive their championship rings today, the rest of us – all just as passionate, each just as success-starved as any fan in Boston – can only wonder, "When is it our turn?"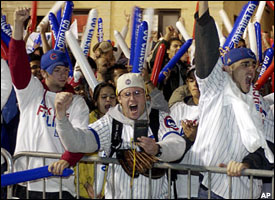 Cubs fans keep hoping for a World Series, despite the pain of 2003.
I Broke My Heart in San Francisco ...
The Giants haven't won the World Series since moving to San Francisco in 1958. They lost the Series in 2002 despite leading by five runs and being just eight outs from winning it all. They lost the 1989 Series when the city's worst earthquake in 83 years struck just before Game 3. They lost the 1962 Series when Willie McCovey lined out with the winning runs on second and third base in the bottom of the ninth of Game 7.
Felipe Alou has been in the game for half a century as player and manager, and is part of perhaps the greatest family in baseball history. Yet he still kicks himself for failing to properly lay down a bunt in the final inning of the 1962 World Series that would have moved his brother, Matty, from first base into scoring position as the potential tying run.
"It still hurts," Alou said in spring training.
With Yankees third baseman Clete Boyer and first baseman Moose Skowron charging the plate for the bunt ("Boyer was as close to me as you are now"), Alou attempted to lay one down on the first pitch. It bounced down the first-base line and rolled foul. The Giants changed the sign, calling a hit and run for the next pitch. He barely got his bat on that pitch and fouled it off for strike two. Swinging away on the next pitch, he struck out.
"It bothered me because I didn't get the job done," Alou said. "It bothered me the rest of my playing career and then after I became a manager in the minor leagues, I decided to talk to young guys about the importance of bunting, the importance of the sacrifice. ...
"I still had two pitches. I could have hit a home run to win the game. You never know what would have happened."
All we can know is what did happen. After Chuck Hiller struck out, Willie Mays followed with a double to right that Roger Maris cut off with a tremendous play to hold Matty Alou at third base. That brought up McCovey, who hit a scorching line drive to second baseman Bobby Richardson. A couple feet either way and the Giants would have been world champs.
"When McCovey hit the ball, I thought we had won. And then we lost," Alou said. "They say baseball is a game of inches. But it's also a game of fractions of a second.
"It's a game of disappointment."
How disappointing? Charles Schulz, who became a huge Giants fan when he moved his studio to California's Napa Valley, drew a Peanuts strip shortly after the Series that showed Charlie Brown and Linus sitting dejected on a curb for the first three panels. They say nothing until the final panel when Charlie Brown wails, "Why couldn't McCovey have hit the ball just three feet higher?" A month later, Schulz drew a strip that was almost identical, only in the final panel Charlie Brown cries, "Or why couldn't McCovey have hit the ball even TWO feet higher?"
It was the first time Schulz had ever drawn a strip that referred to an actual event. He would do so only once more in the next 40 years.
Alou manages the Giants now and his son, Moises, plays for him. After 43 years, the Alou family is still trying to bring home a championship to San Francisco.

CHICAGO - UNDATED: A general view of Wrigley Field, the home of the Chicago Cubs, located in Chicago, Illinois. Wrigley Field opened April 23, 1914.
Houston, We Have a Problem ... And We've Had It For 43 Years
There is a perception, particularly in the East, that there are no real Astros fans. That no Houston fans really suffer when the Astros lose, or at least not the way Red Sox fans suffered. Jim Deshaies knows that's not true. He pitched half his career in Houston and is one of the team's broadcasters now. And he knows that people in Houston care just as much about their team as fans elsewhere.
"We've been around long enough that there are generations of fans, parents taking their kids to games, people who have grown up with the team," Deshaies said. "There are quite a few guys my age who've grown up with the Astros. I'll bump into guys that know way more about our team's history than I do. They may not be quite as wacky as Red Sox fans, and there may not be quite as many, but they're there.
"We just don't have our own nation. We don't have a catchy name like Red Sox Nation. Maybe I need to start one. How about Astros Planet? 'Oh, this is not going to make Astros Panet happy.' Astros Planet – I'm going to have to start using that. 'The Red Sox may have a nation but we have a whole freaking planet.'
"But then I'll probably get sued by some fast-food burger place for stealing their name."
True. As everyone associated with the Astros knows only too well, something will go wrong with every plan. Something always does.
The Astros debuted in 1962 – the same year Alou didn't get the bunt down – and 43 years later, they're still trying to reach the World Series. In 1980, the Astros lost in the best-of-five playoffs to Philadelphia when four games went extra innings, including the deciding fifth game, which they led in the eighth inning with Ryan on the mound. In 1986, with Deshaies on the staff, the Astros clinched the NL West on Mike Scott's no-hitter, only to lose another heart-breaking postseason series when they blew a 3-0 lead in the ninth inning of Game 6 and eventually lost 7-6 to the Mets in 15 innings (Scott, who had already defeated the Mets twice in the series, would have started Game 7). And, of course, there was last year when the Astros led the NLCS 3-2, only to lose the final two games, including Game 7 with Clemens on the mound.
"Last year reminded me of 1986, with people going nuts, waving the rally towels and the energy and the excitement sky-high," Deshaies said. "But in '86, there wasn't that sense of desperation that we had to win because we've never won a pennant. That's more the sense now. Time is a big part of that – it's been another 18 years – but it's also something that's been beat into people's heads.
"You heard it about Roy Williams and Jim Boeheim. How they had never won the big one. We find ourselves in that mode. We've never won. But if you win, then you can go another 50 years without winning and it's all right because at least you won one."
Winning at least once is what's important. As Deshaies says, "Going 1-for-50 is significantly better than going 0-for-50."
One in a hundred, though? That's another story.
A Tale of One City, Two Teams and Few World Series
"I really feel for Red Sox fans," my friend Dan Lepse said in an e-mail last fall when so much was written about how Boston had not won the World Series since 1918. "Ask an inmate what would be worse – to have their prison sentence or to have their prison sentence PLUS another 10 years."
You'll have to forgive Dan. He's a Cubs fan.
His team has gone 97 years without winning the Series and 62 years since playing in it. While Red Sox fans dreamed of winning the World Series, just reaching it would satisfy Cubs fans, who have seen their team fail so often that there once was something called the "Ex-Cub Factor" that was used to uncannily predict who would lose the World Series each fall.
The Cubs rarely play well enough to be a contender but even when they do, their inevitable horrific finish is enough to silence the Windy City more than Oprah's walking outside in a thong. In 1969, they blew a 9½ game lead to the Mets. In 1984, they blew a two-games-to-zero lead to the Padres in the best-of-5 NLCS and watched the pennant roll between Leon Durham's legs in the clinching game. And then, horribly, there was 2003, when the Cubs were five outs from the World Series and disaster struck in the infamous Bartman game.
The Cubs have lost so many times that their identity is as baseball's lovable losers.
Indeed, they seem so resigned to their fate that after the Bartman game fans chose to blame an innocent fan in the stands rather than the $5.8 million shortstop who later botched what should have been an inning-ending double play. Boston fans would have driven Alex Gonzalez from town with pitchforks and torches, but Cubs fans forgave his error and looked elsewhere for the cause of their pain. As Cubs CEO Andy MacPhail says, "They chose to blame fate rather than the player."
Well, you get that way when you go a century between championships (though their anger at Sammy Sosa suggests that even their patience is at an end).
At least Cubs fans can take some solace that an entire nation recognizes their pain and sympathizes. Few remember or know that the White Sox have been just as much of a disaster. The White Sox have played in fewer World Series (one) since the Great Depression than the Cubs (five). The last time they played in the World Series, Ted Williams not only wasn't frozen, he was still playing left field for Boston.
How bad has it been for the White Sox? The last time they won the pennant, in 1959 at the height of the Cold War, frightened people ran into the streets in a panic because the city sounded the air-raid sirens to celebrate and many people thought Chicago was being attacked by the Soviets.
When winning the pennant inspires fear, you know a team is cursed.
And yet, George Will never writes about their suffering.
Roger Bossard has been on the White Sox's grounds crew since 1967 but he's been around W. 35th Street since long before then. His father, Gene, was the head groundskeeper before him, and he can remember lugging water hoses around the field as a kid. He's been around so long he can remember when his father and Sox manager Eddie Stanky would freeze baseballs to cut down on the opposing team's offense. "I would ask my dad, 'What's going on?' And he'd say, 'Don't worry about it, son.'"
He ordered 700 yards of replacement sod overnight after Disco Demolition night in 1979 ("In 39 years, I've only had one day I wasn't happy to go to work and that was after Disco Demolition"), mowed the outfield grass on both sides of 35th Street, watched the Sox wear those shorts pants and today's near bell-bottoms, saw them win ugly in 1983 and lose ugly many other years but he's still waiting to paint a World Series logo behind home plate.
When Bossard does, he knows Chicago's south side will have a party that will put Disco Demolition to shame.
"People forget, there was a time when the Sox used to get the attention," he says. "There was a time when the Cubs didn't draw anybody and we did. But it's not like that anymore. The north-siders get all the attention now. We're a south-side team, a blue-collar team. And we have to win.
"In 1959, I was a youngster, but I can remember when we won the AL championship. Old Richard Daley was mayor and the air-raid sirens went off. I think literally the reaction would be three times that if we won now. Jerry Reinsdorf, who really is such a tremendous fellow, I'm sure he would give up three or four of the Bulls' championship rings just for one for the Sox. Because baseball is his first love.
"That's how important it would be for him and that's how important it would be for everybody."
Bernie Brewer is Still Missing a Ring
After the final game of each World Series, commissioner Bud Selig enters the winning team's clubhouse, breathes in the scent from popped champagne bottles and victory cigars, listens to the whoops of celebration, dodges the spray and hands the owner the championship trophy that he never won in three decades as owner of the Milwaukee Brewers.
And when he does, can he help but think about 1982, when his team blew a lead in Game 7 and lost the only World Series in which the Brewers have played? After all, he finds himself thinking about that Series at other times, wondering what might have been if things had gone just a little differently.
"I do, I rationalize the '82 World Series," Selig says. "If Rollie Fingers doesn't get hurt, we beat the Cardinals in five games. Though Whitey Herzog might have a different view. And Pete Vuckovich was pitching with a torn rotator cuff. If I live to be 100, I'll never forget the way Robin Yount wept all the way home on the flight. I felt worse about that than anything else."
Milwaukee had a 3-1 lead in the sixth inning of Game 7 with Vuckovich on the mound ... and couldn't hold it, losing 6-3.
"I remember our marketing director coming up to me after the game and saying, 'We have to have a parade tomorrow,'" Selig remembers. "I said, 'A parade? We lost. They'll throw eggs at us.' I'm bitching about it and the players are bitching about it and they're all agreeing with me, Paul Molitor and Jim Gantner and Cecil Cooper, and we're all saying, 'A parade will be nothing. There won't be any people and all we'll do is show up and wave.' And Robin was saying, 'That's right, this is stupid.' But when we got there and pulled out of the garage, downtown was shut down with 300,000 people. People were waving and crying.
"And that was for losing. Can you imagine if we had won?"
Imagine, just imagine what it would be like. In Milwaukee. In San Francisco or Chicago. Or Cleveland. Or Houston and Texas. Or San Diego and Seattle. Or so many places desperate to finally know what New England is feeling.
For it finally to be our turn.
"It would mean so much," Selig says. "For the psyche of the community and the state, it would be just enormous. More than you could believe that a sporting team and a team could mean. ...
"Sometimes, you have a hard time believing that baseball is just a game."
Jim Caple is a senior writer at ESPN.com. His first book, "The Devil Wears Pinstripes," is being published by Plume. It can be ordered through his Web site, Jimcaple.com.