By Jim Caple
Page 2
CHICAGO -- When you watch the Cubs play, you can walk out of the Friendly Confines after the game and drown your sorrows and curse Corey Patterson at dozens of bars and restaurants throughout Wrigleyville.
There is no Comiskeyville, though. And certainly no U.S. Cellularville.
If you want to toast Ozzie's moves or Paulie's bat after a White Sox game, you better have the keys to the bullpen cart because many city blocks of small businesses and homes separate Comiskey from the nearest bar. And if you want to top off a victory with a Sanford vin gris that offers a hint of pear, a soupcon of asparagus and just a flutter of nutty Edam cheese . . . well, you're definitely on the wrong side of town. They don't serve wine at O'Malley's Hot Dogs stand. "Just whiners,'' says owner Bob O'Malley. Do you mean Cubs fans? "Yes.'' O'Malley is a former Chicago cop and lifelong White Sox fan who grew up in Bridgeport, the mostly working class neighborhood that lies immediately to the west of Comiskey Park and has spawned generations of Sox fans, as well as several mayors (including both Daleys). "I still have cocktails with guys I played Little League with and went to grammar school with,'' he says.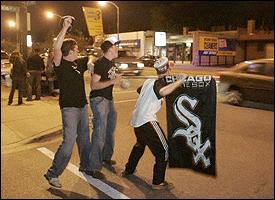 AP
Think the streets of Wrigleville would be this deserted after a playoff win?
It's a traditional neighborhood, but it's beginning to change a little as well. Housing prices have soared in the past few years, and I saw a man walking his pet Vietnamese potbellied pig down 35th before Game 1. When trendy yuppie pets move into the neighborhood, you know it's only a matter of time before two Starbucks open kitty-corner from each other.
For now, O'Malley's stand remains a neighborhood joint on the corner of 35th and Union, with faded green seats from the old Comiskey Park out front and workers serving up hot dogs and ice cream inside. You won't find pan-seared Chilean sea bass with Champagne grapes, fennel and marscapone, but O'Malley's serves a mean wiener. "The best dogs on the South Side,'' a customer assured me. "No, make it the best hot dogs in the whole city.''
O'Malley was in elementary school when the White Sox were in the 1959 World Series, and says he went to each game. If you don't believe him, he'll tick off the names and numbers of the Go-Go Sox lineup as his bona fides. "No. 11, Luis Aparicio; No. 2, Nellie Fox; No. 10, Sherm Lollar; No. 19, Billy Pierce; No. 16, Al Smith . . . " When the Sox played in that series, Chicago was just beginning to build the infamous Robert Taylor Homes on the east side of the highway across from Comiskey Park. So much time passed between Sox World Series that they're tearing the Robert Taylor Homes down now and almost all of the towers are gone. In the time it took the Sox to return to the World Series, Kirby Puckett grew up in the Robert Taylor Homes, moved away, played in the majors, signed a $30 million contract, retired, reached the Hall of Fame and had his old building here torn down. The Robert Taylor Homes were the largest public housing project in U.S. history at the time, and they turned out to be a disaster. The original plan was not to build a crime-infested block of towers and concrete, of course, but that's how it turned out. The new plan is to build lower multi-family condos and townhomes surrounded by grass and inviting open areas "for picnics, jogging and more,'' according to the billboard at the site. The architect's drawing certainly looks attractive, and the hope is that this development will succeed where the original project failed.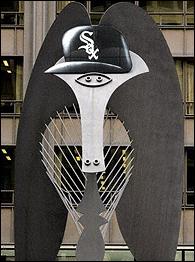 Is the Picasso statue the gateway to Comiskeyville?
"It can't be any worse,'' says 76-year-old Frank Anderson, a longtime resident of the area, proudly wearing his Sox cap.
Although signs offered World Series parking in various driveways and lots for up to $60 in Bridgeport over the weekend, that price was for spaces substantially on the west side of the Dan Ryan Expressway. They were asking $15 bucks to park in a church lot on the east side, and they weren't doing a lot of business. The streets were mostly empty in the neighborhood before Saturday's game, though a small corner grocery on Indiana was doing a brisk trade in lottery tickets and there was a Checks Cashed business open on the corner of 35th and Indiana. On the other hand, the McDonald's advertised live jazz. Wrigley Field is the heart of Wrigleyville, pumping blood into the ever-more-upscale neighborhood that doesn't so much surround the ballpark as feed off it. Down south, though, Sox fans for the most part spend their money inside Comiskey Park (the way Jerry Reinsdorf likes it) and then go home. People don't explore these neighborhoods unless they live here. Wrigleyville is a wonderful and intoxicating neighborhood, a party with a zip code. Comiskeyville is just real life.
Jim Caple is a senior writer at ESPN.com. His first book, "The Devil Wears Pinstripes," is on sale at bookstores nationwide. It can also be ordered through his Web site, Jimcaple.com.