For some fans, the best part of spring training is the many chances to ask their favorite players for autographs. For others, the best part is working on their tans while watching the latest prospects fight for a spot on the roster. For me, it's reading the daily notes roundup …
ASTROS: RHP Roger Clemens emerged from the Astros' clubhouse and saw his shadow, heralding six more weeks of retirement. …

TWINS:
Construction on the Twins' new stadium, due to open in 2010, was halted when owner Carl Pohlad said he'll move the team unless he gets an even newer stadium. … General manager Terry Ryan signed 1B Justin Morneau to a four-year, $60 million postdated check. …
METS: Mr. Met told reporters he could not explain why his name appeared alongside Evander Holyfield and Gary Matthews Jr. on a list of HGH customers for Applied Pharmacy Services. He also insisted his head is the same size it always has been. … 48-year-old 1B Julio Franco became the first player in major league history to cash his paycheck, his pension check and his Social Security check on the same day. …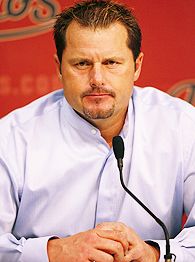 Bill Baptist/Getty Images
Roger Clemens has been making the rounds this spring.
NATIONALS:
Washington announced that President Bush will not throw out the first pitch on Opening Day, but Scooter Libby will be on hand to out the first covert CIA operative. …
RED SOX: Boston satisfied OF Manny Ramirez's trade demands by telling him he had been sent to the Mets for a player to be named later and that he wound up being the player to be named later. … RHP Roger Clemens visited the Red Sox clubhouse to use the bathroom and get directions to the Yankees' training camp. … RHP Daisuke Matsuzaka did not do anything interesting today so reporters limited themselves to two stories apiece about him. …
REDS: Former Cincinnati manager Pete Rose has written another book, this one titled, "If I Bet Against the Reds, Here's How Much I Lost.'' …
MARLINS: General manager Larry Beinfest signed LHP Dontrelle Willis to a three-year, $47.5 million IOU. … Owner Jeffrey Loria is threatening to move the team to Mexico to avoid paying the new federal minimum wage. …
YANKEES: After 3B Alex Rodriguez went 0-for-4 in a 9-1 loss to Cincinnati in a Grapefruit League split-squad game, Yankees fans booed him for failing to hit when it doesn't matter. … A-Rod acknowledged that SS Derek Jeter has dropped him from his AOL buddy list. … RHP Roger Clemens visited the Yankees camp to ask if he's eligible to start drawing from the team's pension plan yet. …
CUBS: RHP Mark Prior and RHP Kerry Wood both underwent MRIs which revealed termites, cobwebs and dry rot in their elbows. The Cubs expect them both to be ready for Opening Day. … Chicago announced that manager Lou Piniella will throw out the first base on Opening Day. …
DIAMONDBACKS: LHP Randy Johnson, recovering from back surgery, threw a simulated game and hit two batters on the forearm, a pigeon in mid-flight and a Daily News photographer in the face. …
ORIOLES: Baltimore's payroll soared to $792 million after owner Peter Angelos hired Halliburton to rebuild the bullpen. …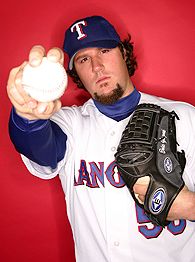 Jed Jacobsohn/Getty Images
Rangers reliever Eric Gagne is making steady progress.
RANGERS:
RHP Eric Gagne, recovering from elbow and back surgery, threw on the side Tuesday. He will throw on his other side Thursday and then attempt to throw standing up. … After sitting out last season, OF/DH Sammy Sosa says is re-energized and ready to give a full 87 percent five days a week and not leave the ballpark until the eighth inning. …
PADRES: In addition to their special camouflage jerseys, the Padres will wear Giles Brothers alternate uniforms -- a normal San Diego jersey but no pants or underwear. … The San Diego clubhouse had to be fumigated after LHP David Wells cut the cheese. …
CARDINALS: Angelina Jolie and Brad Pitt visited the Cardinals camp and adopted SS David Eckstein. … Manager Tony La Russa and 3B Scott Rolen's relationship became strained again Tuesday after reporters bet the manager $100 he couldn't get three words out of the third baseman, and Rolen turned to La Russa and said, "You lose.'' …
ATHLETICS: General manager Billy Beane traded a shopping cart of empty soda cans to Florida for LHP Dontrelle Willis and 2B Dan Uggla. …
GIANTS: In anticipation of breaking Hank Aaron's home run record, OF Barry Bonds will sell his game-worn batting helmets this season, and they will be available in sizes 9 3/8 to 9 7/8. …
TIGERS: Lakeland fire fighters responded to a three-alarm blaze at Tigertown but it turned out to just be manager Jim Leyland lighting up his daily carton of cigarettes. … The jaws of life had to be used to separate a fan from LHP Kenny Rogers after the man shook the pitcher's hand. …
ANGELS: CF Gary Matthews Jr. held a news conference to release a statement that he will soon announce that he's still not talking. …
DODGERS: Owner Frank McCourt announced a new parking policy at Dodger Stadium -- parking meters will allow fans to pay for three, five, seven or nine innings. … A cherished spring training tradition dating back to 1947 came to an end this month when the Hollywood Madam cut off Tommy Lasorda. …
MARINERS: The Mariners announced that Gov. Christine Gregoire will throw out the first pitch on Opening Day, and 1B Richie Sexson will swing and miss it, stranding OF Ichiro Suzuki and OF Raul Ibanez at second and third. … Seattle bolstered its roster by giving IF Willie Bloomquist a three-year, $8.2 million contract extension. …
ROCKIES: In a new attempt to get out of last place, the Rockies plan to store general manager Dan O'Dowd in a humidor this season. …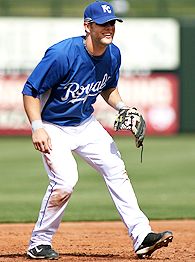 Christian Petersen/Getty Images
We're fairly certain that Alex Gordon still plays for Kansas City.
ROYALS:
One year after printing baseball cards showing Alex Gordon in a Kansas City uniform before he was in the major leagues, the Topps company accidentally jumped the gun again by printing cards showing Gordon in a Yankees uniform six years before they sign him as a free agent. … The Royals officially were eliminated from the AL Central title race. …
BRAVES: After missing the postseason last year, manager Bobby Cox vows that Atlanta has retooled, and he expects they'll be able to lose in the first round of the playoffs again. …
DEVIL RAYS: Tampa Bay announced its marketing slogan for the new season -- "You Gotta Love These Kids Before We Trade Them Away In A Couple Years When They Become Arbitration Eligible.'' … An MRI revealed no damage to OF Delmon Young's sore elbow, and the rookie was given clearance to resume throwing bats. …
PHILLIES: LHP Jamie Moyer, 44, said he is ready to pitch his 21st season after throwing six scoreless innings against the Blue Jays, with scouts measuring his fastball between "two-Mississippi" and "three-Mississippi.'' … 1B Ryan Howard showed midseason form when he hit a home run into Georgia. …
BREWERS: Milwaukee added a hot dog to its sausage races by signing OF Rickey Henderson. … The woman arrested for stalking Bob Uecker has been ordered to get no closer to the Brewers announcer than sitting in "the front rooowwww." …
INDIANS: Cleveland announced that it is renaming Chief Wahoo to something less offensive: Chief Noble Savage. …
WHITE SOX: RHP Bobby Jenks might not be ready to open the season because the White Sox can't find a jersey large enough to fit him. … Manager Ozzie Guillen turned down an offer to be grand marshal of the Chicago Gay Pride parade. …
BLUE JAYS: Manager John Gibbons is expected to name his opponent soon for his upcoming Canadian Welterweight Dugout title defense bout. …
PIRATES: RHP Roger Clemens visited the Pirates camp but said he was just lost after taking the wrong exit on his way to Tampa. …
Box score line of the week

The Athletics might have lost Barry Zito over the winter, but don't write them off yet. They withstood the loss of Tim Hudson and Mark Mulder earlier and also have a good young rotation with Rich Harden, Danny Haren and Joe Blanda. Harden showed what he can do last Thursday when he struck out nine batters in less than four innings. His line:
3 2/3 IP, 2 H, 1 R, 1 ER, 1 BB, 9 K
Tell your statistics to shut up

The first thing we would do as commissioner would be to ban all teams from opening their seasons on the same day as the NCAA championship game. Why teams insist on scheduling their openers for that day is beyond us. Almost all teams sell out their first game, so it doesn't matter what day they play, so why force your fans to choose between watching a season opener or watching the finale to the college basketball season? This isn't as much of a problem for day openers on the East Coast, but West Coast games are a different matter -- and it could be an especially tough choice for SoCal fans this year if either UCLA or USC reach the championship game and play at the same time as the Angels. Heck, most teams play Monday and take Tuesday off, so why not just take Monday off and play Tuesday instead? …
The Chinese national team had a big day over the weekend when it beat the Angels' Class A team 6-3 in Tempe, Ariz. "They played really, really well,'' manager Jim Lefebvre said. "They were very excited.'' …
MLB is trying to grow baseball in China by helping the national team prepare for the 2008 Olympics in Beijing. Led by Lefebvre and pitching coach Bruce Hurst, the team is training in Scottsdale this month, then will disperse its players to various extended spring camps in April before returning to China. …
I received a lot of positive responses to this week's column on San Diego minor leaguer pitcher Cooper Brannan, including many from soldiers serving in Iraq. Loyal reader Linda Vessa points out that unlike so many of us, Barry Zito is doing something with his Strikeouts For Troops project, in which he donates $200 for every batter he strikes out to help wounded soldiers. For more details and a full list of the 30-plus major leaguers donating to the cause, go to http://www.strikeoutsfortroops.org/index.htm.
Jim Caple is a senior writer for ESPN.com. He can be reached here. His Web site is at jimcaple.net, with more installments of "24 College Avenue." His new book with Steve Buckley, "The Best Boston Sports Arguments: The 100 Most Controversial, Debatable Questions for Die-Hard Boston Fans" is on sale now.