March 15 was a big day for Steve Hilbert. He took his 3-year-old son, Peter, to his first Milwaukee Brewers game at their spring training site in Maryvale, Ariz. Oddly, no one from Child Protective Services was there to charge Hilbert with abuse for leading his son into what undoubtedly will be a life of suffering as a Brewers fan.

"Is that cruel and unusual punishment or what?" Hilbert said with a smile. Then he shrugged his shoulders. "If it's good enough for Dad, it's good enough for him."
As a lifelong Brewers fan, Hilbert is a prime example of Generation M (M for Misery). You know how Red Sox fans used to whine about going 86 years without winning a World Series? And how Cubs fans moan about going 62 years without reaching the World Series? Well, not to diminish their anguish -- but what difference does it make if your favorite team didn't win for a couple decades before you were born? It's not like you suffered through any of those years.
That's where Generation M comes in.
Generation M includes any fan who has lived at least 25 years since his/her favorite team won it all. Why 25 years? Because a quarter-century is enough time for a fan to be born, build layers of scar tissue rooting for one team, and then pass on this anguish to another generation like a crack addict passing on the drug addiction to her child.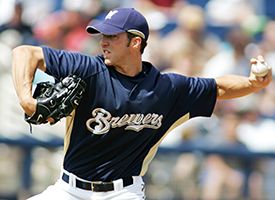 AP Photo/Rick Scuteri
Brewers fans hope their team has enough pitching to contend this season.
The demographics for Generation M plummeted in recent years after the Angels, Red Sox and White Sox won their respective World Series. But there are still 11 teams that can qualify a fan for Generation M, with the Brewers clocking in at No. 8 with 38 years without a world championship (counting their year as the Seattle Pilots).
And boy, have Brewers fans suffered in those years. They may not have had the sudden heart-wrenching postseason losses that Boston and Houston fans have endured, but that's because they've barely even known the satisfaction of reaching the postseason. Hell, Brewers fans would love to experience the sort of painful October losses Red Sox fans bitched about for so long. As it is, Milwaukee has gone 25 seasons since reaching the playoffs, the longest any current major league city has gone without a postseason appearance (the Washington Nationals/Montreal Expos haven't been to the postseason in 26 years, but that drought has been spread over two cities).
"You read stories about how it was that long for the Red Sox and this long for the White Sox," Brewers fan Steve James says. "And I'm like, 'Geez, what about us?'"
Teams often went 25 years without a postseason in baseball's old days, but to do it now with the vastly expanded playoff system? That's like Prince Fielder passing up the postgame spread 25 days in a row.
It's not for a lack of trying. The Brewers changed divisions. They changed leagues. They moved into a new stadium. For crying out loud, their owner was the commissioner of baseball! And they still can't get to the postseason. In fact, about the only things Milwaukee is known for over the past two decades are Randall Simon clubbing the Italian Sausage and the 2002 All-Star Game ending in a tie.
"I know, I know,'' Hilbert said wearily. "It's tough. I don't know what it is about loyalty, but you remember 1982 so fondly and you keep hoping and holding out for it to happen again."
Milwaukee fans were so joyously loud during the 1982 season, the magical summer of Harvey's Wallbangers, that you can still hear their echoes over a fully revved Harley Davidson. The Brewers rallied from a fifth-place tie in June to win the AL East title on the final day of the season, then became the first team to overcome a 0-2 deficit in the playoffs to win the pennant and reach the World Series. Paul Molitor set a record with five hits in Game 1 of the World Series, and Robin Yount had four hits in Game 5 to give the Brewers a 3-2 series lead. But Milwaukee lost Game 6 in St. Louis and blew a sixth-inning lead in Game 7 to lose the series. Nonetheless, 20,000 Brewers fans welcomed the team home at County Stadium to show their appreciation and cheer on Yount as he rode his motorcycle around the field (a ride as much a part of Milwaukee lore as Ruth's called shot is in Yankees lore).
Brewers infielder Craig Counsell is among those who fondly recall the 1982 team -- his father worked for the Brewers and he traveled to St. Louis to see two of the World Series games.
"People in Milwaukee are still really attached to that team," Counsell said. "It was a great team -- how many teams have four Hall of Famers [Yount, Molitor, Rollie Fingers and Don Sutton] -- and the city really connected with them and identified with them.
"Sometimes as a player, though, you wish you could do something special so the fans would stop talking about 1982. As good as those memories are for so many people, as a player on this team you want to give them memories of this year. You want to do something that will give them something to talk about this team for years to come."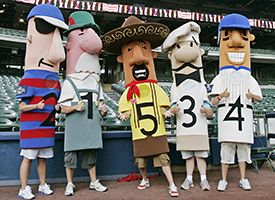 AP Photo/Morry Gash
Kinda sad when these guys are the stars of your franchise.
Can they? The Brewers haven't had so much as a winning record since offering Molitor a pay cut in 1992 (The Curse of the Ignitor?) but they have as good a chance of ending that drought as ever this year. The Brewers have a nice rotation (Ben Sheets, Chris Capuano, Jeff Suppan, Dave Bush), a decent infield (Fielder, Rickie Weeks, J.J. Hardy, Tony Graffanino and Counsell) and some power in the outfield. If the team can stay reasonably healthy -- always far more of a challenge in Milwaukee than finding a decent tavern -- the Brewers could even challenge for a division title.
Heck, look what the Tigers did last year.
It's probably too much to ask for the Brewers to win it all in October and get their fans out of Generation M. But after 25 frustrating years, Milwaukee folks aren't picky. As James said while watching the Brewers play in spring training, he's just happy "they know how to hit the cutoff man."
GENERATION M
If you're at least 25 years old and your favorite team hasn't won a World Series in your lifetime, congratulations! You've suffered enough to join baseball's Generation M. Fans in Generation M don't get bonus points for their team not winning before they were born; it's all about what you personally have endured. Of course, if you're 59 and root for Cleveland, we feel your pain.
Teams that have gone at least 25 years since their last world championship (or haven't won one at all):
Chicago Cubs (99 years): No World Series since 1945 and devastating losses in 1984 and 2003
Cleveland Indians (59): Blew a ninth-inning lead in Game 7 of the 1997 World Series
San Francisco Giants (53): No championship since moving to the Bay Area
Texas Rangers (46): Former Senators still haven't reached a World Series @
Houston Astros (45): Heartbreaking postseason losses in 1981, '86, and 2005
San Diego Padres (38): No championships and they had to wear those brown and mustard uniforms
Washington Nationals (38): Including Expos, no postseason since 1981
Milwaukee Brewers (38): It's what Bud deserves for stealing the Pilots from Seattle
Seattle Mariners (30): 116 wins in 2001 -- and still didn't reach the World Series
Pittsburgh Pirates (28): No winning season since letting Barry Bonds go in 1992
Philadelphia Phillies (27): No wonder Philly fans are always so angry
@: Of course, Rangers fans can only count all 46 years if for some reason they were rooting for the Washington Senators when the club joined the league as part of the 1961 expansion (the old Washington Senators moved to Minnesota and became the Twins the same year). Otherwise they only get credit for the 35 years since the franchise moved to Texas from DC.
Jim Caple is a senior writer for ESPN.com. He can be reached here. His Web site is at jimcaple.net, with more installments of "24 College Avenue." His new book with Steve Buckley, "The Best Boston Sports Arguments: The 100 Most Controversial, Debatable Questions for Die-Hard Boston Fans" is on sale now.