SAN FRANCISCO -- Rickey Henderson hasn't played in the majors in nearly four years, but he still has the instincts. He was sitting in the stands at Monday night's Giants-Mets game and caught a foul ball off the bat of San Francisco catcher Bengie Molina.
"The ball found me," he said proudly, that familiar grin spreading across his face. "I picked it up off the bat so quick -- like that! There were guys sitting around me reaching for it but they couldn't beat me to it. It was hit away from me so I caught it on the ricochet but if it had come right at me I would have snatched it -- YEAAAHHHHHH!!!"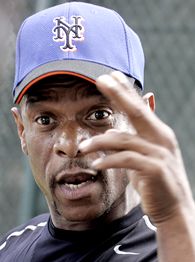 AP Photo/James A. Finley
Rickey Henderson is just dying to join his fellow 40-year-olds in baseball.
Rickey is 48 years old, but as he stood in the Mets' clubhouse and carefully fit a cap on his head, he looked like he could still lead off a game with a walk and steal second base, a feat which, Rickey being Rickey, he is absolutely certain he
can
do. "I could sit on the bench and score three runs." He still wants to play in the majors -- "Go out on my own terms," whatever that entails -- and why not? He's four months younger than the Mets' Julio Franco, who just happened to be walking by Rickey when I pointed out this fact.
"Hey!" Franco shouted, feigning offense. "How come whenever anyone brings up age, it always has to be about Julio?"
Rickey laughed. "Thank God for Julio Franco," he said later, after Franco left to stretch. "I bow and get down on my knees and praise the Lord that Julio Franco got a chance to play. But I can play with Julio Franco. And you have to name a whole lot of players that I can play with before you even get to Julio Franco."
I thank God for Julio Franco as well, for he is the only active player older than I am (45). I thought a lot about age during a three-game trip to San Francisco this week; it was impossible not to, with all the reminders. Sunday was Willie Mays' 76th birthday, as well as that of a 106-year-old fan at the Phillies-Giants game -- which made it a rare occasion when Philadelphia pitcher Jamie Moyer was not the oldest person in attendance. Also, Roger Clemens announced that afternoon that he would return to the Yankees at age 44.
Sunday's focus, however, was on Giants rookie starter Tim Lincecum, making his big league debut at age 22. He is less than a year removed from pitching at the University of Washington, and while talking with him, I realized we lived on the same floor of the McMahon Hall dorm at UW -- albeit a quarter-century apart. Lincecum looks so young and is so slight (5-foot-11, 160 pounds) that it's surprising the security guards let him into the stadium. "I had my bat bags with me so they really couldn't say much," he said. "Maybe they thought I was the bat boy."
"I was 4-foot-11 and weighed 85 pounds when I was a high school freshman," Lincecum said. "I was 5-2 as a sophomore, 5-7 as a junior and 5-9 as a senior. I was good for my size. I didn't have any big expectations. I was just playing for fun. My velocity was around 70 [mph] when I was a freshman. My sophomore year it was in the mid-70s. My junior year it was 80 or 82. And then my senior year it just jumped out of my hand one day and I hit 86 on the gun."
He now throws in the high 90s -- the stadium scoreboard listed one pitch at 100 mph on Sunday, but I think they were using the same radar gun the state trooper used when he tried to say I was doing 85 one night. Watching 98-mph fastballs pop out of his undersized frame is as stunning as it would be to hear Hamlet's soliloquy coming from Rob Schneider's lips. But Lincecum can pitch. He was 6-0 with a 0.99 ERA and 104 strikeouts in 64 2/3 innings in the minors, including 4-0 with a 0.29 ERA at Triple-A Fresno this season.
The crowd gave Linecum a standing ovation when he walked in from the bullpen. They gave him another standing ovation after he struck out three batters in the first inning (despite also giving up a two-run homer). And they gave him yet another standing ovation when he left with one out and the game tied in the fifth inning. If the crowd reaction seems a tad excessive for a pitcher who allowed five runs in less than five innings, it just goes to show you how excited San Francisco fans are for a young prospect.
"I was in the major leagues before that kid was even born," Barry Bonds said. "It just validates when the older guys were saying the same thing about me when I came up."
Actually, Barry was still in college when Lincecum was born. It just seems that he's been in the majors that long -- after all, he stepped into a big league clubhouse for the first time as a 4-year-old with his father in 1968, when Nolan Ryan was a rookie. "It's never seemed not normal to be in a major league clubhouse," Bonds said.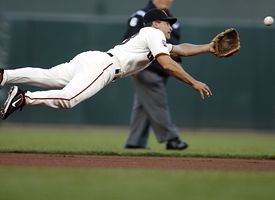 AP Photo/Tony Avelar
Bonds gets almost all the attention, but Omar Vizquel is a legend in his own right.
This is Barry's 22nd season in the majors, and he hit his 745th home run Tuesday night -- a long drive that carried well over the center-field fence and left him just 10 shy of the most cherished record in American sports. There is so much controversy surrounding Barry, so many steroid suspicions, that the commissioner isn't even sure he'll be there when Bonds breaks Hank Aaron's record (probably in the next month). That's sad, because whatever substances Barry did or did not take, he is an extraordinary athlete. He'll turn 43 in July, and yet he has more home runs this season than everyone but Alex Rodriguez, plus higher on-base and slugging percentages than anyone. I don't know whether he's ingesting anything stronger than cans of spinach, but I do know there is much more to it than what he puts in his body.
As my friend Scooter e-mailed me, "[Remember] Manny Alexander took steroids too!"
That Omar Vizquel is still playing shortstop is just as extraordinary. Vizquel made another brilliant diving stop in the hole on Tuesday, but he was proudest of doubling for his 2,500th career hit on Sunday. "That is a huge accomplishment for my career," he said. "A lot of people said, 'He can field but what about the bat?' Now, I am proud to say I'm among the 80 or so players in big league history with 2,500 hits. I play in an era with Derek Jeter, Miguel Tejada and [Alex] Rodriguez and those guys hit for power. But as long as I hit .280, I'm OK. There are a lot of things I can do. I can hit-and-run. I can steal bases. I can score runs. I'm an old-style shortstop."
And just plain old. Vizquel turned 40 last month, and has been playing professionally since he was 16. "It was tough," the native Venezuelan said of his first years in America. "It was fine as long as I was at the ballpark. The problems were when I left the ballpark. Where was I going to eat, where to go to wash clothes?" Omar made his major league debut in the same game as Ken Griffey Jr., and I remember seeing him snapping photos with his camera in the Kingdome dugout one afternoon. He took a lot of photos back then, he said: "Because I didn't know if I was going to be in the majors again after that season." This is his 19th season, and he will finish his career in Cooperstown, but I suppose uncertainty about being back next year is still a valid concern when you're 40.
Old is a relative thing, though. Consider 32-year-old Randy Winn. "In Tampa Bay I was the old veteran and then I went to Seattle where they had Mark McLemore, Edgar Martinez, John Olerud and Jamie [Moyer], and I was the young guy," he said. "Then all those guys left and they brought up young guys and I was the old guy. Then I got traded here with Barry and Omar and Moises Alou and I was the young guy again. It's like I found the fountain of youth."
Tom Glavine knows the feeling. He's 41, yet not even close to being the oldest player on the Mets. "Julio gives hope to us all," he said. "It should speak volumes to the young players about what you can accomplish if you take care of yourself."
Bowie Kuhn was commissioner and Cal Ripken Jr.'s consecutive games streak hadn't even started yet when Julio Franco played his first big league game in 1982. Twenty-five years and five commissioners later, he is still here. He is the oldest player ever to hit a home run, the oldest to pinch run, the oldest to be a full-time position player and the oldest … well, the oldest to do a lot of things. He attributes his longevity to the grace of God and advances in science, medicine and conditioning.
"I don't like to be behind the times," Franco said. "I don't like to live in the past. I like to live in the present and look to the future."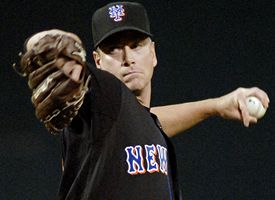 AP Photo/Linda Spillers
Tom Glavine will reach 300 wins pretty quickly the way he's pitching this season.
It was a good couple of days to be 40-something. Glavine faced Matt Cain, who is even younger than Lincecum, and beat him 4-1 for his 294th career win. Vizquel had the milestone hit and the diving stop. Barry hit the home run. Rickey caught the foul ball and talked about playing again. "I may do something crazy at the end of the year and hold a big press conference and tell every club, 'Put me on the field with your best players and see if I come out of it.' If I can't do it, I'll call it quits at the end."
But the most refreshing sight for me was noticing that Barry has a hint of a spare tire growing around his midsection. Even he, apparently, is subject to the same ravages of gravity and age as the rest of us.
Actually, there was an even more enjoyable sight -- Barry sitting by his locker after batting practice, watching the Cavaliers-Nets playoff game on TV and eating a hot dog. "Major League Baseball's breakfast of champions,'' he said.
Like Glavine said, it gives hope to us all.
Jim Caple is a senior writer for ESPN.com. He can be reached here. His Web site is at jimcaple.net, with more installments of "24 College Avenue." His new book with Steve Buckley, "The Best Boston Sports Arguments: The 100 Most Controversial, Debatable Questions for Die-Hard Boston Fans" is on sale now.