So many closers enter the game to heavy metal, there should be umlauts over the names on their jerseys.

San Diego's Trevor Hoffman enters to AC/DC's "Hells Bells." Baltimore's Chris Ray uses Marilyn Manson's "Sweet Dream." Minnesota's Joe Nathan uses Dio's "Stand Up and Shout." White Sox closer Bobby Jenks uses P.O.D.'s "Boom." Texas' Eric Gagne uses Guns N' Roses' "Welcome to the Jungle." Toronto's B.J. Ryan uses Slipknot's "Duality." Milwaukee's Francisco Cordero uses Saliva's "Click, Click Boom," while fellow Brewer Derrick Turnbow uses "Fuel" by Metallica. Yankee Mariano Rivera and Met Billy Wagner both use "Enter Sandman" by Metallica. And Washington's Chad Cordero uses "King Nothing" by Metallica.
It's to the point where a save situation requires a lead of three runs or less and a music-sharing deal with Metallica.
I suppose this music is part of the intimidation process. But if so, Metallica didn't provide enough intimidation to help Turnbow's 6.87 ERA and eight blown saves last year. Perhaps something nice and soothing, like Glenn Miller's "Moonlight Serenade" or a little Marvin Gaye, would work better. Sure, it might not get the adrenaline pumping. But on the other hand, Israel Kamakawiwo'ole's version of "Somewhere Over the Rainbow" could lull the batter into a deep state of relaxation, allowing a closer to blow a strike past him.
"But then I might fall asleep, too," Seattle closer J.J. Putz said.
Fair point. Putz, by the way, enters the game to AC/DC's "Thunderstruck," saying that the metal music fires him up. Wagner says the same thing: "It always gives you a little extra adrenaline when you're not feeling your best." Wagner isn't a big metal fan, but "Enter Sandman" has been his theme song since his days in Houston. "I never even picked it -- it was given to me," he said. "Jeff Bagwell picked it."
But why does the theme music always have to be metal? Must everyone have the same style? Can't anyone be original and carve out their own identity? If there's room enough for 265-pound Bobby Jenks on the mound, can't John Williams squeeze onto the playlist with AC/DC? It's bad enough the Cubs must endure their bullpen; must the rest of us suffer through a Motley Crue as well?
I don't blame the closers. As Wagner points out, they don't always choose their own music. Often the people deciding on the music are some guys up in the sound booth, and they just copy each other. Hoffman and Rivera have heavy metal played, so every other closer gets heavy metal, too.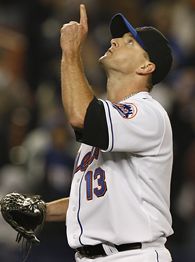 AP Photo/Julie Jacobson
Billy Wagner might want to try something different, if only because everyone knows there's only one Sandman in New York.
It's enough to make you envy the batters. At least they're wearing helmets with ear flaps.
Of course, not all closers rely on metal bands. Detroit's Todd Jones chose "Last One Standing," a song by Bart Millard and the popular Christian rock band Mercy Me.
"He was kidding me one day about why don't I come out to one of Mercy Me's songs" Jones explained in an e-mail. "Before their last album I would have described them as 30-year-old soccer-mom music -- in a good way. Well, they changed that when they wrote 'Last Man Standing' off their album 'Coming Up to Breathe.' It's got a double meaning. It's about how as Christians we're supposed to stand up when it's tough to stand up for what we believe in. As a closer it's tough sometimes to go out there, but you must stand up and your goal is to be the last one standing. It's OK to stumble but don't fall. And when I close games I do that and that is why it's perfect for me."
"Last Man Standing" rocks hard enough to work for Jones -- proving you can pump people up without relying on one narrow genre of bands. What we need to do is think way outside the box.
The fourth movement from Beethoven's Ninth Symphony (aka "Ode to Joy") is the most inspiring piece of music ever written that doesn't involve Rocky Balboa. If that isn't sufficient to ready you for protecting a three-run lead, I don't know what is. But if Beethoven is a little too high-brow for guys who think the highest form of comedy is lighting their farts, there are plenty of other options.
Randy Edelman's theme music from "Dragon" is so emotion-stirring that it is often used in the trailers for other movies. Surely it could stir up enough adrenaline for Gagne to protect a three-run lead. Mendelssohn's Symphony No. 4 in A Major Opus 90 got Dave Stoller to ride 60 miles per hour in "Breaking Away" -- perhaps it could help Rivera crack 93 mph on the gun? Cordero would feel unhittable -- even if facing Barry Bonds -- as long as the "Rocky" theme played. Jenks' chest would swell to match his stomach if R. Kelly's "The World's Greatest" played whenever he appeared. What could be more appropriate for Nathan's entrance than the Toreador March from Carmen? Unless, of course, he came in running barefoot to "Chariots of Fire" by Vangelis.
Hells bells, you could score an entire league of closers, plus their lefty and righty setup men, by downloading John Williams' greatest hits -- beginning with the themes to "Star Wars" and "Raiders of the Lost Ark" and running all the way to "Saving Private Ryan" and the 1984 Olympic Fanfare.
So let's exit Sandman, say farewell to the Jungle and dethrone Queensryche. You don't need Ozzy Osbourne to snap bats in half.
BOXSCORE LINE OF THE WEEK
Metal certainly hasn't helped the Yankees' bullpen this season, and their pitching problems continued when Scott Proctor took over with a 2-1 lead and one runner on last Sunday, then gave up a double and three walks -- the last two with the bases loaded -- to give the Angels the lead and New Yorkers this great headline: Proctor Dolittle.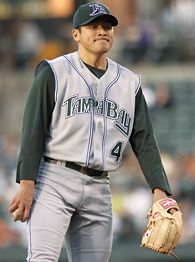 AP Photo/Gail Burton
Jae Seo gave up a bunch of hits? What a shocker.
Still, this week's award goes to Tampa Bay's Jae Seo, who twirled a 13-hitter against the Mariners last week. His line:
5 IP, 13 H, 7 R, 6 ER, 1 BB, 1 K
What makes the feat prizeworthy is that Seo got the win, becoming just the 10th pitcher in the 2000s to give up that many hits or more and win (according to the research tools available at the indispensable Retrosheet.org).
TELL YOUR STATISTICS TO SHUT UP
• Having covered baseball players for 20 years, I could tell you some juicy stories. But I won't. That's because a player's personal life is his personal life -- and if it doesn't affect his play, it's nobody's business. To tail a player and publish what he does on his own time is setting a standard lower than the Mendoza Line. Just how well would reporters hold up under the same scrutiny? And since when is a ballplayer going to a strip club newsworthy?
• If only this conversation could have been on YouTube. Secretary of State Condoleezza Rice, visiting San Francisco with Australian Prime Minister John Howard, went to a Giants game last week and sat with Willie Mays. People who saw them said they were having a great time. Turns out that Rice's mother taught Willie at Fairfield Industrial School in one of the poorest parts of Birmingham, Ala.. If this isn't an encouraging story, I don't know what is: the daughter of a teacher who taught in the segregated South winds up Secretary of State.
• Here's another look at the new postseason schedule, aka "No game tonight." If an American League team swept their division series and won the ALCS in five games, its postseason schedule could look like this: Three days off … two days of games … a day off … a game … four days off … two days of games … a day off … two days of games … a day off … a game … five days off. That's eight days of games and 15 off days.
• Would the Yankees be looking to void Jason Giambi's contract if he were hitting better? Of course not. So what it comes down to is not whether Giambi admitted to something that wasn't specifically banned at the time, but whether a team feels it got a bad return on its investment. And that's not adequate grounds for ripping up a contract.
INFIELD CHATTER
"Top 10 Surprises in Al Gore's New Book":
4. In his opinion there's no species more endangered than the Yankees' pitching staff"
-- David Letterman
Jim Caple is a senior writer for ESPN.com. He can be reached here. His Web site is at jimcaple.net, with more installments of "24 College Avenue." His new book with Steve Buckley, "The Best Boston Sports Arguments: The 100 Most Controversial, Debatable Questions for Die-Hard Boston Fans" is on sale now.