A month after ending his "retirement" and signing with the Yankees, Roger Clemens missed his first scheduled start because of a "fatigued" groin. The Yankees remain hopeful he'll start this weekend in Pittsburgh, but if they really want to know what lies in the Rocket's future, they just need to look into the Off Base crystal ball…

June 7:
New York loses 11-6, falling 13½ games behind Boston. Clemens changes his mind about signing with the Yankees, saying he wants to go back to the University of Florida.
June 8: General manager Brian Cashman says New York won't let Clemens out of his contract, but manager Joe Torre will let him telecommute.
June 9: Clemens misses his scheduled start against Pittsburgh when he "pulls" his right groin again while watching Spectra-Vision in the team hotel.
June 11: Clemens cashes his first paycheck, then strains his back carrying the money to his car. The disabled list follows.
June 12: With their team now 15½ games out of first place, Yankees fans anxiously await Clemens' appearing from the Yankee Stadium dugout for the first time in four years. They are disappointed, however, when he sees his shadow, indicating six more weeks on the DL.
June 14: Clemens misses another start when he misunderstands the meaning of "home game" on his pocket schedule. He apologizes, saying he just assumed the Yankees would be playing in his backyard in suburban Houston.
June 15: Prior to taking the mound for his long-awaited first start, Clemens rubs his nose on the Babe Ruth plaque in Monument Park and develops a blister on his right index finger. Back to the DL.
June 18: With their team now 16½ games out of first place, Yankees fans anxiously look to the owner's box for the white puffs of smoke emerging from George Steinbrenner's ears that will indicate a new manager has been chosen.
June 19: Clemens finally makes his first start and strikes out the leadoff batter on an 89-mph fastball. Suzyn Waldman goes on the DL with a perforated larynx and a ruptured urethra.
June 24: In a highly awaited interleague game, Clemens hits Mike Piazza in the head with a pitch, even though he's pitching to Barry Bonds in San Francisco at the time and Piazza is across the Bay in Oakland.
July 4: Clemens walks seven and hits two batters after getting distracted by A-Rod repeatedly chanting, "Hehhehhehheh, he can't hit, he can't hit" and "We wanna pitcher, not a belly-itcher!"
July 16: The New York Post breaks its travel budget when the paparazzi crew assigned to tail Clemens on his way home from the ballpark each night winds up repeatedly following him on a flight all the way to Houston.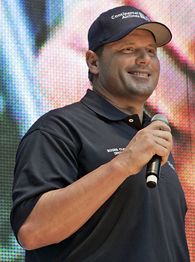 AP Photo/Frank Franklin II
Yankees fans better enjoy Clemens while they can -- because he could be pitching for someone else in the postseason.
July 22:
With the Yankees now 24 games behind Boston, Clemens demands to be traded to a contender, preferably one located within walking distance.
July 30: Clemens becomes the first pitcher to throw a shutout and be inducted into the Hall of Fame on the same day.
Aug. 4: Clemens turns 45, strains his back blowing out the candles on his birthday cake, and returns to the DL.
Aug. 17: Clemens runs his record in simulated games to 17-6.
Sept. 1: Rosters expand, and the Yankees fulfill a little known codicil in Clemens' contract by acquiring his oldest son, Koby, from the Astros, and calling up his three other sons, Kory, Kacy and Kody, along with his wife, Debbie.
Sept. 9: The Yankees move within four games of the wild card when Clemens becomes the first pitcher ever to throw a no-hitter with his wife behind the plate.
Sept. 19: Playing an All-Clemens infield, the Yankees win their 14th game in a row to move into the wild-card lead.
Sept. 29: Clemens strikes out 12 and beats the Orioles 4-1 to clinch the wild card for the Yankees. The postgame celebration is dampened, however, when Clemens points out that his contract covers only the regular season and that he plans to file for free agency the next day.
Oct. 1: Angels owner Arte Moreno beats out all bidders to sign Clemens for the postseason when he agrees to change his team's name to the Los Angeles Angels of Katy, Texas … and then move there.
Oct. 6: Playing in front of an overflow crowd of 1,237 at Katy High School Field, the Angels win their division series with the Yankees when Clemens strikes out 14 batters, including Debbie three times.
Oct. 21: After the Angels lose the ALCS, Clemens signs with the Indians for the World Series against the Dodgers.
Nov. 1: Clemens pitches seven scoreless innings, but Cleveland loses Game 7 of the World Series 2-1 to the Dodgers. Clemens immediately signs with Los Angeles, then runs onto the field with a bottle of champagne to join the postgame victory pile. "Now I can retire in peace," he says. "I just wanted to go out a winner."
Nov. 5: Clemens officially announces his retirement. Debbie files for free agency, however, and Cubs general manager Jim Hendry signs her to a five-year, $65 million contract.
BOX SCORE LINE OF THE WEEK
Houston reliever Trever Miller had a nearly impossible line -- 0 IP, 0 H, 2 R, 2 ER, 0 BB, 0 K -- by hitting a batter and allowing another to reach base on a sacrifice bunt/fielder's choice (both scored) -- but he was topped by someone who threw a lot more innings over the weekend. Brooklyn Cyclones assistant general manager Kevin Mahoney pitched more than 11 hours and threw more than 500 pitches in a series of games when his staff played 24 consecutive hours of baseball to raise money for a local food shelter. "My arm feels great," he told Off Base a couple days later. "I actually wanted to pitch more, but my back couldn't handle it."
Nonetheless, here's Mahoney's impressive line:
28 IP, 47 H, 28 R, 10 ER, 2 BB, 16 K
"There were some interesting comments on the message board to the ESPN.com story about it," Mahoney said. "Somebody asked if Dusty Baker was the manager."
His nickname, naturally, is now "Rubber Arm."
TELL YOUR STATISTICS TO SHUT UP
• Off Base is a little confused about all the angst over A-Rod's distracting third baseman Howie Clark by yelling "mine" or "hey" or "your fly is open" or whatever he supposedly shouted last week. Yeah, it was kind of bush-league, but how much worse is it than a fielder's deking a baserunner or pulling the hidden ball trick? This sort of stuff used to go on all the time -- John McGraw would grab players by the belt buckle to hold them up on the basepaths -- but players are too uptight these days. Derek Zumsteg, author of "The Cheater's Guide to Baseball," called it a smart play -- adding that if it was Jeter who did it, "He'd be applauded for his quick thinking and resourcefulness. He'd get a full back-page spread with a suitably semi-clever headline like 'Captain Confusion!' Alex, though? 'Ridiculous. Bush league.'" Exactly. The person at fault here is not A-Rod, but Clark -- who fell for something so stupid. The correct response would have been to catch the popup, then drill A-Rod the next time he bats. That would put a quick end to it. BTW: Mariners second baseman Jose Lopez told the Seattle Post-Intelligencer that A-Rod shouts stuff like that all the time.
• By now you must have seen Double-A manager Phillip Wellman's bit of performance-art following his ejection last weekend. His initial reaction was poorly paced -- was he angry or just constipated? -- and far too derivative of the true master, Lou Piniella. But Wellman took the art form to a new level with his "storming the beaches at Normandy" grenade act. Well-played, Mr. Wellman. Bravo. And thumbs-down to the humorless officials who suspended you. Thumbs-down also to the major league officials who suspended Piniella four games for his tirade last Saturday. If that relatively restrained behavior got Lou suspended for four games, what will he get when he really has a nut-out?
• Unusual game in Toronto last week when the Blue Jays had just two hits -- each a solo homer -- and didn't reach base any other time but still went on to beat the White Sox 2-0. What's so unusual about that? According to the Elias Sports Bureau, Toronto became the first team in modern major league history to win a game in which it had no runners on base while another player was at bat. It sounds amazing that this never happened before until you consider this -- very few teams have lost a game in which they never had a baserunner.
• You know what really irritates Off Base? Not knowing how long the commercials/trailers will last before a movie. It once was a dependable 15-20 minutes, and you could plan accordingly by either: (a) showing up 10 minutes late for the movie, or (b) showing up on time with a copy of "The Baseball Encyclopedia" to read while you waited. But now it's becoming unpredictable, so you never know how long the pregame show will be. Is this intentional, so that you're forced to show up in time for all the commercials "just in case"? Maybe, maybe not. But Off Base showed up seven minutes late for the scheduled start of "Knocked Up" over the weekend, and the commercials not only were still showing, they went on another five to seven minutes. There was an Army recruiting commercial so long and overblown it was enough to make you call for a return of the draft. Then, when the trailers finally started, they were all for lousy movies (who was it exactly, who greenlighted another "Die Hard" movie?). And after the trailers ended, there was a promo for the concession stand. Yeah, like we're going to endure all those crappy commercials and then miss the first 10 minutes of the actual movie we paid $9.75 to see so that we can go stand in line for a $5.75 box of popcorn and a $4.50 medium Pepsi ("You can get a large for just a quarter more"). "Knocked Up" finally started 25 minutes after its scheduled start, by which point Off Base was in a very bad mood. Fortunately, "Knocked Up" is a refreshing change of pace from the bloated sequels polluting our screens this season -- though it does have one significant error. There is a scene (no spoiler here) that supposedly takes place at a fantasy baseball draft, yet it takes place after "Spider-Man 3" has opened. What kind of league holds its draft in late May? This is the most mixed-up bit of baseball scheduling in a movie since "Rain Man," when the supposed mathematical savant could not figure out the difference between a four-man and a five-man rotation for Fernando Valenzuela.
• Surprisingly, I got a lot of readers agreeing with last week's column about the overuse of heavy-metal intro songs for closers. I'm also embarrassed to say that I missed a clear alternative piece of music -- Wagner's "Ride of the Valkyries," which was suggested by several readers. And Ryan Gray sent this message: "I was in the hospital recently, and the nurse was having a hard time drawing blood, so they called in this guy who does only that and he came strolling in with his cart and -- bam -- had his vial of blood in no time. Which made me think that the closer should be expanded to regular life. I could see that nurse picking up the intercom, tapping on her arm and bringing in the phlebotomist, who would come striding in to the thunderous strains of 'Aenema' by Tool (this was the song the phlebotomist said he would enter to). If my company had, say, a desperate copying or collating situation, and I was called from the bullpen, I would come in to 'Skills to Pay the Bills' by the Beastie Boys. So if Page 2 needed a baseball story pounded out by the deadline and called Caple in from the pen, what song would you have played?" Excellent question, my friend. And after careful consideration, I pick U2's "Beautiful Day."
And finally, those readers who remember my E-Ticket story on Joey Cheek and Right to Play last year might be interested to know that the international athletic charity has partnered with adidas and Zinedine Zidane to sell limited-edition soccer balls for $10 at adidas.com.
Jim Caple is a senior writer for ESPN.com. He can be reached here. His Web site is at jimcaple.net, with more installments of "24 College Avenue." His new book with Steve Buckley, "The Best Boston Sports Arguments: The 100 Most Controversial, Debatable Questions for Die-Hard Boston Fans" is on sale now.