With Ken Griffey Jr.'s returning to Seattle this weekend for the first time since asking to be traded to Cincinnati after the 1999 season, Off Base imagines what might have happened had Junior stayed in Seattle instead …

SEATTLE -- Ken Griffey Jr. said his recent purchase of the Seattle SuperSonics has not been a distraction this season. "It's not that big a deal -- I just wanted to do something for Seattle fans by keeping the Sonics in town," the beloved Mariners outfielder said. "I also wanted to make sure I had at least one team that played every game with the roof closed and always wore sleeveless jerseys.
"Really though, the negotiations helped take my mind off the home run chase."
Griffey enters this weekend's series against the Cincinnati Reds with 754 career home runs, one homer away from the most hallowed record in sports and six ahead of Barry Bonds. The home run race between Griffey and Bonds has gone back and forth the past few seasons, captivating the nation so much that the E! Network recently added reporters to the baseball beat by going with only single coverage of Paris Hilton's jail sentence.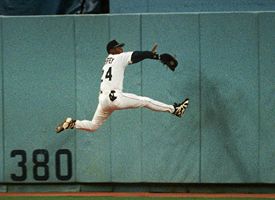 AP Photo/Gary Stewart
Seattle fans got used to seeing Junior make plays like this all the time.
"The coverage has gotten out of control -- I mean, it would be nice if some fans were able to attend the games again," Griffey said while talking before batting practice to 47,470 reporters -- the fourth consecutive game for which media representatives filled Seattle's stadium to capacity before a single ticket could be sold. "I don't mind answering Oprah's questions on her pregame show, but I'm not doing any more postgame shows with al-Jazeera -- those guys don't know %#@$ about baseball."
In contrast, only four reporters are following Bonds, who is not talking to any of them.
That Griffey could break the record this weekend is ironic, given that he would be playing with the Reds had he not changed his mind in 1999 after requesting a trade to Cincinnati to be closer to his family in Orlando, Fla.
"I was all set to approve the trade until I looked at the map and saw that Cincinnati was something, like, 900 miles from Orlando," Griffey said. "So I decided at the last minute that the grass isn't always greener in the other ballpark -- it just looks that way when the right-field power alley is only 360 feet from home plate. But I will say, the grass is definitely greener in Seattle when the roof is closed."
Keeping Griffey happy in Seattle hasn't been easy, though. He hated the Mariners' new stadium when it opened in 1999, claiming that fly balls didn't carry as far as they did in the Kingdome. When he demanded that the roof be closed even in sunny weather because the ball carries better that way, the Mariners initially refused, then reached a compromise by closing it every time he batted. The team also balked at Griffey's demand that the fences be moved in, but eventually compromised by moving home plate out. The Mariners flat-out refused to play their home games in Orlando, but were able to appease their superstar by renaming themselves the Orlando Mariners of Seattle. He also was allowed to use all his old postage stamps for his fan mail whenever the post office raised the price again.
Staying in Seattle likely helped Griffey's career because playing with an American League team allowed him to DH and rest his legs when they ached, possibly preventing frequent trips to the disabled list. He also was no doubt helped by the league's controversial 2002 addition of the courtesy runner.
Griffey's decision to stay definitely helped the Mariners, as did Alex (Mr. October) Rodriguez's choosing to turn down a $250 million contract from the Rangers because "winning is more important than money." Averaging nearly 50 home runs per season, Griffey has led the Mariners to three World Series and so many prime-time series each fall that Fox has started referring to the postseason as "CSI Seattle." He won Game 7 of the 2003 World Series with a three-run walk-off homer when the late Steve Bartman leaned over the outfield fence and kept Cubs outfielder Moises Alou from catching what could have been a game-ending flyout.
That's the most famous home run of Griffey's career -- or at least it will be until he breaks the record. The Griffey-Bonds home run chase has been billed as "The Natural vs. The Test Tube Baby," "Cream of Wheaties vs. The Cream" and "The Clear Choice vs. The Clear," with the vast majority of fans outside of San Francisco rooting for Junior to hit No. 756 first. This, too, is ironic considering that Bonds has never tested positive for a performance enhancer while Griffey's home run production soared after he took a mysterious "nerve tonic" that also caused his head to swell with "Gigantism" before a company softball game in 1992.
Nonetheless, Griffey is MLB's obvious choice to break Aaron's record. While Aaron has repeatedly said he would not watch Bonds break his record, and commissioner Bud Selig hasn't said whether he would go to the game or not, both are openly rooting for Griffey so much that they each moved to Seattle and bought season tickets to the Mariners.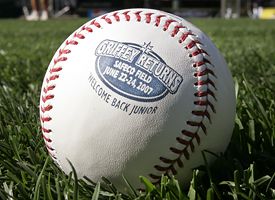 AP Photo/Elaine Thompson
There's even a ceremonial baseball commemorating Griffey's return to Seattle.
"That's the worst part, the way Hank and Commissioner Selig are always around hounding me," Griffey complained. "Hank keeps giving me batting tips and offering to steal the signs. And the commissioner keeps offering to suspend Barry for not cooperating with the Mitchell investigation.
"But I don't need any help because it's not that important to me. After all, I already hold the record for most home runs by someone who is not a home-run hitter. And I just want to help my team win so that we can have another championship parade, this time on the new Seattle monorail system that just opened and ended all the city's traffic problems. That celebration is going to be even bigger than when the Seahawks beat the Steelers in the Super Bowl, or when Microsoft solved all the security problems on the Vista operating system."
BOXSCORE LINE OF THE WEEK
Houston's Chris Sampson pitched a 14-hitter Monday, but as impressive as that was, Off Base gives this week's award to the Angels' Chone Figgins. While Sampson was allowing his 14 hits, Figgins was becoming the first player in three years to get six hits in a game (Raul Ibanez was the previous player to do so, in 2004). He completed his 6-for-6 night with a game-winning triple in the ninth inning. "I don't think I ever did that in a video game, much less in a professional game," Figgins told reporters.
His line:
6 AB, 1 R, 6 H, 3 RBI
Figgins had more hits in one day than Yankees catcher Wil Nieves has all season (five) in 43 at-bats. Thank heavens for Jorge Posada, eh Yankees fans?
TELL YOUR STATISTICS TO SHUT UP
• So Jason Giambi has agreed to meet with George Mitchell. Wonderful. What Off Base can't figure out is why baseball is so hell-bent on having Mitchell talk to Giambi or any other player. How does digging into the festering wound of steroids help baseball at all? Will it enlighten us? No, everyone already knows a lot of players took steroids. Will it end the relentless criticism baseball receives about steroids? No, it will only keep the issue in the spotlight and encourage the media to continue bitching about it. Will it make any fans feel better about recent statistical performances? No, it will only make them question those stats further. The best way for commissioner Bud Selig to handle this is to say, "Hey, I'm sorry we didn't have a steroid policy earlier. I wish we did. But I also wish I had re-signed Paul Molitor in 1993 instead of signing Franklin Stubbs. What is important is that we have a testing program NOW and the toughest punishments around. So we're going to move forward." Any other approach simply prolongs the criticism and punch lines.
• The Mariners are welcoming home Junior with a special ceremony before the start of Friday's game, which is a little odd considering they are honoring a player who pretty much insisted on being traded away from Seattle. This is the second ceremony the Mariners have held this season for a player who no longer plays for them (retired Edgar Martinez was the other), which is usually a sign of a team that has lost way too many games in recent years.
• As an Off Base correspondent in West Bloomfield, Mich., points out, Detroit's Andrew Miller made the first three starts of his career against National League teams, which is not easy to do when you pitch for an American League team. Nor is winning three consecutive games in three different ballparks, scoring the winning run in their last at-bat each time. But the Mariners recently did just that, winning a game in San Diego, followed by a victory in a makeup game in Cleveland the next day and then a win at Wrigley Field the day after that.
Jim Caple is a senior writer for ESPN.com. He can be reached here. His Web site is at jimcaple.net, with more installments of "24 College Avenue." His new book with Steve Buckley, "The Best Boston Sports Arguments: The 100 Most Controversial, Debatable Questions for Die-Hard Boston Fans" is on sale now.