How much did Ken Griffey Jr. mean to Seattle? So much that his return this weekend is a sellout and an expected lovefest, even though he arranged to have himself traded out of town seven years ago.
Here are a dozen other players from the past two decades who were/are beloved by their team's fans:
Cal Ripken Jr., Orioles: There is nothing worse for a fan than to travel a long distance and shell out hard-earned money for a ticket to see your favorite player, only to find out he isn't in the lineup that day. For almost 17 years, that was never a problem for Ripken fans, which is just one of many reasons Cal tops this list.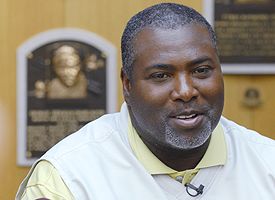 AP Photo/Tim Roske
Tony Gwynn, one of the all-time greats, will soon be inducted in Cooperstown.
Tony Gwynn, Padres:
That both Ripken and Gwynn are being inducted into the Hall of Fame this year is the reason hotel rooms in Cooperstown have been sold out for induction weekend practically since the day each retired. Gwynn not only played his entire career with the Padres, he played at San Diego State and also coached there after his retirement as a player.
Kirby Puckett, Twins: That Puckett's reputation wound up soiled in the end is a shame, because for years he was the most popular and respected player in the game -- and not just in Minnesota. I still remember him patiently signing 10 cartons of baseballs before a game -- "If it takes me 30 seconds to make someone happy, why not do it?" he said in between autographs. Then he signed a bat handed to him: "To Ken Griffey Jr. all my best. Kirby."
Don Mattingly, Yankees: We know all about Derek Jeter, and the four World Series rings, and how he's The Man. But we also know many Yankees fans gladly would give up one or more of those rings if Donnie Baseball could have played in the World Series just once.
Edgar Martinez, Mariners: As popular as Griffey was in Seattle, Edgar might have been even more beloved. He's the one who won Game 4 of the 1995 division series with seven RBIs. He's the one who drove home Griffey the next night with his double. And he's the one who never once complained or moped, but instead just went about his job with quiet dignity and class.
Ozzie Smith, Cardinals: St. Louis named a highway after Mark McGwire, and Cardinals fans swoon over Albert Pujols, but for 15 years Ozzie flipped over St. Louis and vice-versa.
Jeff Bagwell and Craig Biggio, Astros: Sorry, but these two can't be separated any more than Chang and Eng could. It was tough enough when Bags retired. When Beege leaves sometime after his 3,000th hit, then Houston really will have a problem.
George Brett, Royals: And Kansas City hasn't had a damn thing to cheer about since he left.
Robin Yount, Brewers: As integral a part of Milwaukee as stadium sauce, brats and beer.
Nolan Ryan, Rangers: Generally speaking, pitchers rarely become truly beloved because they just aren't out there that often. But Ryan was an exception -- if not for all those no-hitters and strikeouts and age-defying games, then for giving Robin Ventura the beatdown of his life. Don't mess with Texas.
David Ortiz, Red Sox: In just five seasons, Big Papi has made Boston fans so happy they hardly even flinch at Bill Buckner's name anymore.
NEAR-MISSES
Derek Jeter, Yankees:
Loved but needs to prove he's a winner again. (Sarcasm alert.)
Albert Pujols, Cardinals: Not quite in Ozzie's class. Yet. But soon, and for the rest of his life.
Sammy Sosa, Cubs: They loved him more than beer. Until they didn't.
Barry Bonds, Giants: Not even in San Francisco is the love truly universal.
John Smoltz, Atlanta; Trevor Hoffman, Padres; Pedro Martinez, Red Sox; Mariano Rivera, Yankees: Pitchers just don't play often enough to become truly beloved. Unless they beat up Robin Ventura.
Nomar Garciaparra, Red Sox: Until it ended bitterly, Nomar was as popular as a player can get in Boston.
Alex Rodriguez, Yankees: Just kidding.
Jim Caple is a senior writer for ESPN.com. He can be reached here. His Web site is at jimcaple.net, with more installments of "24 College Avenue." His new book with Steve Buckley, "The Best Boston Sports Arguments: The 100 Most Controversial, Debatable Questions for Die-Hard Boston Fans" is on sale now.