Jim Caple Covers McCovey Cove
McCOVEY COVE, Calif. -- Enough is enough. Baseball finally needs to do something about performance enhancers. From now on, they must make sure that all Home Run Derby participants get a full dosage of steroids. Or at least aluminum bats.
I mean, c'mon. I paddled my kayak around McCovey Cove for more than five hours Monday and never came close to getting a ball. No home runs were hit into the water during the Derby. Only two foul balls reached the Cove. No left-hander got beyond the first round. It must be what playing outfield behind Johan Santana is like.
Of course, even had there been a home run, I never would have had a chance to catch it. The Coast Guard strictly limited access to McCovey Cove for the Derby, by which they must have meant that only Northern California was allowed on the water. Folks began paddling in around 10 a.m., and by the first pitch there were so many kayaks, rowboats and rubber rafts that squeezing into the Cove was like Prince Fielder trying to slip into a bathtub. There were teenage boys and girls on surfboards, 30-something men in wetsuits and 40-something women in canoes. There was one guy on a giant inflated duck and four guys on a giant putting green. There were guys wearing little more than body paint and others dressed as masked Mexican wrestlers. It was like a giant floating frat party, if only someone had thought to bring a keg.
"I've got one," the rower next to me said. And sure enough, he did. Along with a barbecue grill.
How wild was it? There was a guy dressed as Elvis, a guy dressed as Fred Flintstone and a guy dressed as a Viking. And they were all the same guy -- McCovey Cove regular Jay Austin, who kept changing costume.
Austin retrieved one of the few balls hit into the Cove all afternoon -- a home run off the bat of Barry Bonds during batting practice. He was so excited when the ball landed near his kayak that he plunged into the water in full Presley regalia, giving new meaning to the "Elvis has left the building" home run call. "There was a little Memphis magic going on," he said, showing me the ball.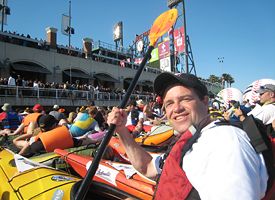 Vicki Schuman photo
Maybe our humble correspondent didn't score
a baseball, but he had a blast nonetheless.
I met Austin in the Cove at a game back in May when he told me how in the early days he would float around in a 7-foot inflated sea horse. "I didn't have a wetsuit at first, so to keep my feet from getting cold, I'd drink a fifth of Chivas Regal with some Vicodin," he said. "One day I just passed out and floated into the Bay. I was just out of it. [Fellow Cove regular] Larry Ellison paddled out and rescued me. If it hadn't been for him, I'd have ended up in Oakland. I was dressed up as Tom Hanks in 'Cast Away,' with the loincloth and volleyball and everything. The last thing I remember is shouting, 'You just hold on, Wilson!'"
Ellison and Austin are among 10 or so hardy McCovey Cove veterans who are out here most every game, come sun, fog or rain. They have a strong camaraderie, sharing bratwursts and fried chicken while passing their time on the water. Some have grown so close that they've helped each other out financially.
So what did Austin have to say to all these loud, unruly newcomers crashing the party and swelling the Cove? "Welcome to the family!!!"
The McCovey atmosphere may normally be family-like, but Monday it was best described as "crowded." I got into the cove about 2½ hours before the first pitch and was already too late to get near the prime splash zones beyond the right-field power alley. I spent the afternoon jockeying for space with other fans as well as fighting the wind and current that kept pushing our kayaks out past center field. We were packed so tightly together that paddling was often impossible and we simply grabbed onto adjoining kayaks to push and pull our way through the crowd. At one point, I somehow wound up facing away from home plate and was so wedged in I had no hope of turning around. If a home run did sail my way, I would have to catch it with my back to the plate, a la Willie Mays against Vic Wertz.
Not that it mattered because the batters weren't cooperating in the slightest. We waited expectantly when the Derby began, edging anxiously forward when a left-handed batter took his turn, then sinking back with disappointment when he failed to deliver. Our hopes were highest for Ryan Howard, last year's home run champ, who swatted several long balls into the river at the Derby in Pittsburgh. Surely he would scatter baseballs throughout the Cove.
And then again … maybe not. Howard didn't homer in his first seven swings and didn't get beyond the first round.
When all the lefties were eliminated, the crowd instantly began to thin, realizing that it was extremely unlikely a right-handed hitter could blast a home run the opposite way into the Cove. I mean, not unless they suddenly put Kip Wells on the mound.
But it was still a great afternoon. One fan gave me a pint of Guinness. Another offered a can of Budweiser. The guys on the putting green -- the McCovey Cove Country Club -- brought me aboard and gave me a putter to try my luck on the constantly bobbing course ("You have to read the break"). And while I didn't get a home run, I didn't drown, either.
And best of all, it was a gorgeous summer afternoon on the water. The fans in the ballpark had a good view of the Derby, but I had a far more dazzling view from my seat. With the ballpark, the bay and the setting sun against the deep blue sky, the Cove was so scenic it could have been an Ansel Adams print. No, I didn't take home a baseball as a souvenir, but that view was a pretty special memento.
I'll tell you this much: It sure as hell beats whatever view there will be outside Yankee Stadium at next year's All-Star Game.
Jim Caple is a senior writer for ESPN.com. He can be reached here. His Web site is at jimcaple.net, with more installments of "24 College Avenue." His new book with Steve Buckley, "The Best Boston Sports Arguments: The 100 Most Controversial, Debatable Questions for Die-Hard Boston Fans" is on sale now.