COOPERSTOWN, N.Y. -- As anyone who has ever visited the Baseball Hall of Fame can tell you, it isn't easy getting to Cooperstown. You can either play in the majors two decades and get 3,000 hits or you can get in a car and drive there. Driving seems to take longer.
And yet fans piled into every available vehicle short of a bullpen cart this weekend, driving by the thousands -- by the tens of thousands -- to see their heroes inducted into the Hall of Fame. The roads into town resembled the final shot of traffic snaking toward the Iowa farm in "Field of Dreams." Shauna Aiken and Ken Fields of San Diego began searching for a room back in February, but the closest motel they could find was a half-hour outside Cooperstown in such a dump that they didn't dare take their shoes off when walking across the carpet. But at least they had a bed. I slept on a couch in a house some other writers rented at $300 per night per bedroom. And at least I had a room. My friend, Scooter, walked around the town early Sunday morning and said he never saw so many people getting out of their cars after clearly spending the night sleeping inside them.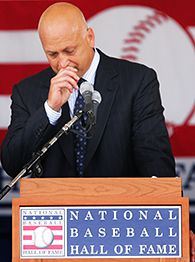 Chris McGrath/Getty Images
Did Ripken play the game "the right way"? Jim Caple certainly believes so.
Not that those fans necessarily had a cheap night. Residents were selling parking spaces on their lawns for $40 and $50. You could make $1,000 with a decent-sized lawn. "Parking $370,000 with FREE house," read the sign in the front lawn closest to the induction ceremony.
Fans were reserving their spots with lawn chairs Saturday afternoon. When Aiken and Fields reached the induction site at 8:30 Sunday morning, there already were thousands of fans waiting. By the time the ceremonies started, the crowd stretched way back from the stage, across the broad lawn and back up the hill. The largest estimated crowd at Cooperstown prior to Sunday was 50,000 when George Brett, Nolan Ryan and Robin Yount were inducted in 1999. The estimate Sunday was 75,000. And they weren't even giving away bobbleheads.
"I was intimidated by looking out there and seeing that many people," Cal Ripken Jr. said.
There was no reason for Cal to feel that way. The vast majority of those 75,000 were wearing orange and holding signs to express their love for Ripken as he and Tony Gwynn entered the Hall of Fame. Cooperstown has always seemed a fitting destination for Cal. After all, barely a tape-measure home run away from the baseball museum is the headwater of the Susquehanna River. It flows for 444 miles and ends in Havre de Grace, Md., which just happens to be Ripken's birthplace.
"A lot of people wanted me to mention that in my speech, but that's a little above my ability," Ripken said. "I'll leave the symbolism and meaning to you guys.
"It is ironic. It is cool. It is a lot of great things rolled into one. But it's like the streak. There is a beginning point and an end point, but I never thought of it that way. I was going out to do my job each day."
I've always loved this bit of Ripken geographic trivia, which is why I decided my annual summer sports tour will follow the Susquehanna River from Cooperstown on induction day to Ripken's hometown. Along the way, I'll talk with Little Leaguers, ride through Floyd Landis' hometown, catch an Aberdeen IronBirds game at Ripken Stadium and meet with a man who will bike across Asia.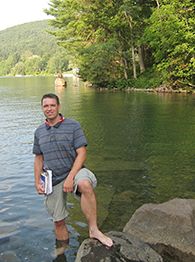 The Susquehanna rises as an outlet of Otsego Lake before eventually flowing into Chesapeake Bay in Maryland.
Actually, the original plan was to begin my tour in Havre de Grave last week and trace the river back to Cooperstown for Ripken's induction. But Barry Bonds interfered with that plan. My editors needed someone in San Francisco to cover Bonds as he approached Hank Aaron's record, so I postponed and reversed the river trip.
Bonds, of course, still hasn't broken the record and his pursuit of Aaron has been so controversial that the commissioner didn't even bother meeting with him when they spent six days in the same stadiums recently. Barry's name was never mentioned during Sunday's ceremony that lasted more than two hours. The only time he came up at all was when a reporter asked Ripken and Gwynn after the ceremony for their thoughts on Barry and the record he is nearing.
"What a great day today was," Gywnn said in a non-response response that was as telling as it was succinct. "Seventy-five thousand people."
Yes, 75,000 people. And not one of them named Mark McGwire.
Gwynn said the crowd made a statement with its presence, and perhaps he's right. This has been such a dreadful month for sports that, as Scooter said, you could watch the first 15 minutes of "SportsCenter" each night and not see a single game highlight. Michael Vick was charged with running a dogfighting ring. An NBA referee is under investigation for fixing games. The leader of the Tour de France and the pre-Tour favorite were both tossed out of the race. And then there is the continuing steroids saga in baseball, which was felt even in Cooperstown with the absence of McGwire, who once was credited with saving baseball by the very writers who chose not to vote for him this past winter when he was on the Hall of Fame ballot for the first time.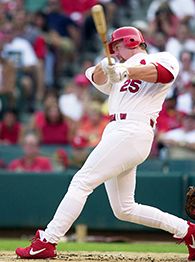 Elsa/Getty Images
Noticably absent from the induction ceremonies: Mark McGwire, a symbol of this era in sports.
Among the hundreds of signs held by fans Sunday was at least one that alluded to McGwire by saying that the Hall of Fame is the reward for those who played the game the right away and relied on their natural abilities.
"Cal and I played for one team in one city," Gwynn said. "I think fans felt comfortable with us that they trusted us and how we played the game. Especially in this era of negativity. They can look back on our careers and say we did it the right way."
I truly and firmly believe Ripken and Gwynn did it the right way. It's funny, though, how we decide which players we will suspect of steroid use (those on rival teams) and which ones we won't (those on our teams). Don't get me wrong, Ripken and Gwynn are two of my favorite players and I don't think either took performance enhancers, but how does anyone really know who takes them and who doesn't these days?
That will be another subject of this river tour, but given the past couple of weeks, it's a welcome relief that we still trust in some athletes. After a truly miserable run of news, it felt good to feel good about sports Sunday.
I saw a family of four with each member wearing a different Gwynn T-shirt. I saw a guy driving a car with the No. 8 painted on the driver's door, which was nothing compared to the sports car that was painted with Yankees pinstripes and the No. 7. But my favorite sight was just before I pulled out of town around 10 p.m. The Hall was just about to close and yet fans still were lined up inside the museum to see the new plaques for Gwynn and Ripken. As the guards waited to lock the doors and go home after a very long weekend, children and parents posed beside the plaques, touching the bronze faces of the players so lovingly, it was if they were caressing a beloved member of their family.
And in a way, they were.
Jim Caple is a senior writer for ESPN.com. He can be reached here. His Web site is at jimcaple.net, with more installments of "24 College Avenue." His new book with Steve Buckley, "The Best Boston Sports Arguments: The 100 Most Controversial, Debatable Questions for Die-Hard Boston Fans" is on sale now.